Adapting When You See What You Don't Want To See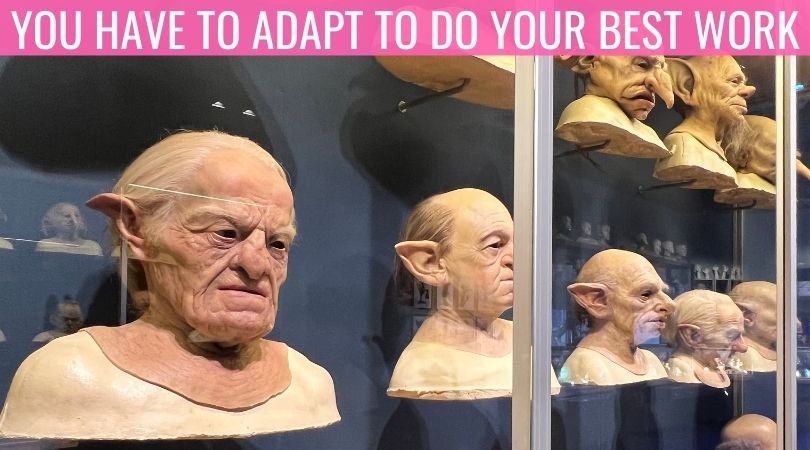 Change is slow, but it pays to be open to adjust and let yourself evolve. If you don't, you start getting left behind.
Sometimes the worse thing you can do is persevere and continue with blinkers on.
Let me highlight where we have to make decisions that you might think are a gamble, but when you have people around you it encourages progression.
At the same time you probably can't keep on slogging away until something hits home (this is where consistency can become a bind, read more here), there are times when you have to restock and reshape.
In a recent article where I highlighted that it's not always going to work as you want, I held my hands up to say that the hybrid event format for You Are The Media Online Offline wasn't working. Attendees were falling, people preferred Zoom as the choice and was so hard to deliver the same experience to two audiences.
I could have kept going and hoped that things got better, just by being resolute.
Something just didn't feel right a few months ago, as I highlighted, 'I thought that I could cater to everyone (online and offline), when my goal was to bring people together and we learn as a group. What I did was provide too many options. It was too distant from each other, and not everyone felt a part of the same experience.'
You Can't Just Keep Going
Listening and being tuned in to what is happening around you helps.
Perhaps you're sending a newsletter that you are proud about, but subscriber rates are slow. Perhaps you have a podcast you love recording, but barely anyone is listening. The messages people give you might not be what you want to hear. You can choose to ignore or you can act on it.
If you care about what you do, keep track of the signals, keep talking, keep listening, and keep focused. It's ok if it's not what you want to see, hear or read, it's going to enable you to modify.
My way of adapting from reading the room was delivering the recent YATM Creator Day (May 26th). It became the delivery that was the result of knowing what wasn't quite working to something that will now become the way that brings people together.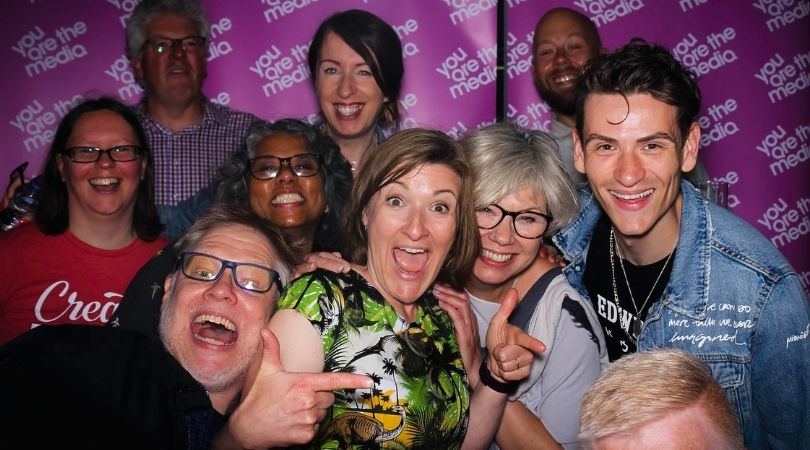 Let me highlight some of the triggers, where adapting the work became something stronger:
---
💥 Putting the focus on the people in the theatre, for the Creator Day, meant energy was kept within one place rather than diverted to both online and offline
💥 The guests we have on YATM Online Offline are always high calibre. The presenters on the stage took things to the next level by setting questions in a printed workbook
💥 I can tell people get fidgety in a live space. From our guests in the online show, I note movement from the majority of people around 30 minutes, the presenters for YATM Creator Day had a time limit of 25 to 30 minutes
💥 Rather than an hour show and then time built around networking and getting to know others, the Creator Day had a focus on talks, questions set and breaks 
💥 One of the highlights of the YATM Month Of Learning in 2021 (online) was the breakout rooms for people to discuss questions set. We carried this forward for the Creator Day where the last activity was everyone in their own groups to motivate each other for a task set
💥 A day of talks is draining, we finished at 2.45pm and then dedicated the rest of the day to working as a group and getting to know each other more
💥 Online still has its place. A week after the Creator Day there was a short session on Zoom for the groups to check back in and no one got left behind.
---
On a personal level, adapting is helping me know what I want. My goal isn't to deliver more events and send a Thursday newsletter, it's to make a change. 
It's Good To Adapt When You See What You Don't Want To See
If you are sparked by curiosity and a will to not throw the towel in, continual adjustments are necessary.
Adaptation is a slow process but it works person by person, conversation by conversation. YATM is coming up to nine years and to many people it is something they are not aware of, but that's fine, it's all about getting right people (not all) on your side.
When you know your audience, what can help them, how they can feel a part of something and how they can embrace their side, the group starts to become in sync. What I am starting to realise is that you can make a difference when you find a subgroup of people who want to change together.
Whatever you are doing on your side, it is important to get others unified. This could be reaching out to people individually, this could be set tasks that people want to participate in, it could be encouraging people to meet others they might not be familiar with. If the group becomes connected, then you can lead the way.
When you see what you don't want to see, you can hide or modify. Some brief points that it can be useful, not heart wrenching:
---
Don't be hard on yourself. 
When you start something new, your audience takes time to be aware (and they may not be what you originally thought them to be).
It takes time to grow. 
Consistency helps you find momentum, but don't be afraid to stop, look around and monitor. Better to be inquisitive than constant.
Small steps are better than one huge commitment. 
You don't need to be aiming for the sky and want 500 people to come to your event, it starts with the right people who are engaged.
Be yourself, always.
You don't need to create a persona that isn't you. If things aren't turning out how you want them to be, it is pointless pretending that the grass is always greener on your side.
Your time will come.
Sometimes it can feel like the content you are producing is a hard slog. Rather than be dispirited, look at it as honing your craft
---
Let's Round-Up
Getting to a place that works does take time. However, it's the ability to be patient and acknowledge that you are going to have to find the right moments to pause, reflect and shift that matters.
Doing the work and creating is central, but so is the ability to read the room and engage with what's in front of you. That is why you can't bulldoze your way in thinking that whatever you touch is going to be a success, life just isn't that way.
Your best work can happen when you are in a corner. It's the sequence of small steps away from what is familiar that can make everything worthwhile. 
---
LET ME READ THIS TO YOU, BELOW
Podcast: Play in new window | Download