How To Create Content That Doesn't Feel Like Hard Work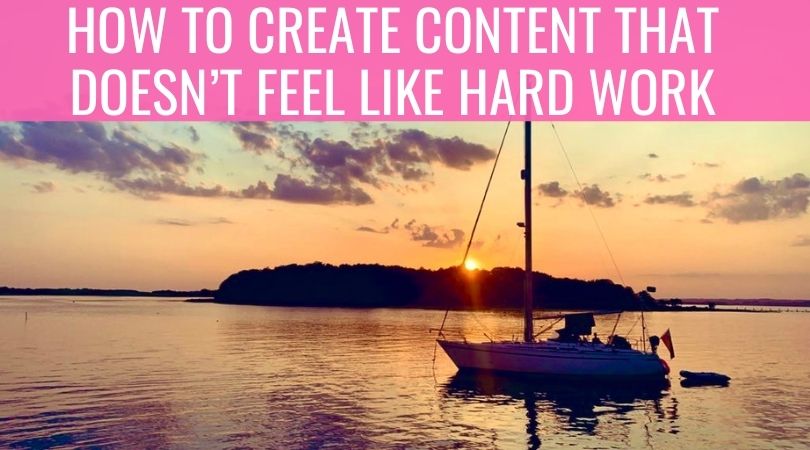 When the content you produce isn't hard work for your audience to consume, you're far more likely to keep them with you for the long-term.
Even if your content has a business message, what you're doing is talking to one-to-one to another person. Mixing things up, not always making it serious and finding time to play is important and will help you stand out from others who keep business, focused on business.
Engagement matters, but it's also important to be engaging.

When you have a central message to what you do and don't wander away from it, you can then add a dollop of fun. For instance, You Are The Media's central message focuses on how people and businesses can become a leading voice in their sector by building their own space. Around this are moments that break away from the serious business of building and nurturing that space.
From what you put in your regular email, to additional ad hoc activity, what you deliver has to benefit people with information and entertainment they can't get elsewhere.
People Congregate Around A Businesslike Message
Content that is relentlessly business focused is what we deliver so we can fit in. It's how we find new projects, it's how we convert people to customers, it's how we build our business brand and promote ourselves.
But when all we do is talk business and constantly push the same messages out, they can turn people away. Look at it another way: don't just show people what you know and show them what they can enjoy.

Don't Let It Always Feel Like Work
A powerful central message can also accommodate thinking where the emphasis is on fun. Let me highlight some examples of how that plays out for You Are The Media:
The weekly YATM newsletter.
That facility for letting your guard down and producing work that doesn't look or feel like hard work has started to come more to the fore in the past 18 months.
There is a section in the newsletter called 'Time Wasting' that encourages people to step aside and play for a few minutes. This could be listening to sounds in a coffee shop (whilst the world was closed), to tapping a button as fast as you can for 10 seconds. It has nothing to do with work, and it's there to let people know that turning off for a while is ok too.
One of the best things I've done that relates to this whole 'work not feeling like work' thing is to have someone from the YATM community open the email each week (it's called, The YATM Takeover).
Since January 2021, a YATMer has shared what they're reading/watching/listening to and also a photo of themselves in real life (not a LinkedIn pic). Sharing a recommendation, allowing a glimpse into people's lives and linking to their websites and LI profiles is a way of highlighting members of our community and growing everyone's networks.

YATM social and now YATM Swimming.
Before lockdown, we had a way for people to come together on a Friday and have a drink in town. During lockdown, Tracey Howes organised Friday quizzes. As people start to meet up again, Matt King had the idea of people having a swim first thing on a Friday morning. Both involve a huge element of play and recognising that the work you create is also helping to build community.
Matt also put together this short video, when the weather was on side.
It's important to produce something relatable – people may not open the YATM email every week, but they know that it's there for them, something to feel a part of.

From a personal perspective the more you stick at something, the more relevant you can become to your audience, meaning more people being willing to travel alongside you on the journey. As the YATM audience has grown, it's encouraged me to try out new things that don't fit into the B2B box. I don't want to just be producing a straightforward business blog or podcast I walk away from once I've pressed publish.
The Secret To Making It Work For You
To make your work not always feel like work, I have built on these foundations:
✅ know your overall message
✅ bring in ways to encourage fun
✅ tune your message and encourage togetherness
What happens is that everything that comes from you is elevated as your content becomes warmer and more inclusive, different from what else is out there and more enjoyable to produce (and be a part of).

It takes guts to recognise that this fun side brings serious benefits.

Here are ways to make it work for you:
---
Make sure it's not all 'buy now.'
Whilst converting sales and bringing in new clients have their place, if those are your only drivers, then at some point you'll lose momentum, not to mention your own enjoyment. Step aside from what you want to extract from people and prove to others that time with you (online and offline) is worthwhile. This is key to retaining an audience. They don't always want more work to think about.
Don't just see your content as part of a sales funnel.
Analytics and metrics are important but, as the saying goes, not everything that has value can be measured and not everything that can be measured has value (it's called the McNamara Fallacy) After all, what is the ROI of someone feeling happier and more connected to you than before?
Keep practicing and testing.
The only way you'll create work that doesn't feel like work is to experiment and test out new ideas. For instance, the only reason the YATM Takeover (the intro at the start of the weekly email) is still there is because of the enthusiastic response I've had from it. I would never have known that if I hadn't tested out the idea.
Feel free but keep an eye on your core work.
If the work you are producing starts veering too much towards the fun side, then you create an imbalance. People originally subscribed and joined you based on what they could learn from you – keep that in mind.
Remember you're ultimately talking to another person, one-to-one.
If all you did if you met them in real life would be to talk about what you did and how good your business was, at some point they'd find a polite excuse to move on. Online, this is called the unsubscribe button. Even if you're creating for an audience, know that you're also creating for people who have deadlines, pressures and their own priorities, you need to make yourself worthy of their time.
Let's Round-Up
Making work not feel like work comes down to being present and seeing there are occasions to have fun together. In the words of the novelist and poet, Cesar Pavese, "We don't remember the days, we remember the moments." From swimming with others to inviting people to say hello to others in an email, it all builds.
Your audience doesn't want to engage with faceless companies but they are willing to join in with those who make them feel welcome, where they can find a sense of belonging, and when it's time for them to buy, it can happen in an organic, unforced way.
LET ME READ THIS ARTICLE TO YOU…

Podcast: Play in new window | Download