How To Create Work People Pay For
Figuring out how to make that step from creating for free to something people pay for comes down to producing meaningful work.

When it comes to content, all you could ever want to read, watch and listen to is right in front of you. For the most part, it's free. Let's look at what people are willing to spend.

This article shares from my own experience as well as highlights what others are doing. When you build an audience that comes to you, if you build a reputation and produce a bank of work that people believe in, then you have worth. When people become familiar with your work and message, they act on what they see and believe.
The focus here is if you want to become a full-time creator where people pay for your services and not necessarily a product.
Getting people to pay for what you do is not about coming from out of nowhere to then demanding a fee, it's from putting in the effort to dig deep to build trust and recognition where people can understand what they need. When people see this, you're doing work that is worth sharing.
Here are four different themes where people are prepared to pay.
---
Where People Learn.
Fighting against free options is everywhere, from free online events to in-person seminars/lectures on a subject matter, encouraging people to pay can be a huge step for them.
A lot comes down to the calibre of delivery and the format. For instance, delivering a conference format is something that I will probably never deliver again. This is because for one-off talks, that do not follow a theme or thread for a specific occasion, you can probably find it on YouTube.
If you want to deliver an event that has a price linked to it, then your audience has to take something away and participate in something they cannot find anywhere else. It has to be worth their time, it has to be worthier than other choices out there.
If you can structure a way where people become more valuable in their efforts (and who they do it for) and so they become more effective and grow, they will pay. Plus when you bring people together, they can learn from experiences as a group and also encourage each other. This is what we are going to do at the YATM Creator Day on May 26th.
Where People Become Part Of A Niche Community.
When there is a subject matter you excel in and bring an abundance of expertise and insight, people will pay.
This is exactly what John Espirian has done with his Espresso+ community. John's dedication to sharing his LinkedIn knowledge has built a sizeable following and people turn to John for advice, help and John is a person who isn't going to let anyone down.
When John decided to create a dedicated space, 'for ethical small businesses and solopreneurs who want to build an effective online presence,' people stepped up to pay £29 a month. John is aiming for 300 members and then he is ready to shut the door.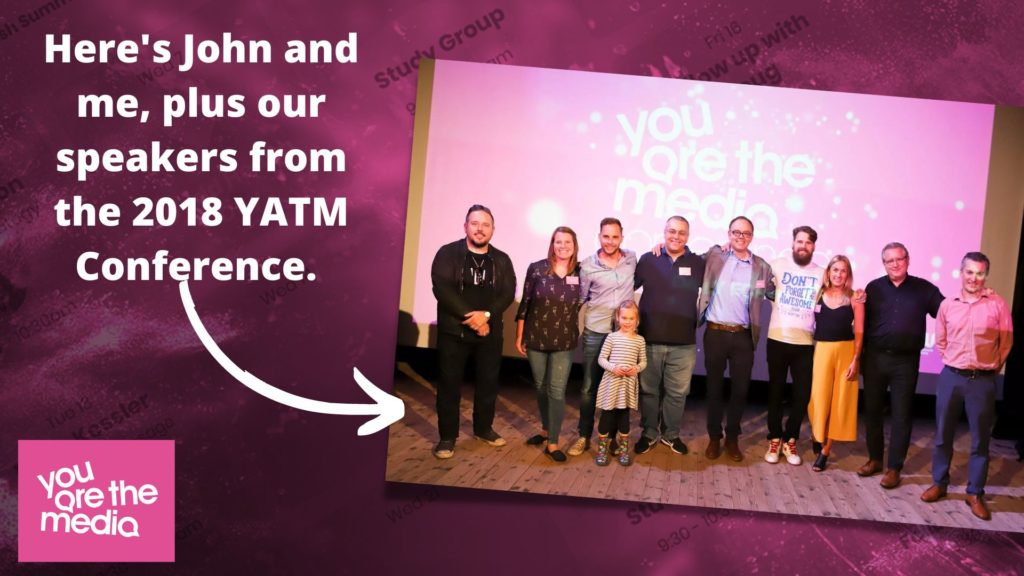 What John has done is created a space where people pay for exclusivity and have access to other like-minded people where they can join in with the conversations and genuinely care about similar themes, ideas and topics.
I asked John what was the trigger to move from free to paid. John said, "My experience of running my free predecessor group confirmed that maintaining an active social media community is a lot of effort."
"We grew to 650+ members and it was becoming a near full-time job to keep up with all the conversations and provide what I felt was a good enough level of service to those in the group. But my time wasn't unlimited and so I had to make the choice between pulling the plug or going all in and making it financially worth my while. I chose the latter and haven't regretted it."

When you become a valuable source for others, John has proved you can take people to a separate space, where people join in together.
When there is a sense of entertainment and fun.
It works when you deliver learning entertainingly and create a show element, this makes it easier to get people to pay. For instance, in March 2020 when the pandemic struck YATM Online started where people paid £10 to attend fortnightly Zoom shows. Attendance would be from 50 to 80 people, per show.
If you can make people feel a part of something where they can also have a starring role, this creates a reason to attend. If that is mixed with the quality of the main guest who is known in their field, this makes it fully justified to charge. People need to see the effort that goes into something.
They want the experience as well as the opportunity to hear from those who come with industry prominence (with a slant for overseas guests) and track record. Making something that others haven't done is a powerful place to be.
When you become likeable.
There is something to be said for being a down-to-earth, genuine, good person. Whilst it is not a business strategy, if you can build an army of support and you care about a subject matter, cause or approach, the more inclined people will be to support you.
It's not about trying to win people over all the time but setting up a space that attracts people and to be present. People are willing to pay and support the journey.
This is what Sam Davis has done with the AFC Bournemouth Back Of The Net show and using Ko-fi as a way for people to back and support. From build up to matches, fan reaction at the end of a game, vlog of the experience of a game day, it follows an upbeat flow (here is how it looks).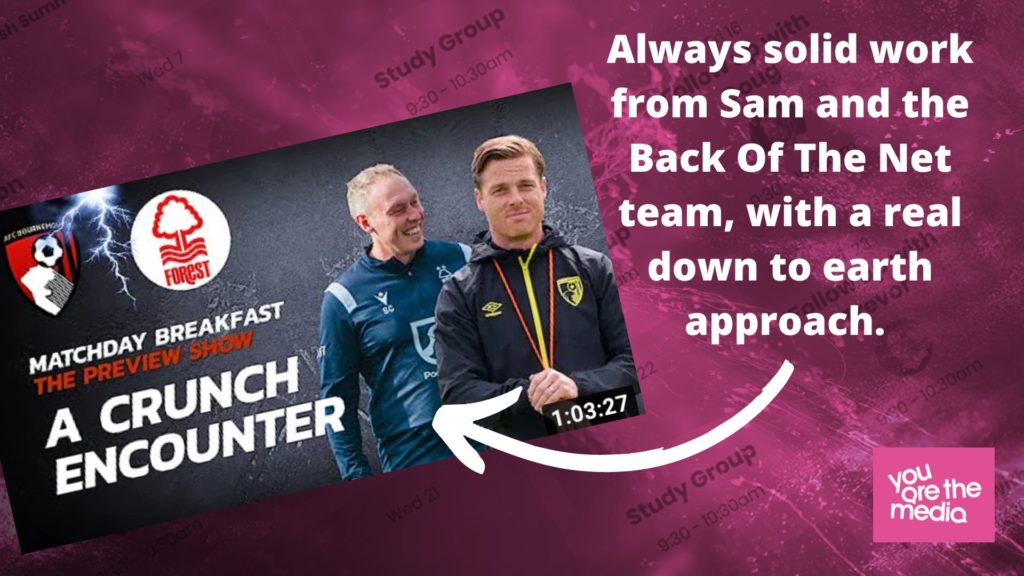 Sam and the team approach the whole delivery with warmth, gusto and enthusiasm for the club he loves.
---
These examples highlight ways people step forwards before anyone else has committed. If you can curate that space first, you are in a commanding position.
You can't say to yourself, 'wouldn't it would be great if people would pay for this?' to make it work you have to show people the effort and dedication first. There is a build-up and willingness to show your dedication (and not throw the towel in). For instance, the YATM online shows worked because we had been delivering live events since 2016.
This is what makes it more comfortable for people to spend money with you. Instead of a hunch that people could commit, show them what the world is like when they support and stand with you. It's going to be so much better for them when they feel a part of what you are driving towards, where you can both benefit.
If what you do doesn't save people time, help them grow, give them access or achieve an output, it has to create ways to connect to others in a meaningful way.
Let's Round-Up

There is a real and willing audience who are ready to pay for the right content, provided in the right format, at the right time.
When you step up and raise things to a completely different level and people can see how it will benefit them and the effort you put into it, they will be more willing to pay.

For instance, someone who pays £30 a month for access and exclusivity is going to get far more than an audience who just receives for free. When you know the benefit that people are going to receive, then you don't have to spend your life creating free content.
When you build trust and the right audience to come alongside with you, people are more willing to pay for the experience that is going to help them and be a part of the communities they care about. That's a good place for everyone to be.
---
LET ME READ THIS TO YOU, CLICK BELOW
Podcast: Play in new window | Download