Do More Together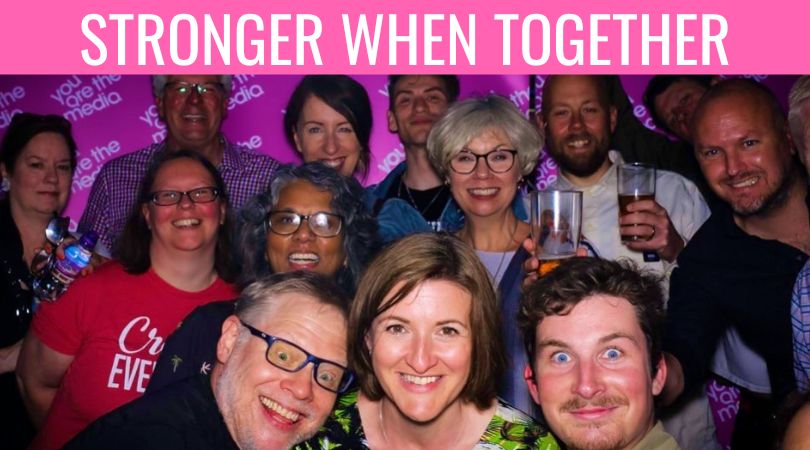 Figuring out ways to do more together is better than continual one-way traffic of convincing people who may, or not know you, to buy in.

Our instincts in business are to push what we create onto others. However, when you have a longer-term approach, doors start to open up where it's about people wanting to join in, rather than you wishing people would commit.

When people feel compelled to participate, not just fleeting involvement, it feels better because you are united.

It's All About The Longer View
When your whole outlook is on what you can take today, it limits what you can do over time. It's about what you can extract from someone else where the win is all on you. What this does is take out the ability to get to know others, build trust, test new ideas and look to encourage others to get involved.
In the book Get Together a parting sentence towards the end says, 'Ask for less from others and do more with them,' those words struck a chord with me.
This is what I am figuring out with You Are The Media and how the involvement of the group and the connection to the overall initiative, can in fact, help form deeper bonds. This whole idea of doing more together comes a long way from my original intentions.
When YATM began I thought it would be my sales funnel. I would use a newsletter to build trust and I would look at subscribers as leads. I was wrong. It was only after a few years that the leads started to become people I got to know much better and that slant to persuade people to buy, became an impetus to do good work where everyone can feel a part of the experience.

When people feel a part of something they form bonds too, it's the power of association that works. We need to support each other, not just look out for ourselves. For instance, Ella Orr was a presenter at the You Are The Media Creator Day. Ella's talk was shaped and directed by Jackie Goddard, another member of the YATM community.
Whilst Ella had spent a lot of her life as a teacher and presenting to an audience in front of her, she had never delivered on a stage for a business-themed event. Jackie's presentation experience made the whole delivery that little bit more special.
From asking Ella to speak at the event, to the extended support for Ella in the build-up to her presentation, to the people who rallied around Ella after she had delivered, it highlights the importance to do more together. This feels far more connected, as opposed to reaching out to a stranger to present, a few Zoom calls to prepare, and then the presenter delivering and leaving. Doing more together, means you build together too.
A True Test Of Being United
Tomorrow (Friday 17th June), we're going to put the 'do more together' idea into practice.
Chandy Green has been a part of You Are The Media since 2019. For a man in his 20s, a lot of his life has been spent living with brain tumours. Chandy has used this to find strength as a disability campaigner and a person who believes in fairness and making a stand for others who have faced obstructions in their lives.
Recently though things have taken a slightly different turn where name-calling, laughing and pointing in public have knocked Chandy's confidence and even stepping out of the house comes with a sense of jeopardy. This was picked up and made public by business editor Darren Slade and featured in the Bournemouth Echo (you can read the initial story here).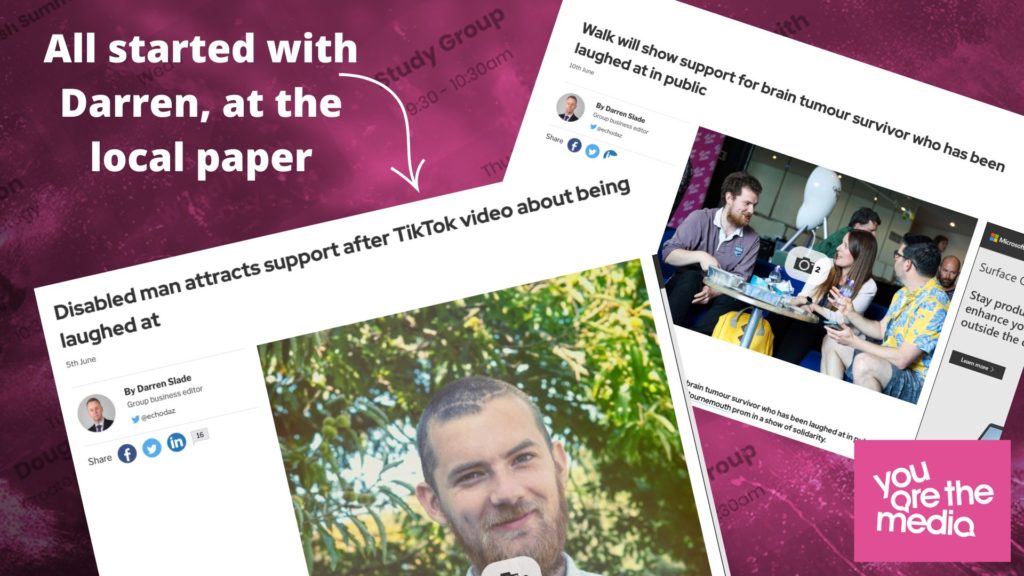 Following on from this article, another YATM member, Gordon Fong stepped up with the idea to support, beyond a 'care' emoji. So, the plan is a walk from Bournemouth Pier to Boscombe Pier, a stop for a cup of tea at Urban Reef and a walk back.
If Chandy can see a wave of support and love then we can all show that the bullies will never win. Life becomes bearable when you know you have others around you, taking time out to say 'we're with you!' Word has spread and even ITV wants to head down and report for the local news. We've turned it into an event called StandWithChand.

The reason I am sharing this is proof that when you work cooperatively, you can create something far stronger than looking to find momentum in isolation. You don't have to push that boulder up a hill looking for involvement when people want to be involved.
How Being United, Not Just Transactional Can Work
Let's bring things back to you and realising that we're all in this together. It always was and always will be.
If you have a belief system that others can get behind, there becomes a collective spirit. If people can see you care, you keep on doing the hard work to make a difference.
Here is what I now know when getting others involved:
---
Your ideas can spread. When you let go and encourage involvement from other people, new opportunities are created. This comes from enough trust being built over time for a collective spirit to form. This all comes down to a long-term approach rather than just looking at what is in front of you. It also helps with the likeability factor.
We do best when we do it together. When you step forward for the first time it is always going to be filled with moments of apprehension. From Jackie and Ella working together to create a new talk that can be delivered over and over again, to a newspaper article turning into an army of support for Chandy and also wider awareness, it proves we can't always work in isolation. Find the people you can work with, where there is mutual respect and drive.
Without people there are actions, but no story or connection. When you drive forward on your own with the expectation for people to show up and attend, it can be a slog when you still have something to deliver from a webinar to a live event. It is easy to put up a page for people to book, but you have to build enough goodwill in others for them to step forward. Having the right people around you is so important.
Everyone is a volunteer. Whether there is a fee to take part/to attend or it's free, someone else is making that choice that feels right for them to step up. That is something that people forget, where you get a point where you have created enough warmth, relevance, information and connection that someone else is prepared to give you their time, that they won't get back. Our ventures need to be worthwhile for people to commit to.
---
Let's Round-Up
When you take a longer-term view, this is where real difference is made where it's about the people who join in throughout the journey.

What the past couple of years has taught us is that we are dependent on each other. We can't spend our lives on our own, hoping people will commit. To do great things, we have to become involved together with a sense of spirit and not just settlement of a fee. 

When you find the people who want to join in and you figure out ways to heighten the involvement, everyone is tuned into the experience and understands that change can be made but feels better when it's a collective effort.
We're not just in this together. We're stronger because we're together.
---
LET ME READ THIS STORY TO YOU, BELOW
Podcast: Play in new window | Download