The Easier It Becomes, The Harder It Gets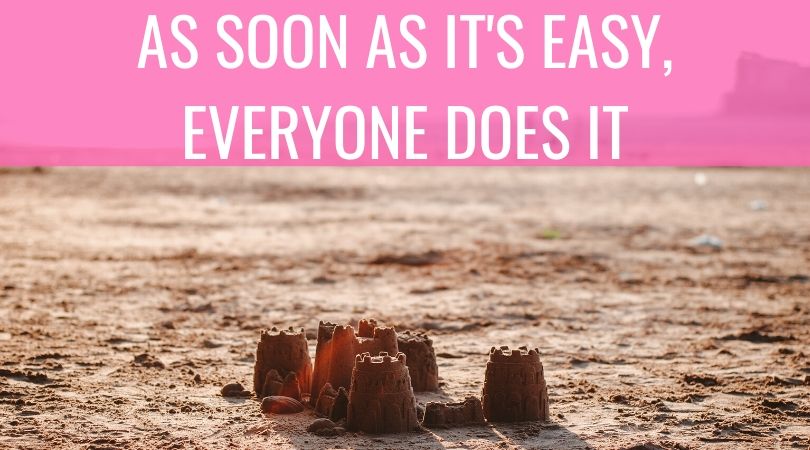 As soon as something becomes easy to do, everyone jumps in.
You're probably aware that everyone else is doing a podcast, starting a video series, blogging more or sending more emails than you are.
Content creation becomes merely a hobby if you don't have a goal in place. A drain on your time and resources – who wants to create and publish when the chances of being seen or heard are down to some lottery?
This article highlights that attention from the right people is a cherished resource for you to have. It means that some, not all, are going to see or hear you, and your next task is making sure they stick around.
Let's Set The Scene
As we come to the end of 2019, it's safe to say that we have too much of everything on the web.
As soon as something is figured out and becomes easy to do, everyone joins in.
According to Podcast Insights, there are currently over 750,000 shows. As of June 2019, there are over 30 million podcast episodes (there were 18.5 million episodes in 2018).
When it comes to video, according to Tubefilter, there are more than 5,000 hours of new video uploaded, per minute, to YouTube. It's no longer about upload growth by the day, it's now by the minute.
When you take out the middleman, i.e. a publisher or other such gatekeeper, sharing your ideas is easier to do, there's no one to stand in your way.
As soon as something becomes simpler and more accessible, the floodgates open.
It's liberating but also…
Easier = harder to get results = saturated market
Businesses have to become laser-focused about exactly how they benefit their audiences – not just with the messages they're putting out there but with the overall experience they're creating.
Let me share with you what I mean. I use LinkedIn Pulse (LI's blogging platform) to give my writing another space to be seen in. Five years ago, LinkedIn Pulse was like an energy boost for articles. Posting there significantly increased reach but in 2014, it became widely available to everyone, beyond the industry influencers.
Fast forward to 2019, and articles posted on Pulse are exposed to much smaller audiences.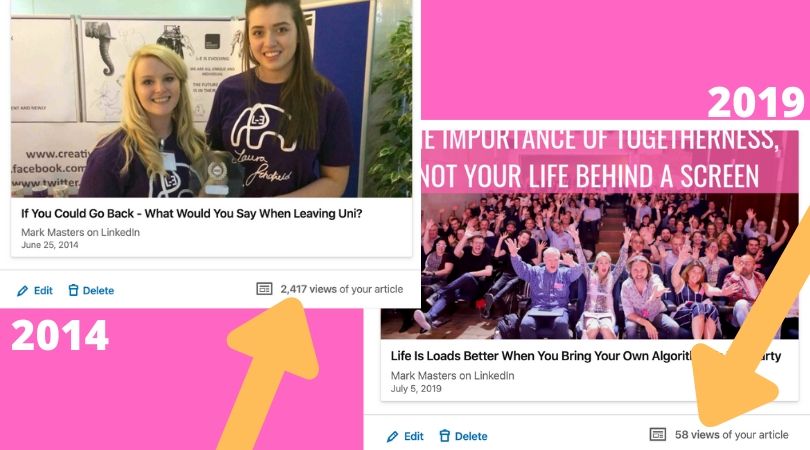 As platforms become more accessible, allowing more people to publish more content, the challenge to get people to pay attention to you becomes significantly bigger.
Proof, that the easier it becomes, the harder it gets.
The Mid Part Of This Article
Time to get a high-brow quote in, Confucius said, "By three methods we may learn wisdom: First, by reflection, which is noblest; Second, by imitation, which is easiest; and third by experience, which is the bitterest."
Imitation is what many people and businesses are happy to settle for.
But with a lot of people in an area that's similar to yours, following tried and tested paths, imitation isn't what helps you stand out and get noticed. And it becomes particularly challenging if you're relying on a podcast or video to generate income.
Your work shouldn't become part of such a sweepstake.
Getting The Attention Of The Right People

So, what's the answer? Because this isn't just about painting a picture of everything getting tougher.
The answer is ensuring your work gets the attention of the right people.
With You Are The Media, I create for people who want to find effective ways of promoting their products and services, people who are aware that how we do this has changed significantly in the last few years.
You Are The Media is for those who are focused on the narratives they create and the audiences they can build from that.
Seth Godin wrote a fantastic article in 2009, called 'First, Ten.' The message is that rather than being seen by as many people as possible, stop thinking about scale and find ten people who will, 'trust you/respect you/need you/listen to you.'
If these ten people like what you say or do, they will go and tell another ten and your ideas will start to spread. The focus here is not relying on the channel for your message but on gaining the attention of particular people who will support, stand by you and share what you have to say with others. Whilst people readily publish, it is the attention and support you gain that helps in your efforts to be seen.
If you can find your first ten people and become trusted, you can then set the agenda and define the conversation, making it your own. Before long, you'll find that you're no longer competing.
When things become easier for everyone, your responsibility lies in providing your customers, prospects and community with something useful, differentiated and distinctive that also delivers on the goals you've set yourself.
This is how you grow your audience.
Be First, Then Multiply
The reason I've fully embraced LinkedIn Live is that it's a space that is, as yet, uncongested (have a look here). The cautionary tale of LinkedIn Pulse being great for reach in 2014 looks likely to be repeated with LinkedIn Live – a limited-access publishing platform in 2019, it will no doubt be a bit of a free-for-all when it's rolled out widely in 2020.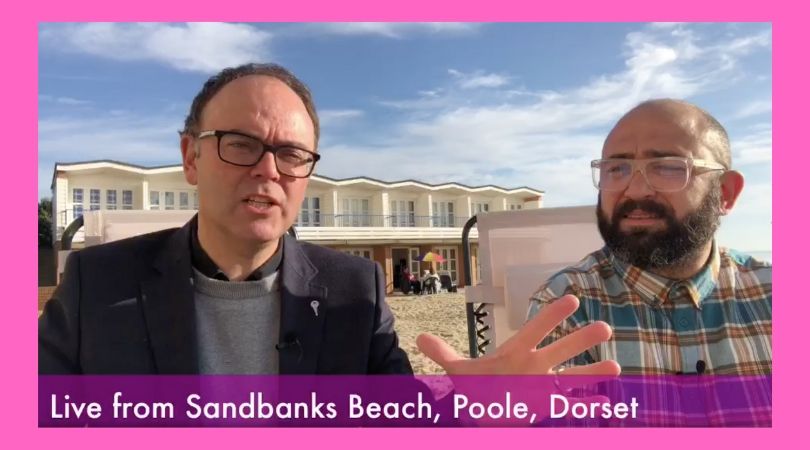 Over time, and as more people are granted access to producing content on LinkedIn Live, the more I publish, the fewer will view. At the moment though, it's great, and the way people pick up on the prompts to sign up for the weekly YATM email or attend the last Lunch Club of 2019 is more than encouraging. I'm using it to get the attention of the right people and then building on it from there, creating material that prompts them to carry on interacting and engaging.   
As more people come on board and compete in the spaces you publish within, the goal is not to be catching up with everyone but being a few steps ahead of them by thinking strategically about your entire output.
For instance, this article you're reading now gets adapted into a script for a LinkedIn Live video, a You Are The Media Bitesize Podcast (which you can listen to here) and has a central place on the weekly YATM email.
The question to ask is, where can you add real value to the people who matter most to you?
Here's what you need to be thinking about so that you're less affected by situations where everyone else jumps aboard:
— Create first – blog, video, email – and strategically, for your own purposes, to deliver on the goals you've set yourself
— Share solutions, rather than dwelling on a problem or criticising others (that's not healthy)
— Do a bit more than talk about what everyone else is saying
— Share like you care (I genuinely do, I believe that people can build their space)
— Listen to and interact with others, this helps you shape a narrative that's even better focused on your audience.
— Over time, create for the medium people prefer (for instance, the weekly YATM weekly email now also includes audio as well as video)
Let's Round-Up
When something works and becomes straightforward to use, everyone gets in on it – something that encourages sameness and a glut of similar content and perspective. It stands to reason then, that capturing the attention of people who will recognise the value of what you have to say is about more than just having a presence and churning out content.
You have to demonstrate that you understand where they're coming from, the issues they need solving and paint a picture of a brighter future they could enjoy if they came on board with you.
The attention others give you is precious. If the 50 people who are watching you are the right people, that attention means far more than having an audience of 5,000 who are there, but not doing much.
You have to create a narrative for others that they want to follow via a pathway they enjoy, are entertained by and can keep learning from. 
WHY DON'T I READ THIS ARTICLE TO YOU, CLICK BELOW
Podcast: Play in new window | Download