Your Email List Can Save You (It Saved Me In The Pandemic)
Your email list is integral to keeping the people who matter most to you, with you. If you have chosen to "be the media," your strength comes from within your audience, one that you don't want to be constantly 'borrowing' from a platform you have no control over.

Developing an audience starts with putting effort and dedication into your email list.
This article emphasises the importance of building and owning such a list. If you can gather people to subscribe to your content, you're creating a community and a means by which to cover yourself whatever uncertainties and calamities present themselves.
What I want to share with you here is not about growing your email audience (you can read about that here) but about emphasising the importance of ownership, something which places you firmly in control.
Look at it this way, what would happen if LinkedIn shut down next week (remember what happened to Google+?). What if you lost all your search rankings tomorrow? What if Facebook decided to lower reach and hike up their ad costs, could you still communicate with your audience?

Whilst it's great to broadcast from, and spend time investing in time spent on Instagram, Twitter, podcasts and Zoom, an email list is quite unique. I'd fight to keep mine. It's an asset I control. For instance, many people turned to LinkedIn at the start of the pandemic to tell others they were still there and open for business. I turned to my email list for help when I needed it most.
Explaining
In its simplest form, your email list is made up of people who have chosen to receive information from you.
It then becomes your responsibility to keep the people on your list informed and entertained via their inbox. To do this, you need a website, a marketing service (I use Mailchimp) and an opt-in form (I use a WordPress contact form plug in and upscri.be).
Things Others Won't Tell You
To many people, building an email list can seem a daunting process.
My approach has always been to deliver something people can't find elsewhere. Whether it's the experience you offer or the approach you take, the familiarity you build keeps people with you.
Let me share the approach that has worked for me. It's one that you probably won't read elsewhere but is nevertheless a good basis from which to start building:
---
I don't do testing
many places tell you to split test, sending one message to one audience segment and an alternative one to another. I have never done this. If you put time and effort into crafting a message that is of use to others, there's less need for this sort of tinkering.
I don't spend a lot of time crafting the perfect headline
Whilst I acknowledge that subject headings are the first things people see, the emphasis has to be on the trust and relationship people have with the person/company/initiative doing the sending, rather than the subject of any one isolated email.
I don't segment audiences
I believe in consistency of voice, not adapting for industry segments. September You Are The Media Online guest, Ron Tite talks in his book, Think Do Say, about the importance of consistency when addressing multiple groups. "With so many different audiences, what you say to one group has to be consistent with what you tell others. Once you have what you say, say that every time."
I don't automate
I do whatever I can to personalise in this automated world. New subscribers don't receive an automated email made to look like I wrote it just for them. Everyone who subscribes gets a short video from me, I'll call them by their name and thank them personally. Automation made to look personal looks doubly false these days.

I don't use it as a glorified heads up
Whilst I use the YATM weekly as means to sell, the whole intention for YATM was never to take people on a fixed journey where the destination was a purchase. If people buy into YATM and feel a part of the community, then I feel comfortable giving gentle nudges towards the events and workshops that carry a fee.
I don't purchase ad traffic
Using neither Twitter ads nor LinkedIn sponsored updates, the YATM email has never been a lead generation exercise. People sign up on recommendation from one of the YATM community and/or organic posting from me. LinkedIn is the platform of choice as the LinkedIn Events feature is great for any events you have taking place. I use this, not email for the 'funnel' exercise i.e. anyone showing an interest gets a follow-up via a personal DM.
I don't think about opt in as the route to a sale
If the mindset behind the weekly YATM email took a route of "subscribe so I can sell," then it would take on a completely different dynamic.The focus has always been trying to explain or figure a topic out with everyone in the room (even if the medium is email!).
---
Building Your Email List As A Priority
From starting out sending a weekly email in 2013 and then deleting my entire list (by mistake) in 2019, here's why your email list can provide longevity for your business, support your overall business message and save you:

Subscribers give you a true insight of who your audience actually is.
When someone subscribes to you they're choosing to hear from you and that choice helps you understand who it is that you appeal to. Perhaps in the future, they can become clients/customers?
Your social media following is not your real audience.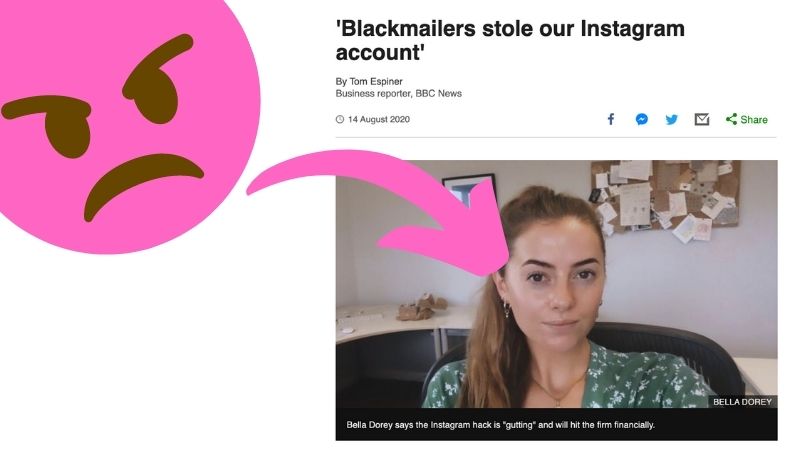 A sizeable social following does not always translate into action from those that follow you. Focusing solely on building social followers makes you vulnerable to the vagaries of platforms like Facebook and LinkedIn, building audiences that are never truly your own. Have a read of this article from the BBC (18th August) of a company who built everything around Instagram, until blackmailers took it all away from them.
When someone gives you their email, take it as a huge compliment.
A new person added to your email list is a sign that someone is ready to be a part of your content journey. It's now over to you, to keep them with you one that quest, one person at a time.
Social media channels can choose to lower your reach at any time.
The reason fewer people see your social posts is that platforms want you to pay for ads. On Facebook, the average reach of an organic page is around 5.20% according to We Are Social. When you're building your email list, you don't have this problem. You can choose to address everyone in one hit i.e. the weekly YATM email or reach out to people directly i.e. ask them for feedback.
It All Comes Back To You & How You Choose To Win
Growing your email list comes down to these fundamentals:
💥 Deliver more than your audience can imagine. Ensure they realise it's been prepared especially for them
💥 Recognise you're building a personal relationship. Always respond personally to anyone who expresses an interest in what you do, making sure your email comes from you, not noreply@
💥 Remember, you're not creating ads
💥 Find ways to connect beyond your email to bring people together
💥 Discounts and offers are empty, deliver insight where you lead from what you stand for
💥 Play by social media rules but remember to always take people from these platforms back to the assets you own, i.e. bringing people back to your email (read more here)

Let's Round-Up
Building an email list can truly be what saves you should there be any further shocks delivered by this pandemic.
The reason is that a list and the community you create around it,  are the people who are already on your side, in your corner. This is something that 2020 has really brought home to me and I can't emphasise enough that you need people and a place, now, more than ever.

As you build your list you create a relationship by delivering value as well as giving yourself an opportunity to sell when the time is right.
Your email list can provide a financial return in time but, as you start, your goal has to be offering something valuable that strikes a chord with your audience who become less likely to unsubscribe as they get to know you better.
Protect yourself from an unpredictable future by being the person or business who can take their rightful place in someone else's week or month by having permission to communicate through the email list they've built up. Your email list is the thing that no one else can take away.
LET ME READ THIS ARTICLE TO YOU
Podcast: Play in new window | Download