Finding More Of Your People
Those you surround yourself with helps you see the audience who want to be with you. Even better, they are likely to recommend you to other like-minded people.
When you find more of your people, it drives positive feedback loops and you tend to not be distracted by those who don't want to take part or decide to opt-out.
If you surround yourself with others who are creative, switched-on, down to earth and honest, the good times start to happen.
Those Who Don't Want To Take Part, That's Ok
A lot of the time you have to walk away from those who choose not to be with you.
If you concentrate too much on delivering for everyone, you become an egomaniac.
There was a time when an unsubscribe from the You Are The Media newsletter would hurt. Is it something I had done wrong? Is it something that wasn't hitting the mark for them? Had it become something that had changed for them? Had I become irrelevant? All these insecurities that set in, the answer is a lot more simple.
The people who unsubscribed, it just wasn't for them. From looking at those who unsubscribed from the 27th January newsletter, their involvement in terms of clicks and opens was minimal. It had no significance to their day.
Our paths would more than likely, never meet.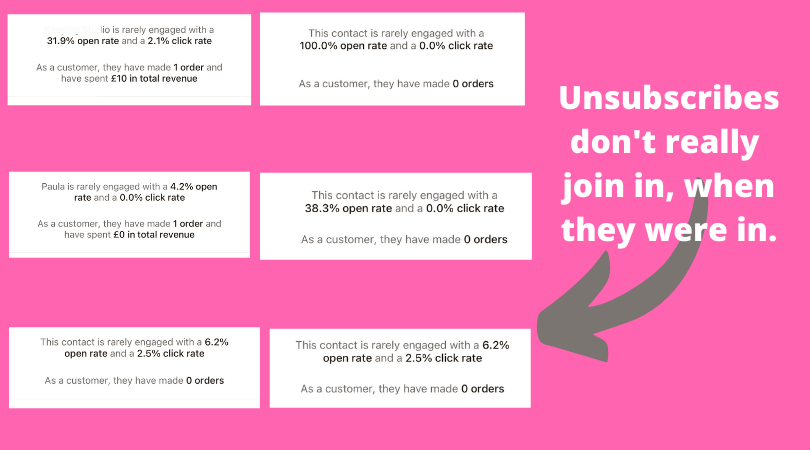 Participation and involvement in events and learning is something they would probably not choose to do. Whilst subscribing may have piqued their interest at some point, we can't expect everyone who signs up to join in with your efforts. That's ok, you just need to find those who feel a part of something and you drive something together.
You. Me. Us (A Commitment You Make Together)
Creating something that others feel a part of is infectious.
It starts with you (getting an initiative up and running), it's then about them (delivering what's in tune to them), it becomes us (you both join in together).
A current example of people coming together and becoming about everyone is our Friday sea swims. It started in July 2021 on the same day as our first in-person event in 17 months. To start the day, my beach hut was open and we'd head into the sea together.
People enjoyed it and we just kept going, every Friday morning at 7.30am. Naturally, there have been days when it's been raining, windy, unbearable, but even if it's just two people, there has always been a presence. As we've kept going, more people have wanted to become involved. To have a swim at the end of January where the sea temperature is around 8 degrees (summer is around 15 degrees) with 12 people heading down to the beach is a great turnout.
I realise for people to join in, you have to have systems in place and for them to see persistence on your behalf. Our Friday swims have become more than that. As Lucy Whittington says, "A little marketing case study in consistency right there. Keep selling the 'benefits' (sunrises) and keep the 'implementation' details quieter until you've sold it (blimmin' freezin').
This is how it's working when people know it's right for them (no matter how cold it is at the moment)
🌊 We set up a WhatsApp Group
🌊 We put out the 'who's in?' to the group on a Thursday
🌊 We share our pics in the group to prove it by 8.30am on a Friday, so it effectively becomes a 'stamp of proof'
🌊 There is a link in the weekly newsletter for people to join in
🌊 Those who joined in share the pics (or their own pics) on their social channels
🌊 The group sharing their own experiences is something that others can see
Our Friday morning ritual comes back to Seth Godin's mantra of 'people like us do things like this.' This is where the opportunity is for you, where the shape and identity of your work fits someone else and the task is to find more people who can fit the group dynamic, not just anyone and everyone.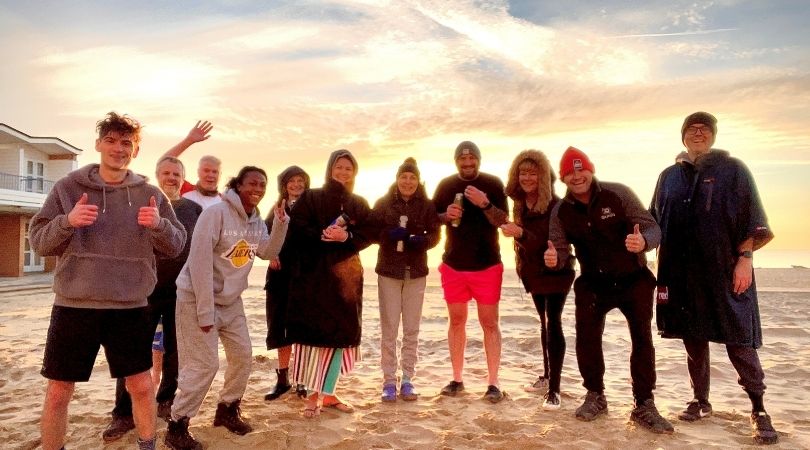 Why You Need To Build & Find More Of Your People
To have the right people on your side, you have to build your space first. For me, it is everything around You Are The Media, for the non-work side it's showing up to go in the sea every Friday morning.
Once you put your flag in the sand and say 'I am here,' it doesn't have to be going into the sea, it could be a landing page where people read about the benefits they can have and ask them to subscribe.
As more people join, they can become the heartbeat to everything you do. These are the people who bring their own ideas to life and acknowledge you in their efforts or people that you reach out to when you have an idea to share. You help others, others can help you. Everyone is contributing in their own way to make something better.
A key driver in people knowing you are right for them is the continuous value they can see and the commitment that you make. This is what starts to happen.
😃 Your output is in tune with others and familiarity sets in.
If you are creating on a whim, people might not necessarily buy in. This is where messages can be confusing and you head into different topic areas. You have to know the people you are creating for, which means it is easier to reach out if you have something new to introduce and would like feedback.
😃 People feel comfortable telling others.
This could be work inquiries coming in, new projects for you or others from within the community asking for a helping hand. Never stop building each other up. Never stop making introductions. For instance, YATM family friend Anna Bravington's Crossing The Content Chasm is a great podcast and was fantastic to be invited to be on Anna's show.
😃 You feel settled and happy about the work you create.
Knowing what you are creating has its place for others shows you can make a difference (for you and them). This creates a huge sense of satisfaction. Making a commitment to the YATM audience every week encourages me to keep going and also enjoy the whole process.
Let's Round-Up
The people you surround yourself with makes an impact on your work and everyone doing well from it. You just need to find the right people, not more people.
It works when people are not felt distant but drive the whole effort forward and there's an impetus to people's own efforts.
You can't push your message onto others, hoping for a positive reaction. There comes a time when you have to acknowledge that your work was never meant to appeal to everyone but to focus on the right people and continually strive to make it the best it can be, for the people who care.
The stronger the space you build becomes, the more opportunities there will be for everyone.
When people enjoy and can relate to what you're saying it helps them feel associated with what you do. It also helps the output and momentum for their side. This is something that can, in turn, and in time, help you.
---
LET ME READ TO YOU, CLICK BELOW
Podcast: Play in new window | Download