The Good And Bad Of Zoom: Lessons From Six Months At The Coalface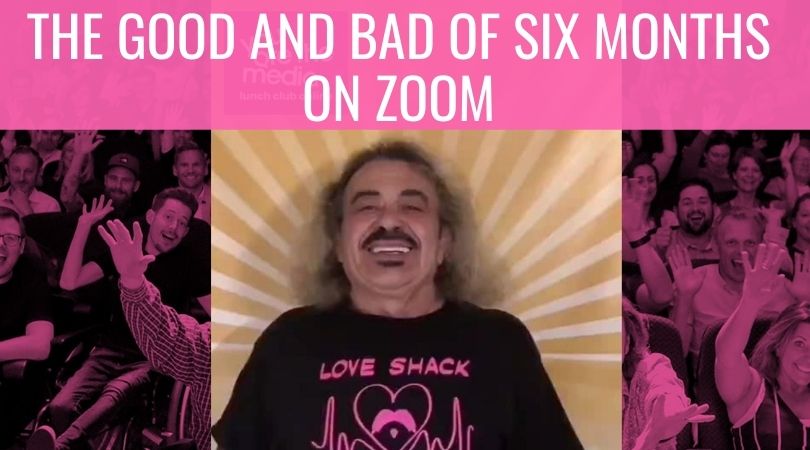 Whilst the Zoom world will never quite make up for not being able to be around others, engaging fully with it can mean you stay a couple of steps ahead of the competition.
This article shares both the negative and positive aspects of having live video as part of the B2B toolbox when you want to make others feel they're a part of something.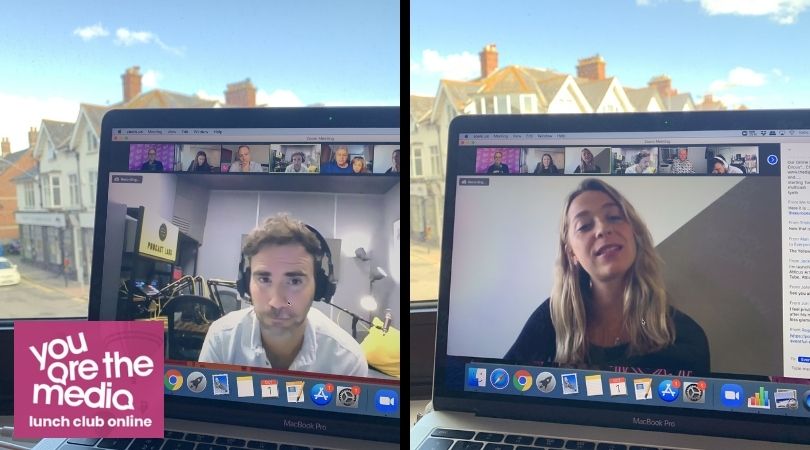 The Proof
Over six months later it's still going. What started as a fortnightly event during lockdown became a monthly occasion as the economy reopened.
It began as a place which I went into without much experience in the Spring. And it took a Zoombombing to make a man of me.
If you're not up to speed on it, You Are The Media Online is an hour-long show that looks at how businesses dust themselves down and discover ways to remain relevant to others, build their audiences and customer base, and keep others along with them for the journey. The show sees us reaching out to industry practitioners who've made their mark and built enviable reputations over the years.
My hope with what I'm sharing here is that it helps you make more of live video as a medium. These are the lessons I've learnt and where I believe opportunities sit.
What Is Bad?
One of the obvious downsides is the sense of detachment, of not being physically close to others. Gillian Donald, from Hixsons highlights this perfectly, "I don't get to meet the You Are The Media audience and have interesting, serendipitous chats with people which turn into something else beyond the Lunch Club."
Flow
Long pauses, screen freezes and having someone who isn't confident with tech, hamper momentum. Other instances include slides that don't show on the screen or video that people can't actually see (guilty!). Whilst during the early days of lockdown people were forgiving, as the months have gone on, they now expect a higher degree of competence and something of a slick production if they're going to commit to attending.
The Lack Of Moments Shared
The online format makes it very hard to read the (disconnected) room. For instance, for live You Are The Media Lunch Club events, I can tell when there are lapses in concentration or people becoming restless – it's a prompt to move on to the next question or section.
When it is just you and silence around you, feeding off the room and responding becomes far more challenging. Seeing those others that are there with you means a lot. You can't recreate it online.
Rin Hamburgh echoes this and says, "It is hard to judge how people are receiving what you are saying. There are problems when it comes to delays."
It Is Too Easy To Default To Webinar Mode
It's far too easy to treat the live medium the way it's been treated for many years. You know the routine: people tune in to sit in silence whilst someone talks at them on a topic that has a call to action at the end (or even worse, goes heavy on selling something for the majority of the event).
If there are more and more businesses discovering the live video space, the majority will be happy to use it in the way that everyone else has done before. This is why more and more people are saying that they are jaded by what they see. This also presents an opportunity.
Has Someone Just Got Up To Answer The Door?
If you're the host you can, in a bid to read the room, become distracted by watching what others are doing.
Having your screen set to 'gallery view' is the worst thing you can do. This is like presenting in a theatre where you somehow have a close-up of every single person in the audience. Perhaps it feels counter-intuitive but, when you're in full flow, having fewer people in your sightline works to your advantage.
There's Silence When You Press 'Leave Room'
A big part of You Are The Media is the noise and bustle of people in a space together. Finishing up the very first YATM Online in March left a very strange feeling. The people who were in front of me just vanished and they were gone. No 'see you soon,' or 'enjoy the rest of the day,' my room was silent.
Whilst we have a section where people can just hang out and chat at the end of YATM Online, the people you were together with are out of sight in a second. This can feel lonely at the end when the adrenaline starts to wear off.
Adjusting to life on Zoom can be difficult and as Rebecca Perl, from MessageLabs says, "I just don't get on with Zoom! In a group situation, it makes me hyper-aware that I am talking too much or too little."
The Good Side
The obvious points you are probably aware of is the ease of attendance, a greater reach for attracting new attendees, no travelling and banking more time your side. There is so much to be encouraged by. Matt King, from SalesChange says, "You can be present or dip in and out. It's the Netflix of the networking world!"
People Can Still Feel A Part Of Something
Even if people are physically apart, I still believe that everyone can feel included.
We can still feel close to each other. For instance, the chat facility should not be turned off and people should be encouraged to step forward and ask questions. We introduced #winning at the start of lockdown. This was a way for people to share the joy in their lives, good things that don't have to be just about work.
This has continued and will do so in 2021. People need to know that a community is behind them and with them. It's where some great interaction can happen.
You Can Break Things Up
It is tough for anyone to give their full concentration for the duration of a live video event.
By breaking things up into segments it can encourage flow and transform a webinar type approach into an actual show. Have a read of this article on the importance of creating productions, not presentations create-productions-not-presentations Your challenge today is that once someone has found you, how do you keep them coming back? No one wants to tune into a one-dimensional presentation with delivery that has no soul.
Cameo Can Be Your Best Friend
The introduction of Cameo.com allows you to bring celebrities (I use 'celebrity' in the loosest term) to your space. You can't do this in an in-person event unless you have a sizeable budget.
The great thing is, you can use the video, over and over again. For instance, when Fleur Cook has her #winning segment, Wagner from XFactor introduces this and sings Spandau Ballet's 'Gold.' We can all find novel ways to raise the levels of enjoyment.
Global Experts Can Lead The Learning & Conversation
This has been the biggest shift, something that has taken You Are The Media to the next level – that capacity for reaching out internationally to people who are eminent in their fields and who have produced highly influential work.
The monthly You Are The Media Lunch Club in-person events feature incredibly talented people as the main guests, but geography is always a huge factor and means that they pretty much all come from below the M4 corridor. Have a read of this article on how to get the industry celebs to your side.
You Grow A Library Of Content
I have always enjoyed the ephemeral nature of the in-person events as they can become memorable 'were you there?' moments.
This has happened on more than one occasion such as Gordon Fong's 'Worst Business Presentation Ever…' in November 2019, crowd surfing and Mark Schaefer's 'Schaef At The Seaside' live event. What you can do now is bottle what happened at the click of a button.
Whilst I would never share the full YATM Online shows (people pay to come and they're the ones who receive the OnDemand videos), it does allow you to promote highlights of what happened. Having that capacity to record provides a ready source of teaser content.
Less Time For Set-Up
When you have the basics right, it becomes easier to set up. For instance, when it comes to YATM Online my preparation is two banner stands, a microphone, lighting and two webcams.
For the live YATM Lunch Club in-person events, this normally consists of making sure the room is set out perfectly and rather than being ready 30 minutes before we go live in Zoom, the in-person side is normally two hours before the start. You can get back so much time when you know what works and your audience is familiar with the set-up.
It Encourages You To Rethink
Having an audience in front of you presents the opportunity to raise the bar on the whole live video format.
With people committing to spending time with you, you need to be thinking about how you can make it better every time, fine-tuning formats and timing, segments and delivery. For instance, for YATM Online we always sing (synchronised Zoom singing is dreadful but so much fun).
We used to have this at the beginning, but people weren't ready then and it was much quieter. These days we run it as a way of closing the event, everyone knows it's at the end of the show and we can all have some fun.
Let's Round-Up
The biggest opportunity lies with creating and delivering something that no one else is doing. It's the being two steps ahead which enables you to stand out alone, whilst most others get on with delivering a formulaic, passive-watch, webinar approach.
Of course it's incredibly difficult to deliver something that is an exact replica of an offline format such as a networking event. That's why we have to explore and manoeuvre to discover new ways of creating a show that has heart, that people enjoy and want to come back to.
2020 has, in an unexpected way, become the ideal time to become resourcefully creative. The energy and spirit you bring is far more important than thinking you have to have many years experience under your belt when it comes to live video. You don't need a huge amount of tech as you begin, just the drive to make people feel welcome when they enter the room.
When you find your rhythm with live video, when people realise it's more than a one-off and that it's somewhere they can learn and meet a speaker they would never be able to see in real life, it works.
When people feel included and a part of the whole experience, live video becomes a powerful tool to use to your advantage.
LET ME READ THIS TO YOU, CLICK BELOW
Podcast: Play in new window | Download