How To Stop Your Customers Walking Away From You
When the right people find you, you don't want them to walk away. When customers feel part of your club, they're more like stay with you for the long run.
The focus of this article comes from a sentence shared by Iron Maiden's Bruce Dickinson at a recent Active Campaign event curated by Jason Miller.
In answer to the question, "What's the difference between a customer and a fan?" Bruce replied, "A customer is a person who can walk away."
Bruce doesn't want customers, he wants fans. Fans who are prepared to stand in a wet field, waiting for his band to come to the stage. And it's not that different if you're a business. Perhaps the word, 'fans' might be taking it a bit too far but, at the same time, everything feels better when life isn't just focused on transactional exchanges.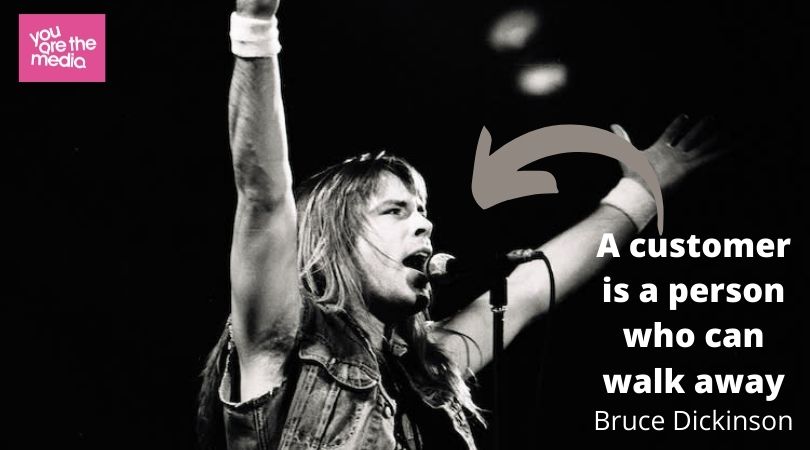 Let Me Explain
From a YATM perspective, a customer would be someone who booked to attend one event and then didn't make any further appearances or would show up only sporadically. In itself that's absolutely fine, not everything we create will be embraced by everyone, but naturally I want people to make turning up for events something of a habit.
From the YATM Online events, to the in-person events that will be making their comeback in 2021, I want people to enjoy each occasion and be left wanting more.
Perhaps it comes down to how you find a customer. If you only care about making a single sale, cut corners and yet manage to convince them that what you're selling is essential – you might just close that sale, completing the interaction.
Whilst I don't believe in finding 'fans' in a business context, I think attracting an audience that develops into a community with community members on board for the longer term, is important. You don't have to aspire to having fans but you should recognise that people feel good knowing they belong and that they're part of something. That community feel can only be achieved if people have an attachment to what you're doing.


What Is The Alternative?
People moving from being customers to community members is about them stepping up a rung on the 'know, like, trust' ladder, staying around and you both being able to take something from your developing relationship. Read the importance of direct relationship with your audience.

For you, when people come over to your side, you have to prove that buying into your world is a wise choice and that you won't let them down. This is what keeps people with you.

If you pause or stop activity, you're giving people a reason to walk away. It's why I kept YATM not only going, but ramped things up during the pandemic. For anyone who joined us – they found a place where they could feel at home and far removed from the storm of the pandemic, uncertainty and successive lockdowns.

When people feel involved like this, you can both figure things out together. For instance, when I have ideas for new initiatives, I ask community members for their views before progressing my thinking. I prefer living in a world where both sides can take value from the relationship over the long-term. The alternative – creating a hierarchy of just taking whatever you can from others quite simply, feels depressing.
How Can You Look At It?
Move from creating customers who can walk away, to building community members that want to stay.
This isn't about building your audience around that book you want to publish, the course you want to deliver, the podcast you want to start, it is around the bigger flag you cement in the ground (I took that analogy from Trevor Young). You move from what can be extracted to supporting one another within an active community.
It takes patience and time but here are some ingredients that add to the 'get more customers' recipe where you create community members who don't walk away:
---
Create What Hasn't Been Done Before. If all you deliver is a replica of what is already out there, it won't move you forward. Build things of value with your own twist on them.
You Don't Have To Be Loved. We hear a lot about finding 'raving fans' and getting customers to love you, or finding ways to continually keep you in front of others. (Who needs a daily email? What can't be said weekly?) You don't need to be in someone's face like a needy girlfriend/boyfriend. However, you do have to make sure people enjoy the time they spend with you!
Refine What Works And Recognise What Doesn't Work. Be prepared to adapt, develop and pivot from whatever it was you started off with. Keep your eyes and ears tuned in to what others want from you and know, that if you're going to be there for the long term, you can't keep things the same.
Content Has To Serve A Purpose. So people don't walk away, there has to be a point to what you share and what people get behind. Being able to write or record is great, but content is only helpful when it is helpful. There has to be a reason behind everything. For instance, one of the reasons behind the weekly YATM email is keeping people informed of what's happening in the community and keep them up to date with what they can be a part of.
Champion A Communal Approach. If everything is centred on one-way traffic – you broadcasting to them (your audience) – then people have fewer reasons to stay. The more opportunities you can think of that help connect people at a peer-to-peer level, the better.
---
Let's Round-Up
If Bruce Dickinson says, 'A customer is a person who can walk away,' then finding a way for people to stay is based on doing work that matters, creating opportunities for people to spend valuable time with you and making sure your audience knows you care.
It's important to remember that although we might believe our products and services do the job they need to and are great in our eyes, our audience has options. They are the ones who make the choice so if you can make them feel a part of your world, you narrow down their choice and make them more likely to choose you.
Everything comes down to the honest relationships you build. It can't be a one-way 'you to them' thing, you have to invite participation in the community you build – one where you genuinely appreciate and celebrate the people who have come alongside you. In this way, the support and encouragement are mutual. Now who would ever want to walk away from that?
Podcast: Play in new window | Download