You Are The Media Online Offline continues in the comfort of your screen, and now in the theatre. Let's brings in the best creative and marketing thinkers from around the globe.
You Are The Media Online has brought in guests from around the world since March 2020. Let's now put this into a live format in theatres and create a hybrid event (Zoom and in-person at the same time).
The overall focus will be on marketing your business in a different world. If you can build an audience that is yours and you direct the communication to people who buy into you (and get it), when times might become tough again, people will already be there with you.
When people stick by you, they will still buy from you and you will be there for them, no matter the weather.
You Are The Media Online Offline allows people to interact and we go deeper into topic areas. Here is our September guest, Joe Pulizzi on being special from a content standpoint.
Book your place today. YATM Online Offline will be at Lighthouse, Poole (in the Theatre). Lunch is taken care of when you attend the in-person event. Make the most of learning, networking and meet old friends as we all come back together. If you want to watch at home or the office, it's only £10.
Here we are singing Here Comes The Sun when we were last at Lighthouse in July.
Who Is The Main Guest On Thursday 7th October?
Let's look at the importance of resonance over reach.
Jay Acunzo is the creator and host of the podcast, Unthinkable, described by listeners as 'This American Life for business.' After spending time at organizations like ESPN, Google, and HubSpot, Jay authored his first book, Break the Wheel, to help people make better choices than the best practices that usually stifle creativity.
When Jay isn't speaking or hosting his podcast, he's developing audio and video series for mission-driven clients, or writing his weekly newsletter to subscribers from the BBC, the New York Times, Salesforce, Mailchimp, and thousands of entrepreneurs and freelancers, all of whom share Jay's mission: to break from conventional thinking and make what matters most.
Now, Let's Turn It Into A Day Together

If you are part of the in-person event at Lighthouse, Poole we are going to start slightly earlier, so come and join in with us.
Our friends at Poole & Bournemouth College will showcase their Digital and IT/Software apprentices in the theatre with short presentations during the morning, on the stage.
What are their hopes and aspirations in the coming years and where are they are looking to progress their career? If you are considering an apprentice within your business, this could provide an ideal opportunity to hear from others and to chat to Carina George and the college team. Or if you want to be a part of the You Are The Media occasion slightly earlier in the day, support those who will be making that step into the commercial world in the coming years.
Mid Afternoon | Creating Wonder Amid Chaos With Jon Burkhart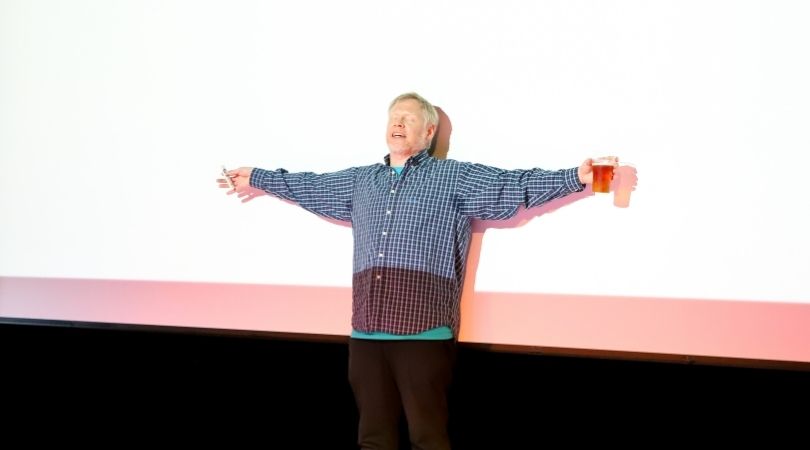 After YATM Online Offline we'll have a break and then YATM's favourite son, Jon Burkhart takes to the stage to deliver his new talk, The Constant Curiosity Guide To Creating Brand Wonder Amid Chaos.
Jon will prove to you how constantly curious brands convert sheer chaos into playful wonder. If all goes well, this will be more of an inquiry-driven virtual travel documentary than a speech.
How do the most creative brands in the world get and keep attention in this era of inbox overload? What are the leaders of these companies doing differently as they face change? Could embracing positivity, curiosity and surprise in these uncertain, dark times have anything to do with it? 
During The Evening
In the evening Lewis Manning Hospice Care are going to have a film night in the theatre. You're heading out (from 7pm) and going to watch 80's classic, Karate Kid. Click here to leave your donation and book.
---
It's a mix of networking, heading out to in-person events again and feeling a part of the You Are The Media space.
When you book your place, this also includes the morning/afternoon event. Make a day of it!
Tickets.
When?
7th October 2021
From 11.15am with Poole & Bournemouth College
2pm (BST) for the main show with our Zoom friends
Where?
Lighthouse, Poole
21 Kingland Rd
Poole
BH15 1UG