Making Relationships Work For You, Not A Life Of The Hard Sell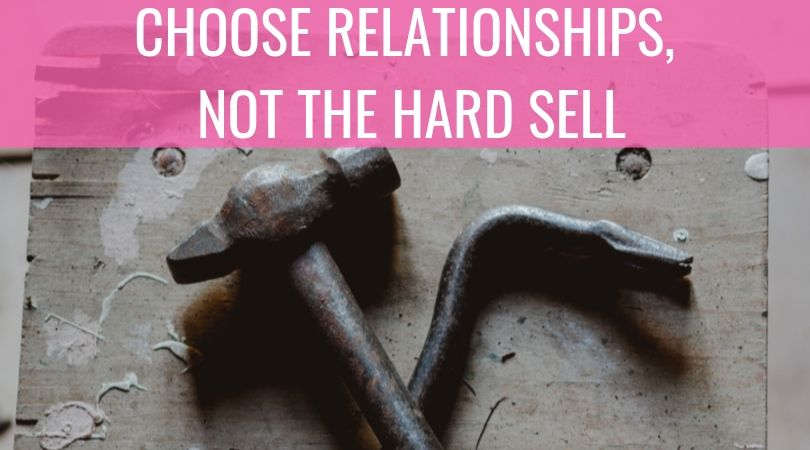 The rapport you have with people brings them closer to you.
The content you create should allow others to decide whether you're the right person for them. It should enable you to forge strong relationships and have a focus far beyond lead generation. This is what keeps customers with you.
The alternative to developing a narrative approach is one where you choose to crowbar your way in.
This article is about the importance of content as a catalyst for building stronger relationships. If all you ever concentrate on is lead generation or the quick sell, how are you ever going to generate the results that being relatable can bring over the longer term?
People can easily recognise when it's all about what you can take, not how you can both win.
Sharing The Proof Of The Hard Sell
Last week, I connected with someone in my local area, on LinkedIn. I effectively opted in and got what I hadn't asked for: precisely 178 words of super-charged, no-time-to-draw-breath, cut and paste (including my company name, but not the right industry) pitch.
Although they can be excellent for finding common ground with people around the globe, LinkedIn and other social platforms also make it far too easy for people and businesses to cut to the chase and sell to anyone. I like how Mitch Joel describes how people look at the media that is presented to them, "Most brands go into channels to sell from them instead of learning to become part of the culture."
"Brands look at channels as an engine for advertising rather than an engine for marketing. If we look at a true marketing approach this is defined as solving a problem by providing digital solutions using the layers of communication as paid, earned, owned and rented. Most businesses hone in on the paid in the hope that they can earn on it."
This begs the question, if people are using social purely as a means from which to sell, do you have any hope of building a relationship with them when they've made it clear they're just after your money?

And should we all just resort to throwing the net out as far as we can to anyone and everyone who might listen and then try to convert them?
The Pressure On Creation When A Cold World Is Easier

Social media collaboration platform, Planable produced an interesting report this year, looking Behind The Scenes Of Content Marketing. The sample audience consisted of 200 marketers. When it came to content creation and distribution, there was a heavy emphasis on volume. From the survey, 44% of marketers produced over five pieces of content per week (see the chart below). As an example, a blog post took an average of 3 hours, 28 minutes to create.

What this means is there's huge pressure on businesses to produce and distribute content against a ticking clock. And that creation and tuning of the right messages takes time and commitment.
Effective content creation not being a quick or easy solution helps explain why there is a glut of people who are happy to use social as a means to sell from, by any means necessary.
Is the future going to be around more cold DMs on connection, or conversions in the quickest time possible? Or is it going to be around the relationships that content can build over a longer-term that encourages retention?
Should the focus instead not be on producing less but making sure it resonates with, and has maximum impact on, the right, closely targeted audience? I spoke to Xenia Muntean, co-founder and CEO of Planable about this on a recent You Are The Media Podcast – YOU CAN LISTEN HERE.
Rapport & Relationship As The Driver
If you've carved yourself a space for a narrative that doesn't sound like everyone else's and found a way to distribute it, then "your" people will be drawn to you. People buy from you not because you step up as a stranger, but because there is some form of connection.
But creating and forming a continual narrative, as the research from Planable shows, is challenging. All the while, further pressure is being applied by social media platforms that are increasingly demanding we pay to play and play by their rules.
So why create something that is yours and takes a significant investment of time to put together, when the audience and the means of addressing people is dependent on you bowing to the rules of a third party?

But then, if a social platform presents a way to target people, surely it is easier to just cut to the chase and direct your product and service to as many potentially interested people as you can?
If you subscribe to my approach then the answer to that last question is a resounding, 'no.' You can build far stronger relationships and achieve greater retention away from purely distributing on social media.
By building and nurturing your own space, you can invite others to find common ground and find their place within your "home."
What You Can Do To Adopt A Relationship Approach
You can still sell when you adopt an approach that is far more centred on rapport. Here are some thoughts as to how you can do this:

Become a constant in someone else's calendar.
The objective of this is to make people look out for your communication, expect and want the value you bring to their inbox on a weekly or monthly basis. The concept of value is key here.
Content Tip: If you have a newsletter, share items that are complementary to, but not necessarily focused on you or your marketplace. For instance, instead of sending emails to people with a single sales message, why not flip the 80/20 rule where 80% of what you create is purely because it's valuable and interesting of itself, with only 20% focused on what you might want to sell.
Connect with emotion, not for immediate conversion.
When I put myself in front of other people, I'm mindful of needing to be relatable. I try to give people the confidence to create and build their audience in a way that feels both possible and immediately actionable. The more at ease people are, the easier it becomes for them to make a judgement on whether I can support their business side. Connecting with emotions is far stronger than reaching out with the sole purpose of converting. You want to retain and not distance people from you.
Content tip: It's ok to share topics or broader themes and even talk about times when everything didn't go according to plan. This makes people know that they are just like you.
Facilitate connections between people.
It doesn't always have to be about you. You can still build rapport when you connect two people or businesses that don't yet know each other. For instance, someone kindly recommended me to a coffee company as a resource to help them with creating an ongoing narrative. Over the course of our initial emails it became clear that they were also looking for help with freelance video production; cue for me to effectuate an introduction. Recommendations are a great way of bringing people into a conversation. It's good to be a connector and both sides will remember you as the person who brought them together.
Content tip: Don't keep it all to yourself! If you're looking to convert people into paying customers, becoming known as a connector is a great way of enhancing your profile. And remember, relationships grow and flourish when you give people the space to stand alongside each other and don't insist on every introduction having to come from you.
Keep on giving value and value your relationships.
If you create it, it's up to you to nurture it and keep on giving value. I like the fact that people within the YATM family are choosing the touchpoints that suit them best (from the weekly email to the YATM podcast and live events) but that everyone receives an email at 6.30am on a Thursday – no membership tiers or special levels that people can buy into – at YATM everyone is equal.
Content tip: Figure out ways to keep the relationships you create going by always showing up, and developing new ways to interact that respond to your audience's needs. Activity shouldn't just spike around events in your calendar where you want your audience to deliver for you.
Don't run before you can walk.
Recognise the media that you can stick with and become accomplished at. Don't become distracted by developing a new channel of communication before your initial one has gathered a following. For instance, I waited until 2016 to put on live events because that was when I was confident I'd have enough people attending to make them viable.
Let's Round Up
You can be commercial whilst, at the same time, taking care of your audience, prospects and customers. It all starts with having something worthwhile to say that feels relatable, rather than focusing on what someone can do for you.
Have boundaries and wait to be given the metaphorical thumbs-up before you even think of selling.
Valuing rapport is how you find lifetime value in the relationships you develop and, in this way, they become your greatest asset.
Why not listen to the audio version of this article.
Podcast: Play in new window | Download