How Reshaping Your Work Sparks New Life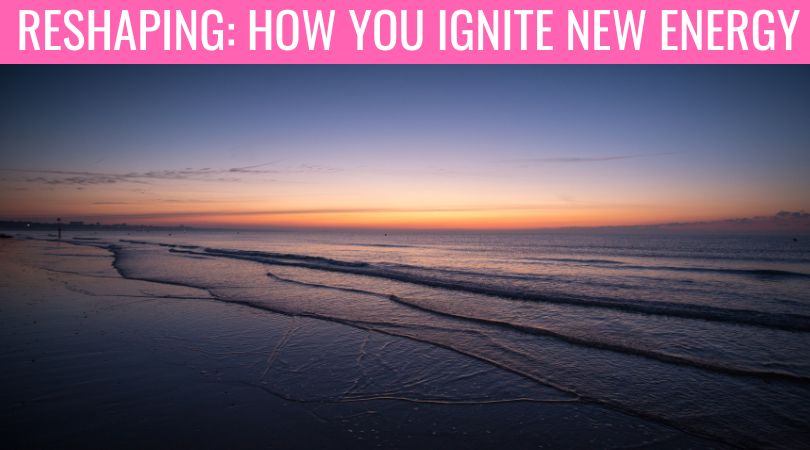 You can keep doing what you've always done or reshape what you do.
You will never run out of starting points, but evolving what you do is a healthier place of progression when compared to picking ideas and inspiration out of thin air.
When you find a pulse with your own efforts, change is what propels you to go forwards. You could call it reinvention, but I prefer to call it reshaping. It's a way of making continual iterations, adapting what you do and redefining the path you're on.
The overall premise is the same, no matter what you do, to persist in the business of connecting. It just means that the longer you are at the wheel, the more insight you take on board to evolve your thinking and delivery.
If you have an idea or a project that you are progressing with, then you can reshape.
What Reshaping Your Work Means
It's easier to keep on going, unchanged, or you can change something. For instance, it could be a newsletter that hasn't changed its format in years or even an in-person event where the structure is exactly the same as it was before 2020.
Change is a natural part of life and for the audience who make that commitment to you.
It presents new possibilities and opportunities for everyone. If you have others around you, you can make an impact, you just have to be open to make changes.
It helps to bond associations, remain relevant as well as build your reputation. 
I'm Going Through Another Change At The Moment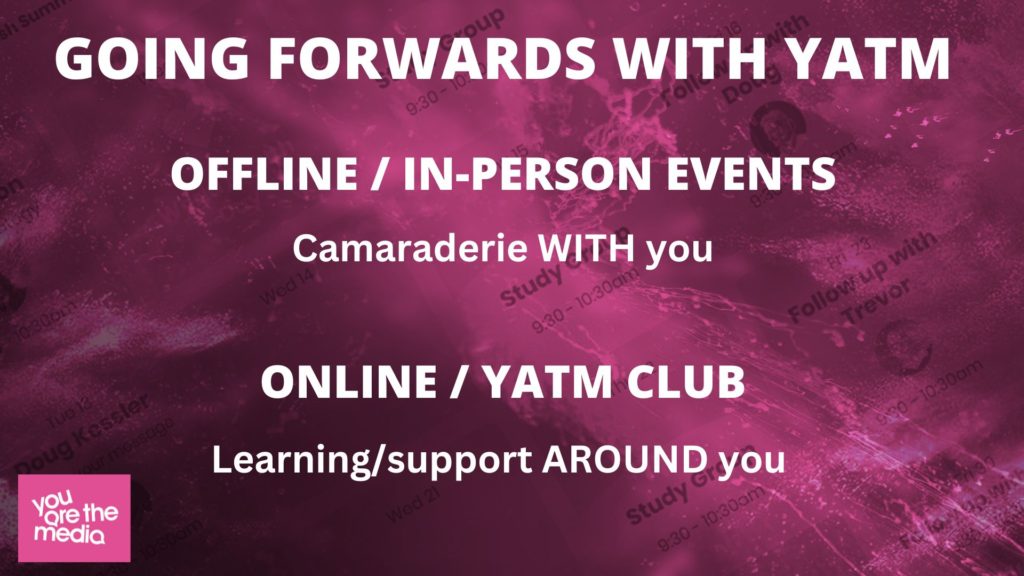 You Are The Media is in a state of constant change. It goes through this every two to three years. We are currently in one at the moment.
That's one of the reasons why it's still here. It helps when you decide where you want to take your projects and work, forward or backward.
YATM is no different from any other initiative that has longevity and is still here. It started, systems were introduced (a weekly newsletter), new ideas were added and the whole process repeats.
There has never been a finish and to sit back, more ways to progress and to make the whole experience better.
I am thankful that YATM is still here but always reshaping, remodelling and progressing. You can read the full timeline.
Let me share a quick way of proving to you that reshaping has been the bedrock for everything that has happened and by not standing still. I do it, so I can be sharp and two steps ahead.
— YATM started as a newsletter in 2013
— What was a newsletter became coming together (live events from 2016)
— What was coming together became ways to create special occasions (a conference and annual events since 2018)
— What was special occasions became about empowering connection (YATM Creator Day since 2022)
— AND NOW…what was connection is now becoming learning and working as a team (the new YATM Club).  
The way YATM is reshaping in 2023 is to create a membership space where the focus is on ambitious creators who want to become self-sufficient.
Its intention is to help others build their voice and their audience, whilst lifted by others around them. We're coming up to 10 years and YATM has been the place that has played a role and is still here. Progress is where YATM becomes a much more central part for others where they progress their work and business.
By taking a step back and reflecting on how YATM has changed, you could say that up to now, it has had an ad hoc existence. Namely a newsletter and events happening around it where people are connected to the newsletter.
Today, it is shaping with a focus on bringing people together and helping members feel more like a club where we'll work and learn together. Activity still happens with the live events, but now a central place where people can be together that isn't limited by where you live.
My way of thinking is changing too. YATM is reshaping so the live occasions become about seeing the people with you and online becomes learning with others around you. We started the YATM Club in beta mode but now time to elevate and work together.
I recently shared the intention going forwards with the YATM Club, what it means and the schedule for the rest of the year. You can watch it below (my presentation is 20 minutes).
Advice To Continually Reshape What You Do
If you have an initiative, a project that you feel comfortable with, you can reshape and progress.
It's everything about forward momentum where you evolve your work, but also you as a person. Here is some guidance that gives you liberation to reshape.
---
Recognise no one controls you
This can be empowering but also difficult as you don't have a guidebook in front of you that tells you where you to. You may have a destination in mind, but not quite sure how the roads all connect. What starts to happen, over time, is that freedom takes centre stage. It could be increasing your sources of income or being brave to try out new ideas. 
Mentorship is everywhere
This is knowing there are so many places to fill you with ideas. It could be friends who are prepared to challenge you directly or it could be indirectly through books, films and material that is already out there. Taking new ideas on board helps to look at where you are and where you could possibly go. What happens when you take new ideas on board is that you start to develop new skills ie. presenting, leadership, sales, tech.
Let go of being perfect
It's better to be curious than it is to be right. What it does is start to promote a sense of playfulness in what you do when you acknowledge that the creative process is ongoing, rather than a fear of failure that grips your intentions. For instance, we introduced a 'working together' element to YATM Creator Day and it felt better to step forward and give it a go and to work on each year than think it has to be perfect from the start. Anything new has to have the freedom to find its place. Otherwise, you deliver work this is similar to everything else.
Habits help iterations
When you begin a routine what happens is that they develop and become modified over time. For instance, the YATM newsletter is very different than it was a few years ago. The idea is to include content that people won't be able to get anywhere else. This could be free codes to go to the theatre, others from the community starting the newsletter each week and finding interesting places on the web for people to waste some time.
This has only happened by developing a weekly routine and reshaping how its presented and the feedback/ideas from others. 
Publishing your work without dwelling on it
If you can get in the mindset of making sure people see your work, it gives you a greater opportunity to reshape. If you can make things happen, you become valuable. The goal is to have the skill to get things done, on the days that you promise, where you have the ideas and outcomes that others are looking for. When others recognise this and step up, you know that you're creating for others and to be better, there has to be progression.
Curiosity encourages you to keep going
Put aside what you think you know and focus on what you need to learn. For instance, when I began YATM the work was generic marketing advice. Where we are today is a focus on how small businesses can be self-sufficient to build audience, grow their business and take a slice of their marketplace.
This has only come about by starting something that I know I cannot stop and test out ideas in front of you. Reshaping YATM has come about every two years and this is done by taking onboard new skills, new efforts and sharing them with you to come and join in.
---
Let's Round-Up 
The choice between sticking to what you've always done and embracing the ability to reshape becomes apparent.
Rather than always starting from scratch or relying on mere inspiration, evolving what we do leads to healthier progression. Change becomes the driving force that propels you forward.
YATM is a project that has undergone constant change every two or three years. What started as a newsletter evolved into live events, special occasions, and now a focus on empowering connections through the YATM Club. This reshaping allows for progress and remains relevant for the people who join in.  
By embracing the ability to reshape, we create opportunities, learn new skills, catapult our efforts and make a meaningful impact in the ever-changing landscape of possibility.
---
The YATM Club is a membership space for you to learn, create, grow, share your work with others and lift each other up. Read more and join us here.