Save Your Best For The Audience You Already Have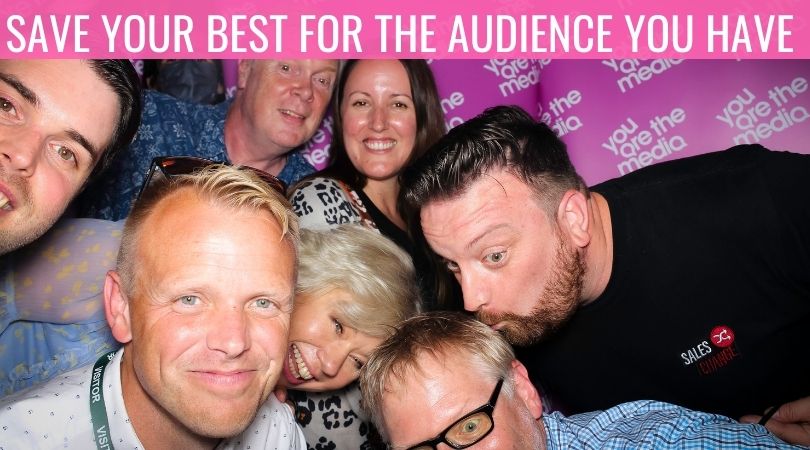 It feels great when people subscribe to your work, but it's what you do with the people who stay with you, that matters.

When you grow an audience, it means that you can direct your message to the people who want to hear from you. When you take the algorithm out of the equation, you have the control, it's you and the person in front of you.

For me, it's the drive to keep going as it validates what I do, so I remain relevant to the right people. More listeners, more subscribers, more clicks and more downloads are what many people see as a measure of success. However, a big audience is irrelevant if people are not engaged. For instance, a landing page could highlight the tens of thousands of subscribers, but if only a handful of people open the email, then perhaps the audience is not as committed as what is suggested.

I'd like to make the case that perhaps it is time to stop worrying about the size. 
Size will always have its place, but focusing on the audience you have is so important to your growth.
The Way It Can Work
The content you produce to attract others, it helps when you have a simple framework that binds everything together.

This is how You Are The Media works when it comes to audience retention.
✅ Encourage people to subscribe. It is important to share with others the value they will receive that they won't necessarily find elsewhere. It's a starting place, so you need to promote the benefits of being a part of something. This means people feel justified leaving their email.
✅ Keep the people who have subscribed. When someone has subscribed, how can you make them feel at home and assured that they came to the right place, over and over again? There will always be people who unsubscribe but what can you do to not lose what you have both gained?
Making Those Who Stay, Feel Involved
What can you do to make those people who stay with you, feel special? Here is what You Are The Media has done where the audience becomes a central part of the overall growth.
---
The community has taken a central role.
Our community learning show, You Are The Media Learning reaches out to those who are part of the YATM community to be part of the regular panels. These are people who have skills in different disciplines and the topics take a closer look at. It's a way to highlight the talents and skillsets of others who are already a part of something. 
Feedback should always be encouraged.
YATM grows because of the people around it. There will be occasions to share ideas for future projects and where input is valued. This is where there is a focus on interaction with each other, not just transactions. It's your audience you reach out to first.
People can take ownership.
One of my future goals is for the community to lead. This is what I believe a true community represents, where a collective effort drives the initiative. Examples of this is already happening, such as Matt King hosting YATM Learning. Matt started as a subscriber in November 2019.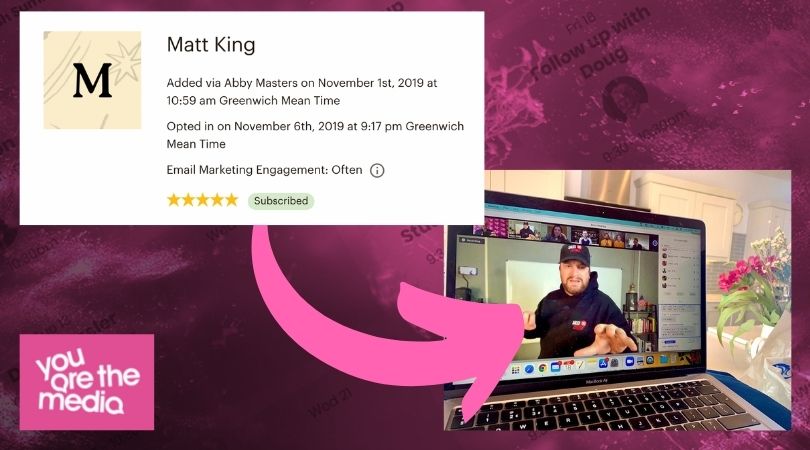 Provide rewards that no one else does.
Feeling part of a 'club' should come with perks. If you just share a 'perk' on a social feed, such as a discount code, it doesn't feel special, it was available for everyone. Focusing on the audience you have, means they know you are thinking about them. For instance, YATM subscribers have taken up free crazy golf or for the start of 2022, free theatre shows at Lighthouse, Poole. These are rewards that are not available outside of the YATM space. 
---
Bigger Matters, But Not Always Better
Having a bigger audience is important up to a point, but it's what you do with it that matters.
In an article that shared the importance to have subscriber goals I highlighted why you have to concentrate on those you have, "you'll find that people will care far more. This makes your content proposition completely different from being one that concentrates on sourcing leads, keeps subscribers at arm's length and is only concerned with finding and converting the next lead."
A lead generation goal – work that sells designed to get people to buy (and go)
A subscriber goal – work that matters, that people care about (and stay)
Lean into those that are around you and make something better for them.

The people who stay and the audience you have are what represents your true audience. Here are some rules to have in place. 
---
Clean your email list.
Remove people who rarely open your email. The person who subscribed in February 2021 and has rarely opened, are they going to be a person to reach out to when you have something that could be of benefit to them? The only reason we keep large email lists is that it feels good seeing lots of people around you.
If you can't rely on others, a big audience is irrelevant.
If you need a helping hand, could you reach out to someone else? A large audience can make you feel good about yourself, but will people be there when you need them the most? Buying a database means you start as a stranger with every single person.
You can't game your audience.
This is where someone subscribes and what they receive from you is completely different from what they expected. That initial warmth becoming a heavy daily, sales approach takes advantage of someone else's generosity. If all you see of your audience is a money sign, then it skews the whole reason to build an audience, where it was always about you.
Organic growth will happen when people say 'you'll like this.' 
At the end of the weekly YATM newsletter, I always ask the community if there is someone who might enjoy it (and add the landing page link). Those who are with you and enjoy it will feel more inclined to tell others. This can happen without you knowing about it. This means that the energy and drive you give, means they are more likely to do your marketing for you and attract new, like-minded people. 
---
Let's Round-Up
Stop worrying about the size of what your audience has to be. Maybe what you already have is large enough? The most important thing to remember is how the audience you already have can feel a part of what you do.
We have to attract the right people, it doesn't always have to be more people. Yes, audience size is important but there is no defined number for you to become successful from the space you build.

Drive people to your page, get new people to join, but you can't forget those who made that small commitment to step inside with you. This is where the good times are.
---
LET ME READ THIS TO YOU…
Podcast: Play in new window | Download