Five Things To Do That Take Less Than 10 Minutes. It's The Little Things That Matter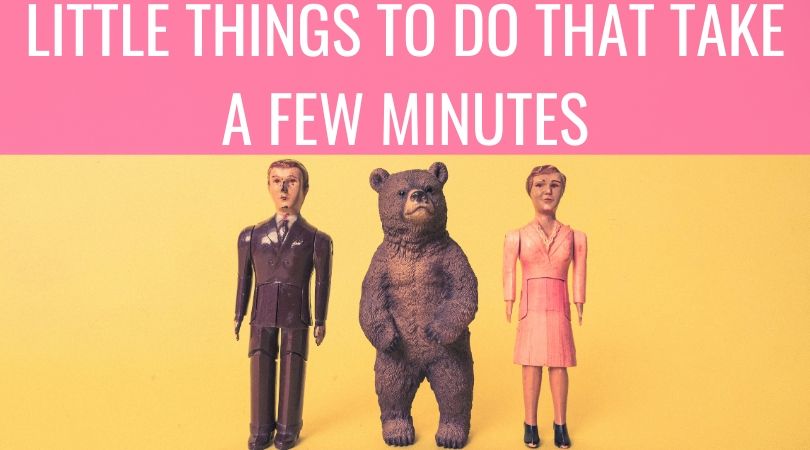 Paying attention to the little things that others may overlook can make all the difference.
Seemingly small actions that drip feed care, consideration and empathy accumulate over time to become something bigger. They can translate into more subscribers, stronger customer connections and increased sales.
This article looks at how you can embed routines that require very little time into your everyday and how being consistent with these people-centred practices can help you achieve your wider business goals.
It's worthwhile remembering that it's the little things that matter where the quality of our relationships is concerned. As Andrew Davis says in a recent Loyalty Loop, it's all about, "removing friction and scaling camaraderie."
Let me share some ideas with you, where the goal is having people come on board with you for the long term. And the even better news? They don't take much time to implement and can make a big difference to outcomes.
Send a non-automated thank-you email back to new subscribers (after all, you're not a robot).
When someone subscribes to your work, it means they've made a decision to come in a bit closer. A gushing automated message, set up some two years ago about how thankful you are, is an empty gesture. See each and every subscriber as an opportunity to start a new conversation.
TIP: Anyone who subscribes to the You Are The Media weekly email receives an email from me, in real-time.
Ok, a lot of it does originate from a template, but it is sent from me "in the moment." Key elements include: calling someone by their first name (even if that means trying to decipher a gmail email address); asking them what they do at their company; asking them how they found out about YATM. Finally, if a person lives near to where our live activity happens, I send a link to an upcoming event.
The number of emails I receive back from people checking that it's not an automated email or saying that it felt odd but wonderful to receive a real-time welcome email proves the value of this practice and sets the tone for our relationship going forward.
TIME IT TAKES: 1 minute 30 seconds
Direct new connections to your home from social.
Rather than just clicking the accept button for a new contact, why not find an opportunity to bring someone closer to you, beyond the rented space of a social platform such as LinkedIn? It feels better having an audience that you can grow in your space, rather than growing an audience somewhere that's not yours.
TIP: For new LinkedIn connections, don't step right in and start selling.
If a person reads, watches or listens to your content and that triggers an approach, take advantage of inviting that person to the party going on at your place. The value they can derive by directly engaging with your owned space is far greater. So use LinkedIn as a way to cultivate your own audience and bring the conversation over to yours. Give people a prompt and a place to leave their email if they're interested. When they leave their email, you can go into more detail (see point one about personalising your welcome).
Tell people what they can expect to receive from you.
If you have a sign up form on your website, don't ask people to subscribe to your newsletter and just leave it at that. It's important to tell people what they'll be receiving and when. In this way you're preparing the ground and giving yourself permission to develop the relationship.
TIP: Give the work you share its own home – a domain, a name and an identity that stands apart from your company or brand. Read this (click here) which explains why. Don't use the name of your company followed by "…newsletter." What you're looking to achieve is the feel of a separate content strand that stands for something – click here to figure out the one word/idea you can stand for.
Also, if you're going to send them an email every Friday or on the last Friday of each month, make sure you keep to your promises. Show people that you're committed to them, making it an unwritten contract between you.
TIME IT TAKES: Invest time in getting clarity on your offering. Once you know what you'll be sending out you can then adapt the message to the individual subscriber (1 min)
Make sure no one is on their own.
When it comes to live events, if you want people to feel they belong, you have to make them feel comfortable. Whilst there is obvious emphasis on ensuring that the time and money they spend is worthwhile, remembering the smaller touches is just as important.
TIP: When it comes to the YATM Lunch Club, I always make sure that no one is on their own. For instance, if it's their first time, they may be anxious and looking to be put at ease. Taking time to say hello and a 'thanks for coming', is much better than letting them find their own way. If they are on their own, then that presents an opportunity to introduce them to someone else and get a new conversation/connection going.
TIME IT TAKES: 3 minutes for a chat and then 2 minutes to make an introduction to someone else.
Always be managing expectations.
For anything you deliver to a wider audience, be it webinar or live event, tell people exactly what they can expect. If they're giving you their time and money you need to be upfront about cost, timing, what to look out for and an outline of key learnings.
TIP: 48 or 24 hours before the event, send an email detailing the above. Eventbrite allows you to send an email to everyone who's booked via Manage Attendees – Emails To Attendees. And rather than the standard automated reminder email text, remember to create your own personal message.
TIME IT TAKES: 7 minutes to write the email and cover the main points and timings.
Paying attention to the small things helps you more easily achieve your overall business goals. Embedding them in your everyday behaviour means they become second-nature and support your overall purpose and strategy.
Let's Round-Up
Every action I've detailed in this article has, at its core, the idea of removing friction and amping up the empathy to encourage further interaction.
Embedding these behaviours means that you can be real-world responsive rather than automated; taking the lead, rather than waiting for someone else to give you the green light. It means the relationships you develop have a better chance of lasting as they're driven by your promise to provide value and not just accumulate followers:
Be transparent and tell the truth
Make promises you know you'll be able to keep
Show you care and help people feel they belong from the start
Open the doors to empowering them to contribute
The outcome, when you become used to taking those small steps, is a loyal audience that will help you further build your business.
If you prefer to listen, here is the audio of this article.
Podcast: Play in new window | Download