When Can You Charge For Zoom Events?
Live video presents a great opportunity to increase your digital presence. But should you be thinking about introducing a charge for the Zoom events you put on? Or should they remain as something that's free to attend?
This article focuses on creating a programme of video events with a cost-to-attend attached.
For the purposes of this article, we're not talking about full-day conferences, but events that are part an ongoing project where you'll be introducing the idea that people pay to attend.
Could this work for you? Is it something you're already considering? Let's look at what could make it difficult for you, what could make it a possibility and some advice if charging is something you'd like to introduce.
It's Not Your Decision

Let me get straight to the point. Whether you're looking to charge or not for an online event, the decision will not ultimately be up to you. It's your audience who will decide if it's for them, and vote with their wallets and eyeballs if it is. Putting an £80 price tag on an online seminar may feel great but it doesn't mean that people will buy and show up.
Sharing The Proof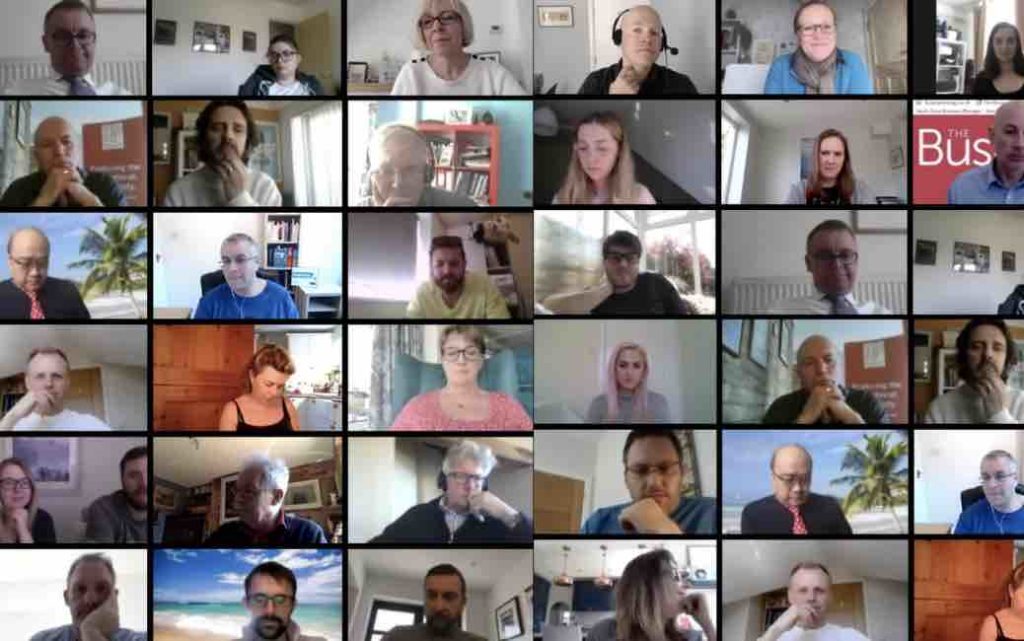 You Are The Media is making significant steps into the live video space. It felt ok, with the YATM Lunch Club having been around since May 2016, to make that transition from offline to online.
The format is still the same with one main topic and a single, central guest but this is also now interspersed with the audience sharing how things are going for them. Everyone attending has the opportunity to step up into this space and contribute.
This approach, something familiar mixed in with something new that's suitable for the format, has meant a smooth switch into the digital space. We have the same high calibre of guests and YATM's well-known themes of creation, audience, ownership, loyalty and message, but it's now been scaled to reach around the world, accessible to people beyond the reach of YATM's live events in Bristol and Bournemouth.
You Are The Media Lunch Club is online every two weeks and at the normal YATM time of 12.15pm GMT on a Thursday (if our guests are from the US, the start time becomes 1.15pm).
From day one, every YATM Lunch Club has always had a cost associated with it. Whilst the first online session was a trial and free to attend, the cost is now £10 for each YATM Lunch Club Online.
Can You Just Charge And Expect People To Attend?
Introducing the cost element of the online YATM Lunch Club has been made easier through it being an adaptation of something regular and established as being paid-for for four years.
Without an established presence, charging for an online event can present quite a hurdle.
Here are some reasons why, despite your honourable intentions to deliver a wealth of great material, cost can present a challenge for generating sign-ups:
---
You've just stepped up and it's a one off
You have to have a reason and narrative behind creating a video event (click here for a recent article that looked at questions to ask yourself before you start your content efforts). It's tricky to ask people to part with cash when you have no point of reference for your audience, i.e. little existing material or momentum behind you.

You start without subscribers or an audience
Advertising may help because you'll be paying to be seen by a targeted group of people. These people might not have been aware of you. The most rewarding means of building an audience is when someone puts their hand up to receive information from you. In this way, they've already decided that what you say resonates with them.

All your other events and material are free
If everything you have delivered so far is free, it becomes difficult to move the needle towards charging. A lot of my work, such as the weekly YATM email and the YATM podcast, are free but the live events side has always had a cost associated with it.
---
Why Delivering Something Free Can Help Your Future Efforts
If you're just starting out with your content creation efforts and the goal is to build your audience over time, delivering something for free becomes a place from which you build trust.
There has to be an emphasis on providing value, not just taking someone else's time to show off your work. Having lead generation as a focus from the outset is not something that feels attractive to sign up to.
Why starting free can still help you progress to a paid model in the future:
---
Testing out an idea
If you're new to particular a medium such as hosting a live video event, starting out by providing something for free can help you experiment and find your stride before you commit to ongoing activity. It allows you to hone your craft.
Charging from the get-go, without any prior experience, can be a deflating experience for all concerned, not least for the audience you may lose in the process. For instance, during April I tested out a live presentation on finding your first ten loyal email subscribers. By having a live audience, I could deliver in the moment and gauge how it went. The live lab, free to view setting for an invited audience became a means of exploring.
Building an audience
If you want people to have faith in you and recognise the things that you stand for but you're still in the early days of your journey, building a core audience should be your primary goal. The more you deliver and people come over to your side the more you can develop whatever content you're producing. Starting off with a handful of people tuning in to watch and participate is more than ok, it gives you something to build on.
---
When Charging Becomes A Real Possibility

The behind-the-scenes work that goes into creating a live video event and its promotion represents an investment of time and money (perhaps you've had to upgrade hardware and switch to paid versions of software), so maybe you feel it's time to start attaching a cost to it?
Here are some reasons why your audience may choose to take that step and pay, as opposed to you unilaterally deciding to add a price tag and no one showing up when you go live.

Reasons why a cost to book is ok (it has to be worth money and time):
---
You have a body of work and an audience behind you
Paying for something comes with less risk attached when you're already known for a particular type of content.
There's a connection between the activity and the audience
The emphasis has always been on the connection and the community that's built up around YATM over the years. It's easier to reach out to people (but not pester them), when they're already loyal.
The "ask" to people who are familiar with you becomes so much more powerful also when you're not just relying on a social media algorithm. By this I mean taking care with your audience, announcing key dates in your email, or even asking people directly who are already on board with you, rather than relying on social posts you hope people will see.
There are perks for your audience in a live space
If someone is paying to attend, they want to feel a part of something and you need to be making sure everyone feels included. If you remove options for interaction, such as turning off the chat function, then people might as well watch a YouTube video.
For instance, any person who books to attend You Are The Media Lunch Club Online for the first time, has the opportunity, ten minutes before the main event goes live, to have a "hello and get to know you" session. The last thing you want people to feel is that they're just a face in a crowd, not quite part of proceedings.
There is consideration given to the content delivered
If you're working hard behind the scenes developing the event, you want people to recognise this. This could be sourcing speakers or highlighting themes that can help your audience, helping them interact with each other and even encouraging them to to reach out after the event.
The delivery has to be related to the overall message of what you share (and your business). This is where finding and nurturing your niche can help. For instance, broad generic themes such as, 'navigating your marketing through the coronavirus' or 'why you need to have a podcast' are easily available with a quick search from thousands of noted sources. You win when your work is tailored for the people you serve and swerves away from topics that are too general.
There is emphasis on the production, not just the presentation
There is something to be said around not just playing it straight but creating an element of theatre to your live event. Interaction, build-up and a sense of community is just as important as listening to a noted person sharing their perspective.
Recognising that everyone has a role to play, from asking thoughtful questions and making suggestions for future shows, to sharing what they particularly enjoyed in a LinkedIn post, helps create an all-round continual buzz that reverberates all the more after every event. People want to feel connected to something where there is this feeling of community.
It's part of something much bigger
When a video event is part of a larger ecosystem, it doesn't sit in isolation. This is why it's so important to credibility with every touchpoint you have. For instance, YATM Lunch Club Online allows everyone to be 'in the moment' with globally-renowned marketers. This sits comfortably with all the other YATM activity and its function as a marketing, media training and learning community.
---
Let's Round-Up
Just because you can charge people by adding a buy button, doesn't mean people will spend.
People will be prepared to pay if you've been delivering your narrative consistently over time, to a loyal audience whose needs are being met. What you present in the video space can become a natural extension of what you do and the overall values and promise you make to others.
With live video events the emphasis has to be on it being something where every single person knows they can step up and contribute or just be happy to be a part of the shared occasion.
The things that bring people together offline, namely connection, friendship, and community, are just as important, online.
LET ME READ THIS ARTICLE TO YOU, CLICK BELOW
Podcast: Play in new window | Download