When You're In It Together, You Do Your Best Work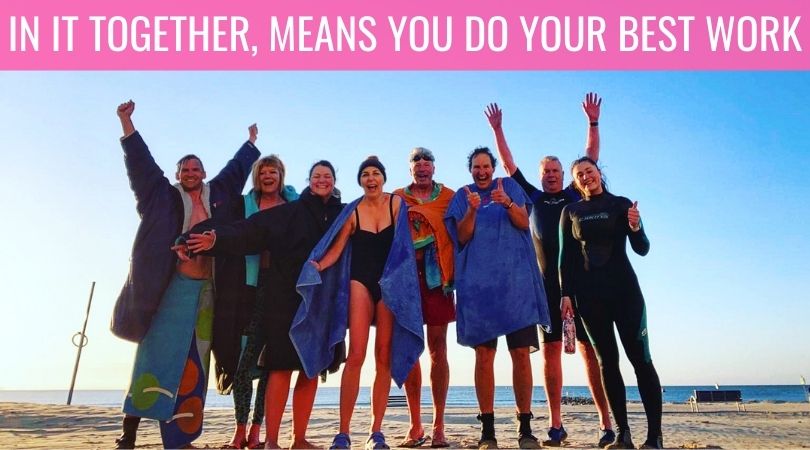 Having others around you to figure things out together can elevate everything you do.
Learning doesn't have to be kept at a distance, or with a top-down nod to being compliant to do what you are told. There is a way to make it an enjoyable experience for everyone, even fun!
When people congregate, the impact of the gathering can mean an opportunity for everyone to learn together. It means that people are accountable to each other.
Finding A Group & Working Together
When you are not connected to each other or a wider commitment it is easier to walk away. You have probably experienced this yourself when you sign up to attend a free event either online or offline and then decide nearer the time to not attend.
Being around others enhances learning, it makes things happen. It's the group dynamic that puts everything in a much stronger place. For instance, having the in-person YATM events feels so much different on a personal level than the online side. It has energy, it has a connection and is exciting. For instance, I like introducing people to each other who they may never have met before.
Social media and online video platforms are great for building a dialogue, creating direction and structure, but when it comes to genuine belonging, people together in a real space is on another level.
The Swimming
Here is the power of the group in action where we're all in it together.
Every Friday, at 7.15am we have a group of people who head into the sea (we've done this every week since July 2021).
The thing that gets me out of bed on a Friday morning (even when it was freezing in February and the lowest sea temperature of the year) is the fact we wait for each other. When people say they are going in the WhatsApp Group on a Thursday, that is our promise to the group.
It would be easy to put in an excuse, overslept, or just tired, but we do this for the experience, the buzz and to be around each other. That is the power of the group. Going in the sea alone feels isolating (and easier to say no), going in the sea with others is shared screaming when it's freezing as well as staying in a little longer than you probably think. Everyone takes something from it.
This is why having people around you is about encouragement, pushing you forwards and even friendships being formed.
How To Put It Into Place
Figuring out and being in it together doesn't happen quickly, it's about creating a trusted space where you can make others feel welcome.
Here are some thoughts on forming a structure for people to feel obliged to come closer, rather than compelled to be non-committed.
---
🍻 Find a group to experiment with. When people are prepared to step forward with you and you are open that you don't have all the answers, you can discover together. For instance, when we introduced YATM Online Offline in July 2021, we had no idea how a hybrid format would work, but it was the input of others that helped make it a slicker production the more we delivered. Testing and putting ideas out into the world to strangers is fine, but when you do it with familiar people, you are more inclined to all want to make it a better experience for everyone.
🫂 The right people will help raise the bar. When you make the space, you look around you and find others with similar aspirations and goals. When you are in it together these are the people who will tell you the truth when you need to hear it and push you further in exchange for being pushed. This elevates the whole delivery for everyone involved.
📈 There is a regular schedule for people to associate with. A sporadic delivery doesn't really help anyone. It could be a webinar that sits in isolation, it could be a get-together for a business community. If it doesn't feel a part of a wider programme then people may not make the commitment you want from them. People need to see that you care. Alternatively, if you deliver with intention and people can see it is connected to an overall message, it can give a huge boost to your work.
👥 People come into a space that feels safe. Being 'safe' means that someone doesn't feel coerced into something that is completely different from what they originally thought. It means they are encouraged to be inquisitive and speak up as well as know they are going to be supported by others. When people feel comfortable, they are more likely to tell others.
Putting This Into Practice To Prove It
Being connected to each other is continually being tested. Why go to something in person when you can attend on Zoom? Why travel to a location when you can still be in your tracksuit bottoms and still be around others looking into a camera?
The belief in connection is continually being severed.
This means that the longer we are separated, the more normal it becomes. This makes it even more important to help people to learn how to interact, to question, to ask, to figure things out as a collective. Plus to link everything together so we can make sense of what is happening and how it affects ourselves and the businesses we are a part of.
The YATM Creator Day is a way of showing you the proof on Thursday May 26th and what it means when people work together. Plus it means you can be a part too.
One thing I don't want to do is create a conference type of environment, where it becomes people talking at you for a whole day and nothing to action or put in place your side. When people come together, interaction has to be encouraged beyond the coffee breaks and lunchtimes.
The day is centred on helping people build their personal brands and find their content momentum. When they do this, you can build your own platform, encourage the right people to subscribe, work with better clients and not be heavily dependent on social media. It's going to be led by a workbook for everyone to work through and think about.
The afternoon segment is when we're all in it together. People will be in their own cheerleading teams where the focus is on the group to encourage each other to create.
It could be a LinkedIn post you feel uncomfortable sharing, it could be a video you have never done before, it could be blog article you never got around to write. Whilst people are not expected to produce during the day, we will come back together a week later for everyone to check-in (online). When the work is done and ready to share, the team are behind each other for support and accountability to each other.
This comes back to the sea swimming, it's the promise that we make to each other that encourages us to show up.
When you work with others and there is a theme, you discover what feels right for you. This is something you won't find in a book, on YouTube or on a webinar.
Let's Round-Up
The world has shifted, we are different, but the importance of being around each other remains. Bringing people together and encouraging their involvement, means that everyone ends up getting more from their efforts.
Figuring out and working together makes the world not feel so lonely.
To make it work it's a case of joining in and taking a seat at the table. It's not just a case of paying attention, but to speak up, be in the same room to listen to others, finding the moments to celebrate, spark the curiosity and be open, and at the same time we're all in it together.
I hope you can join in, come and be a part of the YATM Creator Day and let's work together.
---
LET ME READ THIS TO YOU, CLICK BELOW
Podcast: Play in new window | Download