Why Feeling A Part Of Something Will Win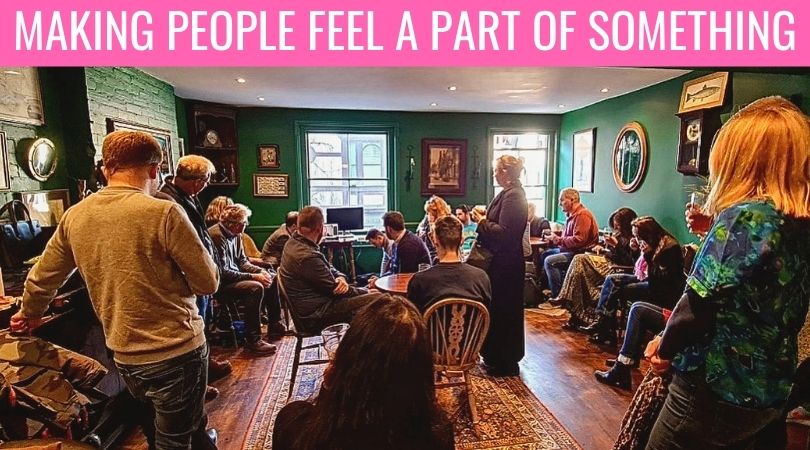 Sometimes we have to face our worse nightmares head-on. It's how we deal with it and what happens afterward that can win the day.

Thursday, December 2nd will go down as a day I will never forget.

It was the last You Are The Media Online Offline event of 2021. The team was at the theatre four hours before the event officially started to make sure everything from the tech, the sound, the delivery and the stage positioning was perfect.

35 minutes before the show started (2pm GMT), the electricity went in the theatre. No power, everyone was in darkness and an obligation for everyone to evacuate the building within 30 minutes.

The problem with a hybrid event is even if you cater for an in-person audience, you still have the online audience ready to join in at the allocated time.
The last thing I wanted to do was to say to the in-person audience, who were in the foyer, 'it's cancelled everyone, thank you but we can't do anything' and then repeat those words to the online audience at 2pm.
The Alternative

If it wasn't for the quick thinking of others (thank you Lucy Whittington, Jake Moore and Richard Burn), the day could have taken a very different path. The plan was to put YATM Online Offline into a place that would have us (the entire audience). That place became 10theSnug to deliver to the in-person audience and online. From taking the online viewers on a walk with me from the theatre to the pub, we started the show at 2.15pm GMT.
The problems took another turn when the WiFi became intermittent. Gordon Fong delivered his presentation, but for the majority of it, those watching remotely had problems picking up the narrative.

When we came to the end of the show (we waved goodbye to the online side and the pub had a sing-song), I was ready to shut my laptop and walk out. I felt embarrassed, demoralised, exhausted and upset. Whilst a power cut was out of our hands, everything about YATM has always been about the quality of the experience. I don't want to deliver something people have seen before and whilst no one had ever been moved between venue before, it still hurt.

The party carried on and there wasn't a stream of people leaving the pub as soon as it finished. It became louder, people talking to each other, there wasn't one person on their own and many people stuck together for an evening out.
When I got home, I cried and was broken. In my eyes, we had planned the best YATM Online Offline we were about to deliver but had to think about Plan B, C and D with sketchy wifi.

Friday (3rd December) started to tell a different story. Tom Morris, who shared his words of hope from the US towards the end of the show, described the day here.
As the following day progressed, I began to see what the previous day had become. Let me share with you what I now see is relevant if you are looking to build a sense of community.
---
You can put every effort into the delivery, but it is the togetherness, connection, spirit, forgiveness of others that matter.
If you can build an audience and nurture a community, if people are connected to something no matter what obstacle is presented, people will stand together. Unity is a powerful thing and we all saw it with our own eyes.
Conversations will happen that you won't know about.
I was told that people were sharing online what YATM has meant to them over the past year. I only found this out via someone mentioning to me a few days later. When you are in the moment, you are blinkered at the value you want to deliver. Circling that are the experiences that people share and the familiarity with each other.
Being a part of something can sometimes be more empowering than the message you want to share.
I have always taken the lead that the overall message relating to ownership, content, audience and message is what YATM is all about. However, to some people, it can feel more important to be around others and friendship than it is about the business angle. To someone else, going to an event and meeting up with people has become about camaraderie and closeness. We've all needed that in the past two years!
None of this is meant to be easy.
Sometimes you have to experience your own extremities to create work that matters. Playing it safe would mean people attending an event on Zoom or lunch in a hotel. We always have to be pushing ourselves, tinkering, testing and continually moving the needle. I do think that the world of business events is very different from the world it once was. That means we can't rest on our laurels and be comfortable. Experiencing this huge day will hopefully put me in a strong position for next year. All I want to do with YATM is to create something that is better than the previous year.
When people (not just you) care, you can move mountains.
As I was trying to figure out what to do in the theatre office, people were already making plans, phone calls and shaping alternative arrangements. If people care about what they are a part of and don't just turn up for their own gain ie. selling their services to others, it creates a completely different dynamic. You can either turn up expecting to be fed, entertained, taught or you can choose to be a part of the entire experience where the return comes from the investment you make and everyone taking something from it.
If you create something people bond with, you remain relevant.
The connections made, the friendships formed, the occasions that people come together will always be relevant as long as you have people around you. Whilst the delivery may adapt, but if you can remain true to your original intentions so new people can pick up the themes and intentions, it is everyone around the initiative that can make it a success, not just you.
Let's Round-Up
The last YATM event of 2021 delivered something I will never forget. In the space of 24 hours, I experienced a breadth of emotions from fear to joy.
To have people who were a part of the same experience that day, makes me now realise that our journeys don't have to be lonely, people are ready to stand next to you.

The ability to build something where people enjoy and participate in is empowering. It doesn't have to be reserved for ready-made organisations, or those with many years of experience. If there is a space or an approach that you believe in, you can carry that flame and be faced with many twists and turns where decisions have to be made in the moment. If you can manoeuvre and do it with other people, you can all become stronger for it.
Podcast: Play in new window | Download