Being Comfortable With Untidiness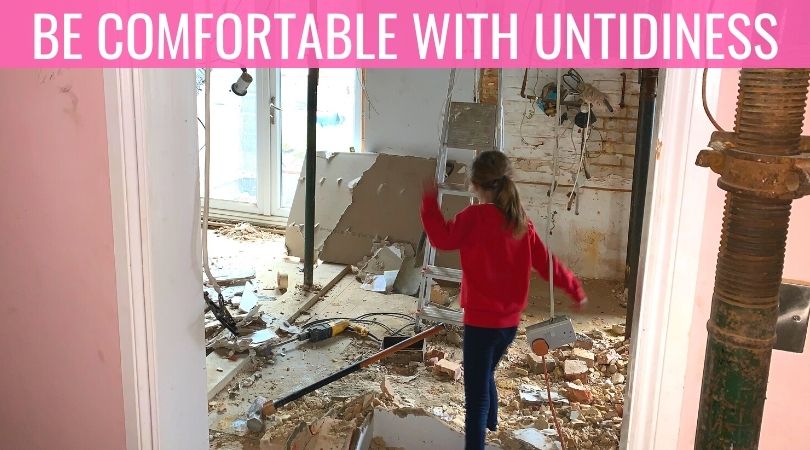 When you start something new, it feels disorganised as well as unfamiliar. But don't let that put you off – there is good work waiting to emerge from the clutter.
Let me explain, with a new project, as well as putting in the work to make it happen, you also have to get comfortable with the unavoidable and very necessary untidiness that comes from working things out. Disorder, trial and error is how you get on track to creating something worthwhile.
For seven months of last year, a building project meant my house was a complete mess. Today it looks great. But getting to nice lamps on a kitchen island came from months of living on a building site and cooking on a camping stove.
It's similar to the work you produce, where to make something meaningful you have to go with the flow, accepting there will be pitfalls and uncertainty on your journey.
To get to a place where your email newsletter isn't ignored, your podcast gets listened to and your videos do the job every time, means getting comfortable with not having everything worked out from the start. Not having all the answers from the word "go," means you'll be able to adapt and refine as you go along, delivering something far better for your audience.
Proof For You
Trying something new that is outside of your normal skillset is naturally going to be an untidy process. You're following through on ideas that might not quite add up, building self-confidence and trying to make sense of things as you go along. It's how you learn.
Working on new You Are The Media initiatives for 2021 is, as always, a bit of a step into the unknown. Owning those 'I don't know but I'll try and work it out' moments doesn't mean you're under-qualified and shouldn't be doing something. It is proof you are stepping into a completely unfamiliar place where you'll have to figure things out as you go along.
The reason YATM boldly goes into unfamiliar territory is because I believe you need to keep evolving – progressing formats for the future and taking a step away from the norm (and from what others are doing). For instance, in 2016 we began YATM Lunch Club in a solicitor's premises (Steele Raymond in Bournemouth), it ticked the networking box. In July 2021, it is going to be in one of the biggest theatres in my local area.
The intention is to bring what we've learned from a year of YATM Online and put it on the stage. There will still be that element of learning and following the online show format that's been created over recent lockdowns and restrictions, but this time with an audience in the theatre as well as people watching remotely. It will be a hybrid offline/online experience of live audience/Zoom.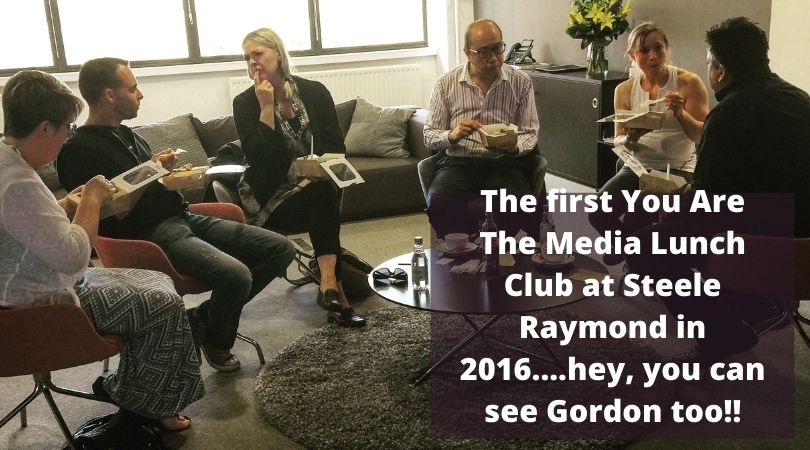 The path to getting to July 1st, I know is going to be filled with trial and error, but as philosopher Cicero noted, "Not every mistake is a foolish one."
A Zoom experience online and offline is going to take some planning and messy thinking. Messy is something we have to be ok with. What starts as something that feels uncoordinated, vague, tricky and imperfect, is in fact, the very thing that has to be embraced. It's the sort of untidiness that can eventually be turned into something good.
Being Untidy Is Not Failing

Being untidy while trying to figure things out as opposed to failure because you didn't get the results you wanted, are very different.

For instance, I have never been 100% happy with my live video screen resolution for YATM Online. I have bought webcams and they haven't quite been good enough. I know it's tempting to spend £800 on a camera, but that is a sizeable spend. I recently discovered (thanks to Sam Davis) Camo which turns your phone into a high res webcam and the effects are fantastic (it only costs £34).
This sort of trial and error is completely different from out-and-out failure to deliver something. If YATM Online had had a total audience of five while I was working things out for a number of months, it would have failed, demonstrating my complete lack of understanding of the audience I'd been trying to deliver to.

Trial and error and accepting your work may feel a bit rough around the edges are fine as long as you have the fundamentals such as understanding what your audience wants, in place.
Every new initiative from YATM has followed this path:
---
— Having an idea of what I might want to create in my head
— Taking that idea from vague concept and starting to make it a reality by going public with it
— Delivering on the idea but it still being a work in progress
— Making and learning from mistakes made at the beginning eg Zoom bombing or interruption caused by poor Wi-Fi
— Making adjustments and iterating so I start to feel a degree of comfort with a particular format
— Delivering something again and again
— Going from adjustment to refinement and fine tuning
— Getting to a position where things consistently go well and it's enjoyable.

Being Untidy Is About Rolling Your Sleeves Up
If you want to deliver work that makes a connection with people, you have to roll your sleeves up and acknowledge that you are not going to deliver perfection.
In an article on stop striving for perfection there was an emphasis on rolling with the ready, "Over-thinking and striving to create something perfect slows you down whereas the momentum created by showing up regularly not only builds your audience but also helps you hone your skills, making you more comfortable (and better at) getting your message out there."
This is what you need to remind yourself of in order to become ok with making a mess of it at the start. To make something worthwhile you have to get comfortable with the clutter and the uncertainty that comes from chipping away. Persistence will get you to something that will be market-ready in the end.
Chipping and chiseling away, and finding your own way through will always give you a better outcome than merely copying something that's a quick-fix and has been done before. Take, for instance, a corporate video. You could just read off an autocue, bigging up your business. But choosing instead to improvise, mix graphics and animation, and finding your own unique way of talking to your audience will make for a far better video in the end. It may not be as tidy a process as the autocue route but it'll probably achieve what you're looking for, a whole lot better.
So, from untidiness you'll eventually get something you're proud to share with others.
Let's Round-Up
Being great on your first attempt at something just doesn't exist. Beginnings are inherently raw, sometimes even, downright bad.
Whatever you start and whatever iterations and additions you make, accepting that you will need to go through an untidy, trial and error phase is what will allow you to progress.
With access to the channels and tools we need to make our mark and say something worthwhile, you have the potential to develop something that can have a genuine impact on others. Just remember, don't get too hung up about it if it feels uncomfortable and a bit disorderly at the start, because that's where the magic comes from.
Podcast: Play in new window | Download