Why Doing An Event Is Hard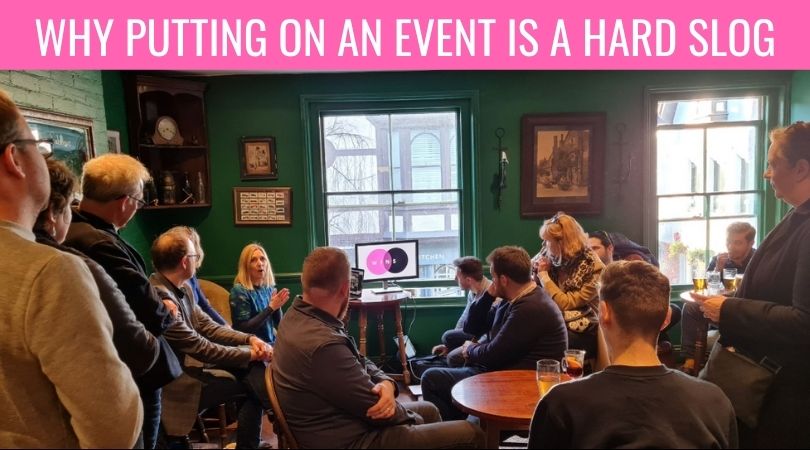 Being responsible for getting the right people together in the right place at the right time is one of the most rewarding things you can do in business, but it's also one that's full of potential pitfalls.
An event, whether it's online or offline, is one of the hardest things you can do, not least because of the work that goes into convincing people to attend and then delivering something that doesn't feel like everything else out there.
People don't attend events unintentionally. If they're there, then they think that what you're going to deliver will be worth their time. That in itself should make you feel good! The fact that people are choosing to commit to you and pay attention is something that far too many event organisers choose to ignore.

In return for this generosity, it's on you to offer something they'll enjoy, learn from and participate in. Get it wrong and they'll never come back. Get it right and you've unlocked a whole new level of loyalty.

This article relates to putting on an event and what to think about before you step forward and say, 'I'm going to do it.'
Why You Are The Media Has Events
You Are The Media delivered its first event in May 2016. Six years later it's the best way we have of bringing people together. Events are how the community has grown. We've produced conferences, lunchtime events, workshops, online shows and now hybrid online/offline events.

These events have been used as a way for people to share ideas and listen to each other. They're a way of making new connections, thinking about concepts, finding direction for our businesses and allowing people to ask questions from those who have achieved credibility or made something work their side (read this article on bringing known people to you). However, for these events to now be working so well, risks had to be taken. And there have also been things that have not worked out and things that have gone wrong along the way.

Looking back now, I know that taking risks is an important part of doing something new. Here are some of the things that have gone wrong over the years:

👎 No one showing interest and having to cancel a planned event in Bristol (read more about that here)
👎 COVID putting the brakes on in-person events between March 2020 and June 2021
👎 Someone being rushed to hospital during an event in 2019
👎 Tech issues at the 2019 conference with a projector not working 
👎 People walking out of a workshop in 2019
👎 My becoming exhausted and burnout working on an event 
There has been a lot to navigate, work against and be affected by. Don't let anyone tell you that stepping up to put together an event for the first time is going to be a breeze.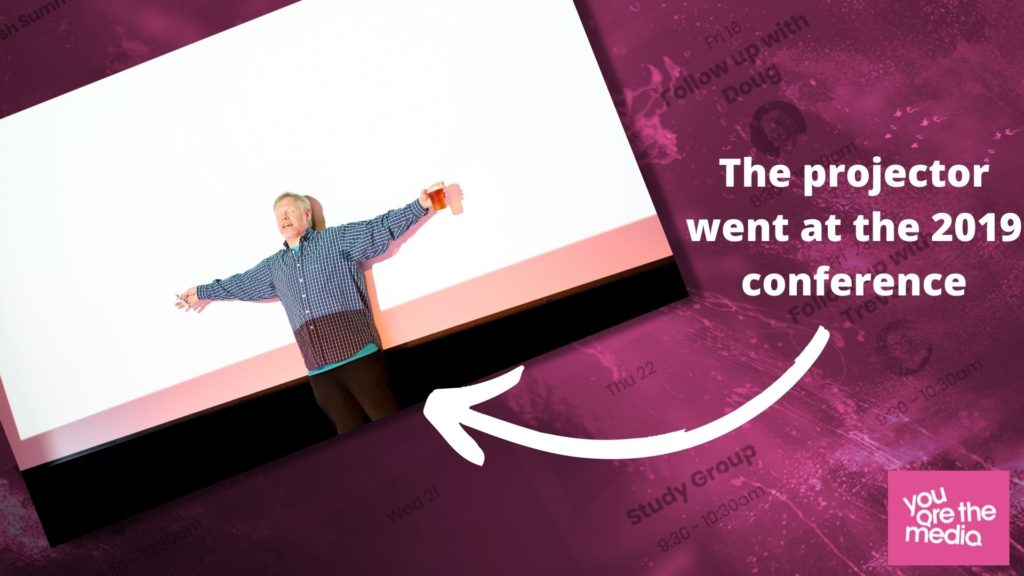 How To Take The Pain Away
Delivering YATM events has always come with a sharp learning curve – getting things wrong and learning from mistakes – as well as getting things right.
There have been however, some guiding principles that I've stuck to from the start. Years of putting on events bring a certain level of knowledge so, if you're thinking of starting your own event, this is how everything has worked from the YATM side:
---
Understand why you're doing it.
There has to be a reason beyond ego, you need to know why you want to step forward with putting on an event. If you just want to use an event to sell, then any benefits will be very short-lived. Is it to share new ideas or a particular approach? Is it to bring people together? Are you focusing on a topic that people find interesting? You have to be clear yourself, or else it can be confusing to the people you want to reach out to.
Know your topic area.
Having a catchy title for your event doesn't mean people will come. You have to be clear on the idea underpinning your event and make sure it's not something that people can easily find on YouTube or on an uploaded TedTalk. A general 'business' theme will no longer cut it in a post-pandemic world. 
Work on your audience before you launch.
People need to understand how your event is going to help them. It doesn't have to be learning-based, it could be focused around helping people grow their networks, but you need to show them what their future could look like if they attend your event. 
Promote without being spammy, it's hard, but can be done.
If you've built up a loyal audience of subscribers then it means you're not just posting on, say, LinkedIn about your event. It means you can tell them directly, what's happening. I've always ensured the YATM newsletter is based on 80% value, 20% product. That way, it doesn't feel 'salesy'  because thought and effort goes into content that's already helpful.  
Don't forget it's also about entertainment.
Don't feel that because you're putting on a business event, it has to be straight-laced. When people come together, you want them to enjoy themselves. Introduce elements that feel impromptu, with an element of the unknown, such as live polls and Q&As – your audience will find the day all the more memorable. 
Show people what it will look like and what's in store.
Make everyone you interact with feel like a cherished guest, after all they've made the decision to choose to spend time with you. Create videos in the build-up, show photos of past events (or if it's new and show people around the venue you'll be holding it at). In short, keep people in the loop. 
Make marketing a collective effort.
You don't have to do everything yourself. If you already have an audience around you, let them support you and carry the event flame for you for a bit. Also, when people book to attend, send them a jpeg/gif, something that's only available to them and encourage them to share it. The more it becomes about others and coming together, the better. 
Don't take the risk of playing it safe.
People don't need to go to more webinars or live events. Putting on an event that feels familiar might feel easy but it puts you in danger of being a 'me-too', samey event. What you can do instead for instance is, break up an online event with different sections, add video, even singing (this has worked for YATM Online as a closing segment). For an offline event think of ways to engage the audience with segments requiring their participation. Find the guts to step outside of the ordinary and do something new (that still manages to refer back to your underlying message or theme).
Cover all the bases and co-ordinate all the elements.
From sourcing guests to event promotion, from getting the tech right to managing build-up, delivery and break-down – you have to pay attention to, and allow sufficient time for, all the different elements that go into creating an event. For instance, if all you do is focus on promotion and forget to put in the hours on delivering the event itself, what you promise might not live up to audience expectations.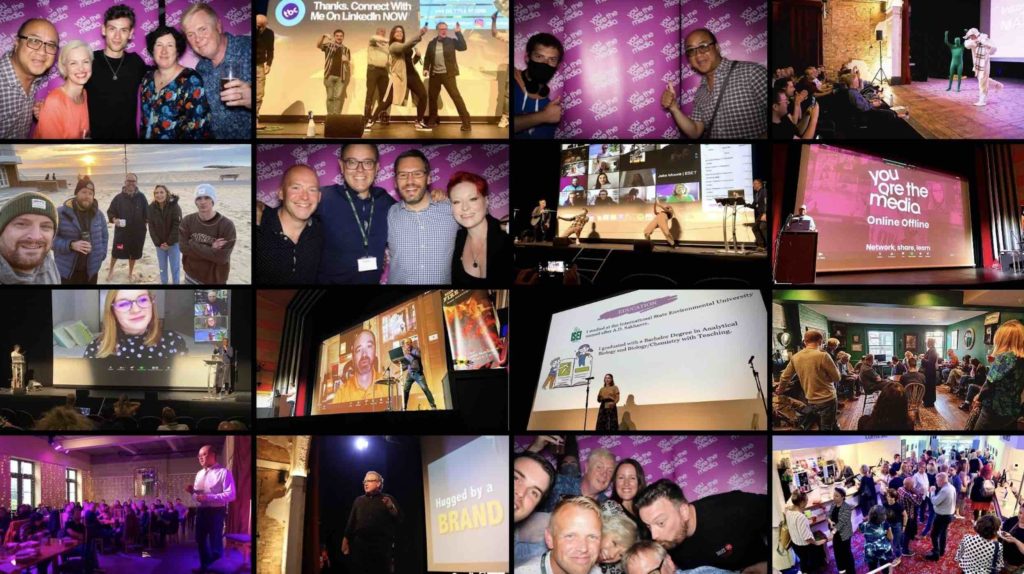 Let's Round-Up
An event has to deliver the right message, to the right people, in the right place, for the right reason.

Having a large audience isn't the only important measure of success. Having the right people recognising that the space you've created is for them and that they want more of what you're doing, is a good yardstick to measure your success by.
Putting on an event can help you build loyalty, create relevance and produce something that people look forward to. It can be a difficult thing to pull off but when you create a space that you can build from, it all becomes very worthwhile, and the people who are your audience can become part of something very special.
---
LET ME READ THIS TO YOU, CLICK BELOW
Podcast: Play in new window | Download