How To Get People To Come To Your Event When No One Knows Who You Are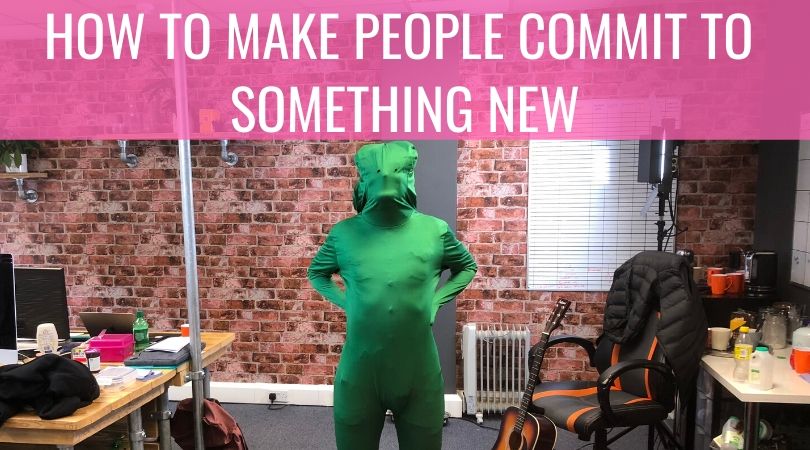 People sign up for and come along to events when it feels safe to get involved – they know what they're getting into and what they'll get out of it.
I'm going a bit into detective mode and working out, based on recent experience, how we got people to commit to coming along to a You Are The Media event in a new location.
What changed in a situation where I had to cancel the initial inaugural YATM event in a new location due to a lack of interest, only to reintroduce it less than a couple of months later and sell out well in advance of the early February date?
It presents something of a paradox, where both extremes come into the equation where you question what isn't working (going not as planned), though to an activity working (going exactly as planned).
The Intention
All live activity, since 2016, has, until now, always taken place in Bournemouth. Those running the Bristol events, led by Fleur Cook of Brand Biology, have been a part of the YATM community for a number of years and will be kicking things off in February.
A decision was made during the end of summer 2019, to introduce YATM in Bristol in October. The goal was for 20 people to attend in the city centre. The opening topic was going to be on writing, something that reaches out to many and is not too niche.
A week before the first Bristol YATM event in October, only six tickets had been sold. The event was cancelled.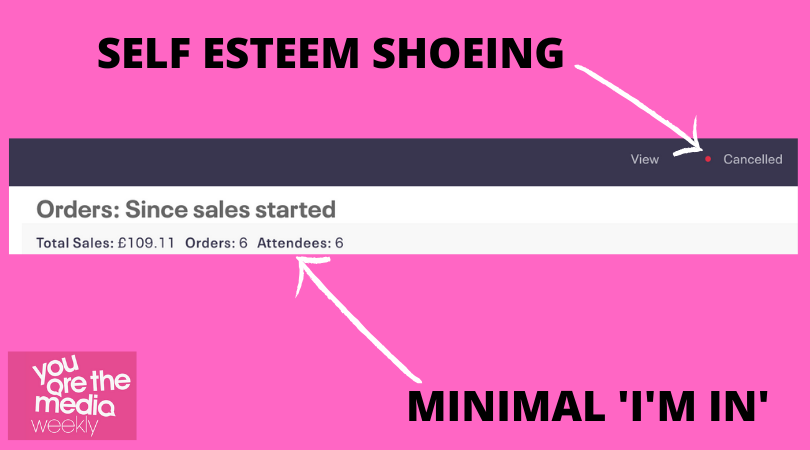 What Had Been Done To Sell It?
In the build up to the October event, the means of selling was 100% organic. No advertising budget was set aside.
— The Eventbrite page was set up
— There was a page on my main company (ID Group) website
The end result however was only six people, from a goal of 20, signed up to attend!
On a personal level, it didn't feel good when my best intentions fell flat. It was disappointing but it would have been worse to go ahead and set the wrong tone – that this was just a small mastermind group.
What we decided instead was to brush ourselves down, get to the end of 2019 and set a new date – February 6th 2020.
Why Didn't It Sell?
The main reason why the initial event in Bristol didn't sell came down to people being asked to take a leap into the unknown – something that might have felt a bit uncomfortable.
Whilst those attending/thinking about attending may have been part of the YATM community already in that they received and read the weekly email – moving from online to a physical environment, was a big ask.
Creating trust takes time and involves commitment from both sides.
Specific reasons for why I believe the event in October didn't sell:
— The Eventbrite page sat in isolation, so people couldn't readily find additional information, explore and be convinced
— When people came to the company website (the page was on the site that then clicked to Eventbrite), it became confusing. A company website with a side project (You Are The Media) squeezed in, didn't fit any more
— People couldn't look around and see the social proof of who else was coming
— Awareness of YATM and the audience/subscribers around the Bristol area was small
So, What Then Changed?
We're now in a situation where the glimmer of light became a sunny afternoon at Glastonbury:
— Having set ourselves an original target of 20 people, we now have over 40 people attending the Feburary event
— We've had to put the sold out banner up four weeks before the event as otherwise it would have been too cramped
— It now brings a real mix of people together rather than a small group around a table
Let me highlight what changed from cancelling one event to selling out the next, with a month to go:
— A dedicated YATM website was launched.
In November, the new You Are The Media website went live. No longer a section of a company website, it's a space that lives and breathes of its own accord. People visiting for the first time no longer get distracted by the merits of hiring a content marketing agency but can choose the part of YATM that interests them most, be that podcast, conference, lunch clubs or signing up for a workshop.
— The event no longer sat in isolation.
A booking page needs to be more than a means for people to leave their credit card details. It needs to provide the opportunity for people to discover more and to feel safe that what they're signing up for, will deliver. Too many Eventbrite pages are just bland paragraphs with no heart or reason. Booking was moved from Eventbrite and all bookings are now via payment platform Stripe. This also means that Eventbrite fees are taken out of the equation and not passed on to those who purchase.
— People could see it as just one of the ways others were already involved with YATM.
By having a single website for all YATM activity, people can see that the Bristol events form part of a wider calendar and reach. It's part of something established, not a one-off trial. Whilst new, it's got heritage and a committed audience elsewhere. Let me show you what I mean – take a look at the YATM calendar for 2020
— Marketing became a collective effort.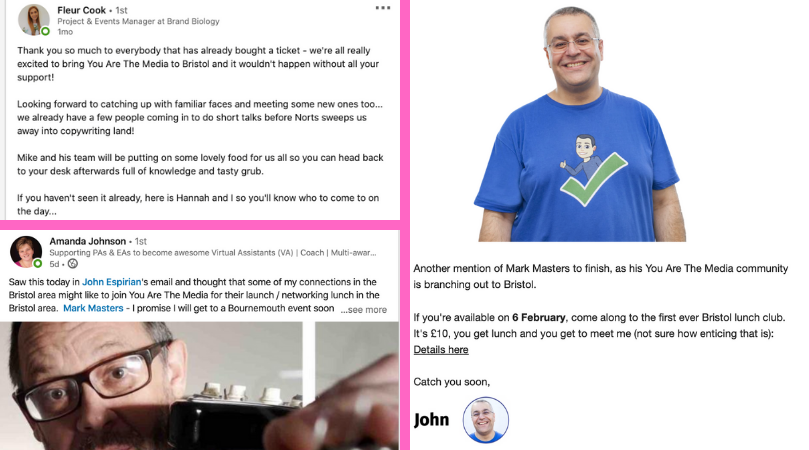 A huge reason why the February event sold out was because others joined in with the marketing. When one person steps up and says they're going on LinkedIn, it starts to create a ripple effect and gathers momentum. People such as John Espirian, stepped up and shared with others and what started as comments from new people, started to build a sense of familiarity with each other.
The speaker, Richard Norton, also posted that he was looking forward to what was in store. The Bristol YATM leader, Fleur Cook, posted a video that talked about how, whilst they still felt a sense of trepidation, it was something that she and Hannah Coton were looking forward to.
— LinkedIn events helped create visibility.
LinkedIn Events was introduced in October 2019 and it is a great tool where faces show up and you can look around at who's attending. It's a space away from the main LinkedIn posts that keeps those who say they're intending to come, informed. It also provides the opportunity to approach people who have said they will attend, a gentle nudge / DM in the direction of the booking page.
— Timing.
The timing of the event moved from the end of one year to the start of another. Perhaps by having the first event at the end of the year was a poor choice when you're introducing something new. It was a time when people were looking to get to the end of the year and concentrating on what needed to be completed.
Having it at the beginning of 2020 goes hand in hand with the intention of starting something new. It feels fresh when everyone starts together in the same place, at the same time of year. The aim is for this YATM Lunch Club to be bi-monthly.
Summing Up How You Too Can Take Something From Cancelled To Can-Celebration
Let me round-up what I learned from minimal take-up to selling out an event, in a new location.
Here are the main points for you to take on board:
It all has to connect. If you're looking to attract people to your space, figure out the steps they need to make to book. It feels clunky for anyone to be reading something in one place, then clicking over to somewhere else to find out more and then to a completely different site to book. Show you're in control and remove friction of this kind.
Visibility and building awareness matters but don't just leave it up to paid-for promotion on say, Facebook and Instagram. This smacks of desperation and alludes to the idea that others haven't congregated around you. People who are putting their hands up and sharing from their own volition attract an audience over and beyond your own.
Familiarity helps decisions. No one wants to dip their toe into something completely new. Whether you're encouraging others to step forward with you before the event, such as subscribing to your newsletter, reassuring them is important.
Remove risk. For people to make a decision to commit to something new, you have to make them feel safe. As an example, the very first You Are The Media Bristol event, features the introductory ticket price of £10. As more events take place, it will come in line with YATM Lunch Club in Bournemouth (£20 for YATM members and £25 for non-members).
It forms part of a bigger picture. Creating isolated events makes for hard work. If you can demonstrate to others that your activity is part of a wider effort, it can help people recognise that what you're creating has a pulse. The investment that other people make (time and money) becomes easier to make when they can see that you're there to lead them.
Whilst we still need to deliver the first YATM Lunch Club in Bristol on 6th February, we can't wait to meet new faces and welcome them into our community. 
I CAN READ THIS ARTICLE TO YOU IF YOU'D LIKE?
Podcast: Play in new window | Download