How To Achieve Better Organic Reach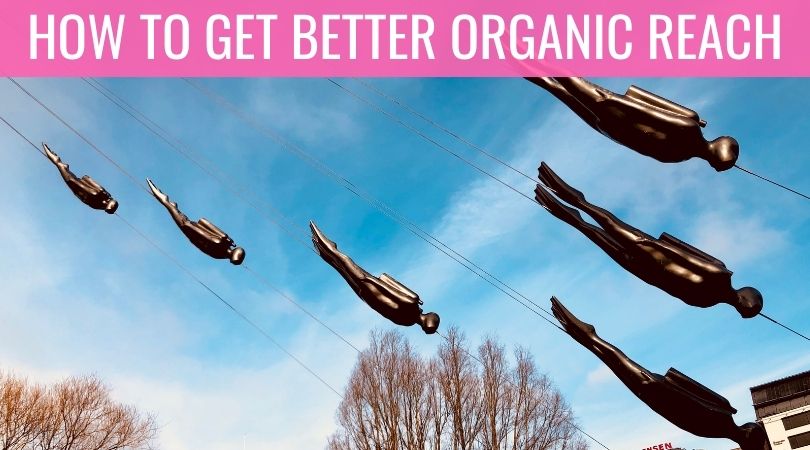 Finding organic ways for your content to be seen means putting the emphasis on what you create, rather than on how much you hand over to someone else in order to get seen.
Organic growth is where your content becomes the ingredient with which you build your base and draw people to you. Over time, it can help become the driver for awareness, loyalty and sales.

The secret is getting people to care about what you're saying, and recognise the effort and dedication you're putting in. When people care about your work, you get seen and your reach expands as you take your place, week after week, month after month, growing your audience.

On a personal level, it might sound great producing and sharing work that becomes a driver for attention and commerical return, but growing organic reach is a very competitive space. And no one wants to be producing work that yields nothing in return.
In this article, I break down the organising principles you should start with and then some ideas for building your organic reach.
The Essentials For Starters
---
1) Treat Your Website As Your Home-base
If you produce work, you want people to see it and then you want them to find out more about you. Your social posts will help extend your reach, message and profile, so that when people want to discover more, you can be the guide inviting people back to your place – your home-base or website which reflects the theme or message behind your work.
For instance, youarethemedia.co.uk is built around helping people learn more about creating and then maximising their owned space, and all the content ranged around that invites people to take action and join in. Focus your efforts on your website having a message that supports your endeavours beyond self-promotion.
2) Know The People You Want To Reach
What you create has to be in line with what people are looking for. It doesn't have to be about your 'why' or 'your purpose' – it's a lot simpler than that. Recognise what others will enjoy, what will have meaning for them and what will make them more likely to tell others about you. Remember, it's not about you, it's about where you could fit into others' lives.
3) Signpost People So Your Content Goes Further
Getting people who aren't in your immediate audience to pay attention to you is a way of getting your work to really take off. In an article from Rand Fishkin, on who will amplify your work, "Amplification comes first from engagement by your existing audience, and is then (potentially) boosted by algorithms on YouTube, Facebook, Instagram, Twitter, Google, etc."
---
Ideas To Help Organic Reach & Growth
Here are some ideas that I hope can serve as inspiration for your organic reach efforts. The content you produce and share is what drives interest and helps attract more people:
Start a mini-project.
This could be something online or offline. One of my first projects was called Talking Content Marketing. It ran from 2014 to 2018 and still gets referred to today. The way I went about putting this project together was something you can take on board: Approach respected and well-known people from within your industry and ask them five questions related to your industry (and then share their answers with everyone).
For me this was a way of reaching out to people I could learn from whilst building my own profile, putting me on first name terms with some of the marketing industry's leading practitioners.
It was also a means of shared learning for everyone who subscribed to Talking Content Marketing. As a bonus, the people I approached, who had far greater reach than me, would share their side and this always brought a spike in activity on my website. Some of the interviews became top Slideshares, further building my audience.
Publish in other places.
Be a welcome guest in someone else's space: As well as publishing on Medium and LinkedIn, find other (eg sector-related) sites, outlets and platforms that can help communicate your overall message and build a much bigger audience.
It can help promote your knowledge, drive people back to your site, offer backlinks to your other work, as well as helping you form a relationship with the people who manage the spaces you want to reach out to.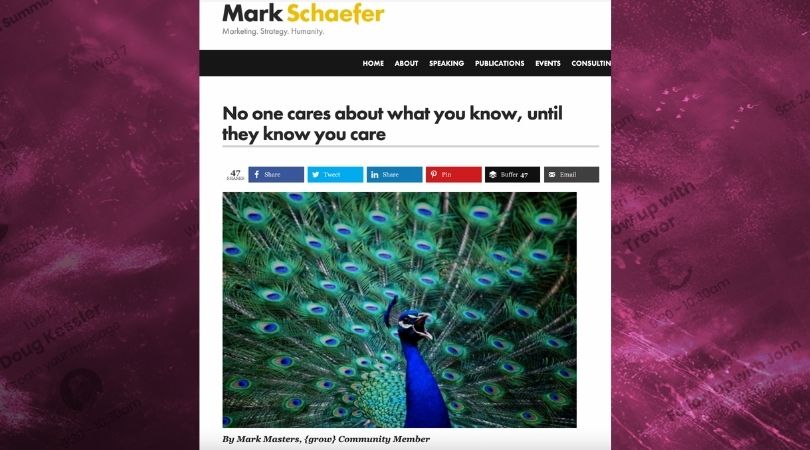 Organic growth can also mean your own organic development. It's good to have friends who are hugely respected and talented people within their profession – it's how we all learn.
Get into the habit of asking for help.
Whilst approaching strangers usually results in zero response, reaching out to people you know can help amplify your work. It shouldn't just be a plea to get someone to read and share your work but more about finding way of explaining why your work is relevant and worthy of people's time.
As a way to flip the approach, new LinkedIn connections that approach me (as well as the new connections I pro-actively make), are invited to subscribe to receive the weekly You Are The Media email. You can't rely on algorithms to help you – if you take pride in what you work on, a gentle reminder can bring people closer to you.
What begins as a simple ask i.e. 'have you see this?' can be extended to asking for feedback and move on to asking for participation and collaboration in future work.  
SEO.
This is probably the most traditional way to find organic reach. There is a wealth of information out there that covers this in far greater depth but let me share what's relevant to me: Rather than searching industry terms, i.e. marketing company, drilling down on specific topics has helped me over the years.
One is completely unrelated and the other is much more closely allied to my work. If you type in 'should I buy Christmas presents for customers?' this helped with traffic and nothing else. However typing, 'difference between audience and community' has helped cement my industry positioning and helped indirectly with people reaching out.
Invest time in PROMOTING other people's work.
If you give a little love to someone else, it can come back to you. Having visibility and being seen, is what drives people back to you.
On LinkedIn, John Espirian states that 'Comments are the gold standard of engagement.' During the YATM Month of Learning, John said, "Comment on other people's work, for your own work to be seen. If you post once a week, comment at least five times on other people's work." If you write substantial comments, you'll build relationships. And, to help people see that what you're saying fits in with your broader approach, you need to have your home-base, your website, aligned with the messages you want to put across.

These examples are all ways for organic reach to work for you – they all join together helping you:
🔆 Keep going, over and above promoting your own efforts
🔆 Know the people you want to bring back to you
🔆 Be vocal – giving you other stages to speak from that will bring people back to you
🔆 Know what serves others best
🔆 Recognise how other people's initiatives can be good for you (and so building collaborations)
Lets Round-Up
Building stronger organic reach is about recognising that there are many ways to bring people back to you using content as the primary driver.
It should not just be about a few blog posts and tweets. You have to work hard at it, stirring curiosity in others, finding the buzz, knowing what feels right and ramping up activity when you become established as a go-to source.

You can see a healthy return when your message is consistent and easy to understand, and people are aware of you and what you bring. Your organic reach can reach stellar levels when people see/read/hear something that matters to them and know that you are the one responsible for it.
LET ME READ THIS ARTICLE TO YOU
Podcast: Play in new window | Download