How To Deliver A Course When You Haven't Delivered A Course Before
Delivering an online course, when you've never done one before, can be one of the most rewarding things you ever do.
If that sounds surprising, then read on, because just like it's said that everyone has a book inside them, everyone in the B2B space has the potential to create some form of structured learning, inside them. It's a case of having the right people around you and producing something that can deliver value to the audience you serve.
From being someone who had never (until April 2021) delivered a course-like event before, this article looks at some of the key areas you need to address to make it a success.
Proof For You
During April, You Are The Media delivered its first YATM Month Of Learning (MoL). This was our first-ever dedicated learning platform (via Zoom) with a structured modular syllabus, covering different topics for every week of April. There was a flow to the topics covered from start to end, a workbook to accompany the learning, activities to complete and specific times during the week when people met up. In the words of community member, Gordon Fong, "Small slots across the week: Listen, Work and then Question."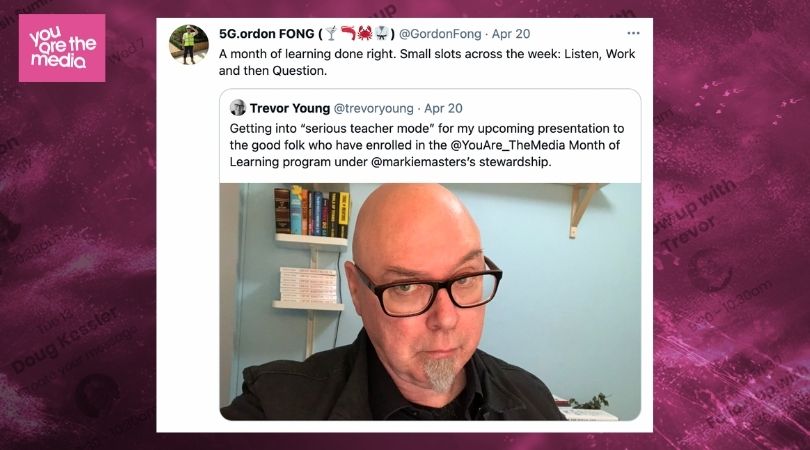 I was extremely nervous as, despite having delivered many online and in-person events, I'd never produced a live and on-demand training course before. Having now experienced doing this, I can safely say that one-off, single day conferences that aren't tied to a central theme or part of an ongoing effort will, for me, be a thing of the past.

There's a ton of content out there on how to put on a course, but having just delivered one and with it all still fresh in my mind, I'd like to share what I know now that I didn't know a few months ago.
A Checklist To Show How It Can All Work
If you want to create a course but the prospect of it feels slightly overwhelming, let me break it down into manageable sections – the idea, the build-up and the actual event.
The Idea
Know your overall message.
Whatever your topic, you have to be clear on the change you believe your students can achieve by studying it. There has to be a clear outcome for them that they'll miss out on if they don't attend.
Build the course around what you stand for.
You make it far easier for people to sign up for your course when what you're delivering aligns with what you stand for – the flag you've already put in the sand and are known for. Deviating off into a completely different space makes selling your course that much harder.
Find a way to make it relevant and timely.
As well as delivering course content in the space people already know you for, find a way of tapping into the cultural zeitgeist to make your topic more timely. For instance, the YATM Month Of Learning was centred on helping people find momentum in their content marketing and came, as it did, after a year of knockbacks, frustration and pain.
The Build-Up
Build an audience before you even think of delivering.
This is the most important point. If you invest time and effort into the structure, content and delivery but you don't have a subscriber base (an audience that already receives and engages with emails from you), you're facing an uphill struggle to get people to commit. If you have an audience you've built up, nurtured and can reach out to, it becomes far easier them to say yes. With the April YATM Month Of Learning, the audience numbered 68 paying attendees (paying either £200 or £250).
Know the length of your course.
Be clear on how long your course will be. The YATM MoL had four defined subject areas, each flowing from the one preceding it, starting with strategic focus and ending with tactical delivery, and all the learning week comprised of three one-hour sessions. Timed for the start of the UK day (BST/GMT+1), it was designed to be easy for people to commit to and still be able to continue with their working day. As an aside, this sort of deep learning could never have been delivered within a one-day conference format.
Target the people who can help deliver insight.
Course delivery does not necessarily have to all be down to you. Find the people within your industry who specialise in specific areas that relate to your overall message. The people who deliver the learning, become your teachers. The YATM MoL had a clear structure to it and from this, it enabled me to reach out to others, who I believed, could deliver real value based on their expertise. When you invite teachers to deliver the learning, pay them. I didn't just want the MoL teachers to deliver a presentation, I wanted them to get involved, so they were paid for their time and participation (and me to shout at them, watch below).
You elevate how the course is delivered when, tying in with your central theme, you connect the flow to whoever is delivering the modules. I spent significant time planning the key messages and tasks that were to be delivered with all the MoL teachers, ensuring that they offered immediate value to the students and their businesses.
Have something that everyone can refer to.
A PDF is great, but if you want to create a learning environment that people really feel a part of, your students deserve something more in return for the time and money they're investing in the venture. For the YATM MoL, all students were sent an A5 book that contained information and tasks from each teacher the MoL timetable and also space for them to make notes.
The YATM workbook (produced by Bournemouth University) effectively became a strategic document for every student to use, both as a reference point and one they could always come back to. On a personal level, it felt good sending people a package with a letter and book inside it (and also others sharing what they had received on social media).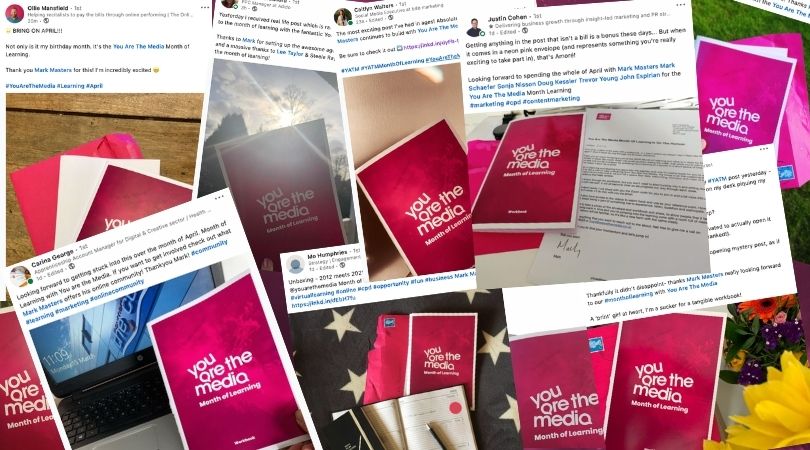 Don't feel you have to be responsible for every aspect of the course delivery. Find others within your community who can support and help you with the delivery. From tech assistance to say, help with taking questions from the 'floor', a team effort means you all reap far greater rewards. For instance, for our Thursday study group sessions, Rich Burn and Mary Lloyd from Dorset Growth Hub helped to facilitate and lead, particularly when it came to creating smaller breakout groups to work together and share ideas.
Zoom is perfect for delivery.
Towards the end of 2020, I went down the rabbit hole of researching online-event platform providers. The costs can be pretty expensive and these chip away at your bottom line. If Zoom or Teams have become the space that you and your audience have become familiar with over the past year, why insist they sign up to something that takes up more space on their device/laptop? They probably won't even use the platform once the course has been completed. Even though a piece of software has a lot of added features, will this really matter to your audience and the learning programme you want to deliver?
When It's Happening
Interaction vs production value.
Be clear on what is more important to you. Is it the production values or the personal exchanges? A higher level of quality in look and feel may justify charging a higher price but I'd go for amping up interaction and the personal element of the delivery every time. Having the students stepping up and getting involved, asking questions and volunteering their marketing collateral for makeovers, proved how invested everyone was in the MoL event. And everyone who had a birthday that month got a Happy Birthday sung to them (watch below).
So even though we were joining the MoL from all corners of the globe, we were still able to feel close to each other.
Ramp up live participation.
Don't expect people to passively listen to what is being presented, find ways to get your students actively involved. Adding touches that encourage real-time participation breaks things up and keeps hold of people's attention. This can be fun as well as insightful. During the MoL, live polls and word clouds from https://www.mentimeter.com/ helped to magnify the moments when everyone needed to get involved.
If your students have a specific start and end time detailed on their programmes, stick to it. There's nothing worse than letting people down by starting late or allowing finish times to drift. Not being able to stick rigidly to your own timings is not only disrespectful of your audience's time, it also speaks of poor management on your side. You want to make sure that nothing gets in the way of them spending time with you, being the best part of their day.
Gentle reminders are important. Even if people have calendar invites in their diary, giving gentle nudges of what's around the corner always helps. Every Friday throughout April I sent an email to the students that highlighted what was happening the following week, including the links and any specific information they needed to know.
Before the event, sourcing 'wider support' is important (see above section). This can also be expanded to further help whilst your course is happening. During the MoL we put Thursday study group leaders in place. As the main point of contact in our breakout groups, these designated people meant we could maintain the pace of the session. Opening up participation from every single student would have had a knock-on effect on timings.
Courtesy and a thank you go a long way. No one ever expects it, but if people have paid to attend it's good to acknowledge them being there personally (not just as part of a generic email send). The day before the final session, I sent a thank you video (via https://www.bonjoro.com/) to the students, to let them know that it was good to spend time on the course with them. If you have an audience on your side, let them know they are valued and appreciated.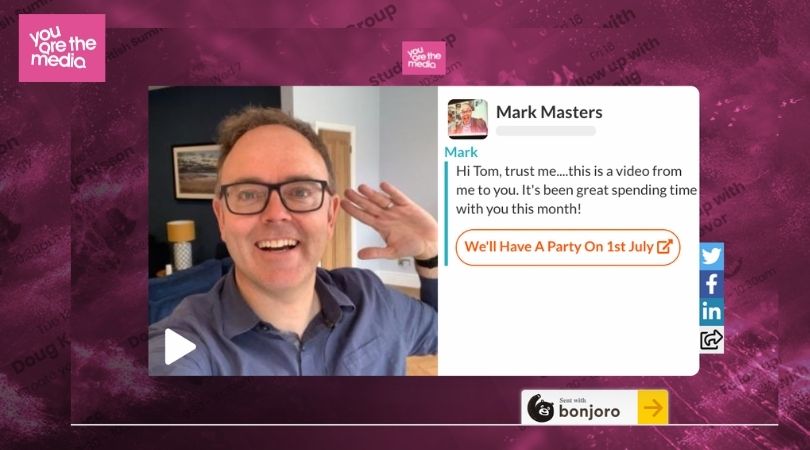 End your course with a bang!
Everyone just carrying on with their day after the final session has been delivered can feel a bit flat. So how do you create a sense of occasion? How do you find a way to make that last session look and feel different?
Look at the skills and talents of the students who are on board with you. For instance, as well as being a YATM community member and MoL student, Ollie Mansfield is a professional musician and an extremely talented cellist. As a segue between the last learning session and inviting the teachers to share their final words with everyone, Ollie played four minutes of beautiful music that was genuinely moving (watch Ollie below). If you have spent all that time organising and delivering your course, find a way to close the event that will feel memorable to everyone involved.
Let's Round-Up
At some point during our careers, a course is something that we can all look at delivering – sharing knowledge to help others.
Creating a course calls on a number of skills: from strategising to selling, technological competence and logistics, to education. It all starts with the audience that buys into you and your overall idea. If you can structure a course to support their efforts and provide them with the tools and knowledge they need to achieve their own successes, it can become an ongoing initiative, not just a one-off but a programme that becomes part of your content calendar.
The best thing, it validates everything you do and to see the tangible results from others doing the work and sharing their results is an extremely rewarding return.
You can now access the YATM Month Of Learning and work through in your own time. Time to find your momentum. Read more and buy here.
Podcast: Play in new window | Download