How To Make B2B Hybrid Experiences Work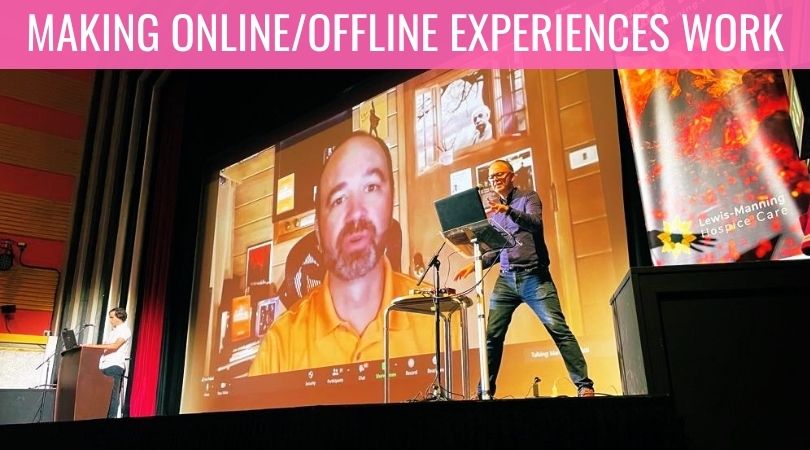 Now that physical events are back, taking advantage of what we learned from being fully digitally enabled in 2020 means we can fuse the best of both worlds.

Let me share what I am learning from delivering hybrid business events via Zoom. This is where two audiences (online and offline) come together to be a part of the same show.
What I am going to share with you is my own account and perhaps give food for thought if this is something you want to explore more.

Delivering virtual events while we could and then leaping back into in-person events feels like a plaster being ripped off. We don't have to return to how the world once was. It comes down to creating a long-term digital experience. You now have multiple platforms to take your work to the next level.
Give You Context
From 2016 to 2020, most of the output from You Are The Media was in-person. We had the monthly YATM Lunch Clubs and in 2020 we had started to deliver in-person workshops. Then everything was cancelled.

From March 2020 and into 2021, YATM moved online, including the community learning with YATM Learning.
In July 2021 we delivered a trial event at Lighthouse, Poole to see if we could bring people together into a theatre as well as watch virtually. From the lessons learned, September 10th was the first official hybrid event at the Regent Centre, Christchurch.

I am a huge believer that now physical business events are back, we can make it even better from how we delivered up to 2020. It is wrong to think in-person OR online. We can now intertwine the way we delivered in the past to the hand that was forced and make something better for everyone.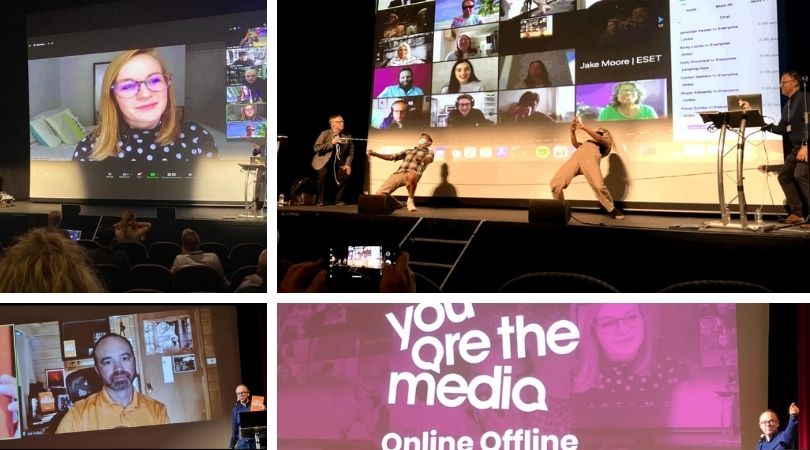 Lessons Learned
What I want to share with you here is my own experience and to take on board some key lessons so they can work for you. This is what has resulted in sleepless nights as I have never done anything like this before.

Here is what I now know from starting to deliver events where online and in-person audiences are together, in the same space, for the same experience.
---
BUILD UP TO THE EVENT
What can you deliver that no one has seen before?
The easiest thing to do is to deliver a webinar or presentation. However, this is going to be painful for those in the in-person audience (they can't move). People want and deserve something better if they are going to give you their time and attention. Think of ways that you can deliver something that no one has seen before that is more than just sitting and listening? This is how you become two steps ahead of others.
You can't do this on your own.
For the trial event (in July), there was a team of people who helped out, but there was still one element missing. It was controlling the screen and what both audiences could see. Similar to using Streamyard or Restream, where you are effective the producer, adding filters and overlays can become distracting and your attention moves into a completely different direction. You can't drive the bus as well as take people's tickets. The tech element has to be given to someone else. The video production team at Mambo Media help manage the Zoom broadcast and sharing the screen, adding visuals and playing videos.
Create a show with a theme.
The show element is important, people can leave feeling entertained as well as learning something, but there has to be an underlying message. For instance, what is the main topic? Is there a name for the show? What ties everything together between your main message and what people will be attending. For You Are The Media Online Offline, the emphasis is on people to create a message where they become known, can build an audience and where the content they produce becomes the connection for growth.
Understand that people are approaching in-person events differently.
Creating a hybrid show means that people have choice. Whilst there has to be an emphasis on the in-person experience, the distance travelled for some, can become a commitment to their day. We now perhaps look at how our days are mapped out slightly differently than before. The 45-minute journey for something that doesn't necessarily tie in with work, has become traded in for being more resourceful with time. You have to appreciate that people prefer to be a part of an online audience.
Don't call it a hybrid event, give your work a name.
I know we have a name to define what we deliver as 'hybrid' but to me, it feels clinical. Hybrid is just the way to signpost people. Put importance on what people will feel. It doesn't matter where they sit, everyone is going to be a part of a shared experience.
Highlight the real value of being there in person.
A real occasion is when you can see people in front of you. For YATM Online Offline whilst the in-person places cost more than online, that's because the whole experience is shared and not in isolation (viewing via Zoom). For instance, as well as the food it's a chance to catch up and network, or even just the ability to head out again for a few hours. Make the feeling of being around others, a premium. Prove to people that the best experience is when they are in the moment.
Keep the agenda concise for both audiences.
If you have a schedule, you have to keep to it. One of the most difficult areas is to orchestrate the movements between online and in-person. For instance, the in-person event starts an hour before the online audience join (have food, get comfy) and everyone joins in from 2pm BST. It would be awful if we started 5 minutes late for the online viewers. Timing is one of the most important factors you have to be aware of. Also if you go way beyond the allocated time, people are going to get restless. Make sure you have a schedule to work to.
DURING THE EVENT
You will lose people if it is a heavy presentation.
Having people in a venue listening to someone on a screen, takes a lot of concentration. When you are watching online, you have more room to fidget, get up, come back. A 45-minute presentation just won't work to a passive in-person audience and the speaker will have no clue of reading the room. Think of ways to keep a pace. Shorter speaker slots are the way forward. For YATM Online Offline we have 25 minutes interview with our main guest and 10 minutes questions (even that may be too long).
Look to find flow with the whole occasion.
As mentioned above, just listening to someone present (or talking for too long) can be energy-sapping. There have to be ways to raise energy levels and for both audiences to be taken on a journey. Thankfully, since lockdown YATM Online became a show. It has different segments and we break up the flow with video (and singing). If you want to create an experience for both online and in-person audiences, you have to look at yourself as a show producer.
Make everyone feel a part of the event (no matter where they are watching).
I like this response from a post by Liam Toms.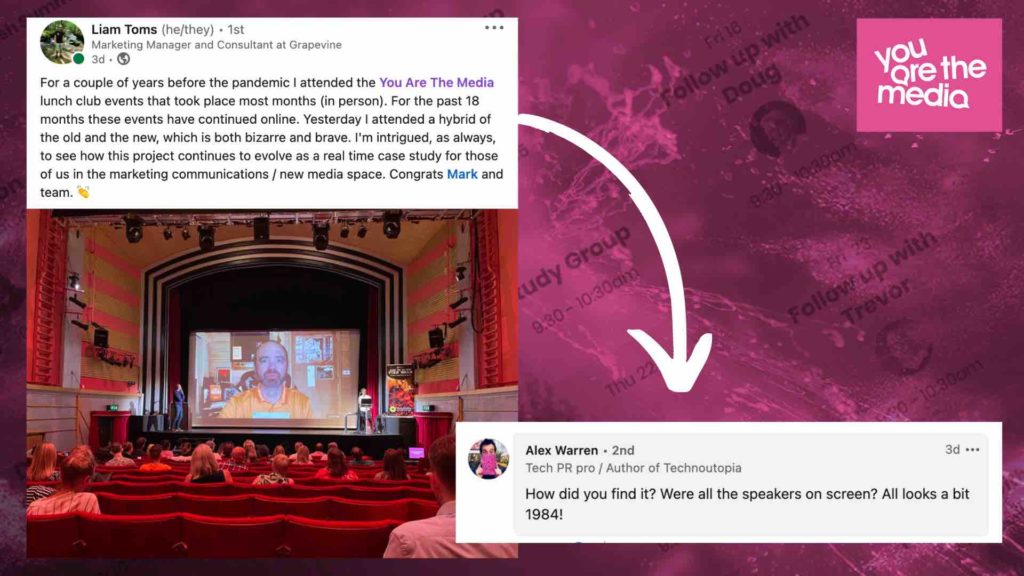 If someone is seeing this for the first time, they would be right, it does look like something from 1984 and someone on a screen talking live to an audience. This is why it makes it even more important to not only have a pace but to find moments for others to have a central place on the stage (and screen).
Find ways to ignite interaction amongst the in-person audience.
The best thing about people coming together is the noise, the conversations and just being around other people again. However, for people coming into a space for the first time, it can feel slightly uncomfortable. Food helps immensely. It doesn't need to be grand gestures, but the ability to pick up a conversation where food is involved does heighten the whole occasion (plus put an emphasis on why people get so much more when they attend in person).
Energy matters like never before.
If you want people to feel a part and enjoy, you have to bring a level of energy unlike before. If you have an audience in front of you and online, it is the excitement that has to radiate between the two sides. You don't want someone watching online to start opening their Twitter feed. From leading YATM Online Offline there were definite moments where I could feel a strong vibe from the online and in-person sides at the same time. Consequently, I was exhausted the following day! I need to find a way where I am not completely worn out.
Find moments to bring both audiences together.
It is not easy to cater to both sides, but both audiences need to know they are acknowledged. For instance, introduce a segment for both sides to ask questions to the main guest. That way everyone is 'in the moment.' For future events, I'd like to explore more ways for sections where everyone has to get involved, such as introducing live polls (we do this during YATM Learning).
Be the guide for everyone.
Whilst you might feel wobbly (I know I did at the beginning), you have to be the safe pair of hands that is there to steer everyone. You start as one and you end as one. The only way you get better is to keep at it. It's a new experience for me and one that I want to uncover more where you are effectively at the front of a live orchestra. Similar to being a conductor, it was David Meerman Scott at the December 2020 YATM Online event who suggested using our hands more when presenting on a screen. I have definitely ramped up my arm movements within the box that people can see.
---
Let's Round-Up
Keeping audiences engaged as part of an entirely new experience is exciting. This is new for everyone, so the whole leaning in plain sight of others is perfectly acceptable.
There will be moments when the tech will let you down, or there is microphone feedback, but when you start something new, people are forgiving. As long as what you are delivering has the right message, your intentions are genuine and everyone feels a part of the occasion.
For many people and businesses, this is a huge opportunity to create something in an untouched space. Whilst not many people are delivering an event that brings together two audiences together, at the same time, it provides the willingness to experiment, test and bring new ideas to others. It is an exciting time to claim your space.
Our next YATM Online Offline is on October 7th, no matter where you are, come and join us. Click Here.
---
I'LL READ THIS TO YOU, CLICK BELOW
Podcast: Play in new window | Download