Why A Newsletter From A Person Not A Company, Wins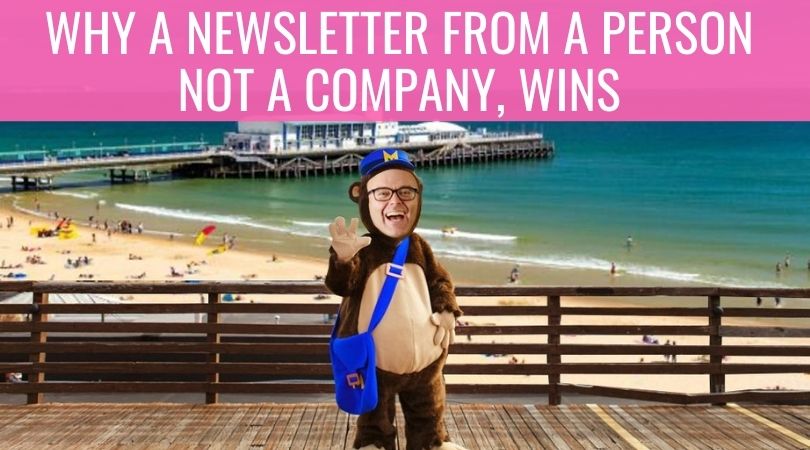 A newsletter from a person at a company packs more power than a newsletter from a company.

People want someone, a face, they can associate the company with, not an impersonal broadcast on what the company has accomplished or what they want you to buy.

We're all getting more tuned into being able to discriminate between what feels spammy and what just might be useful. And we're also better these days at filtering out noise.

Many companies have a newsletter but for the most part, they focus on what the company has achieved. You know the type of email, the one that's heavy on news and low on the 'letter' part, weighing down your inbox, heavily promotional. The days of thinking subscribers are won over by self-congratulatory headlines and can't wait to click on an offer, are over. Genuine content that is, and sounds like, it's written by a human, is winning the day.

The personal newsletter is different from a company newsletter. It's sent by a person who puts their name to everything. It invites you to read something that isn't salesy and has an informal tone of voice.
It All Comes From Who You Trust
Today, we are all craving something that feels real and has meaning. The 2021 Edelman Trust Barometer revealed that people are choosing to be 'more local in' who they trust (below). Those who step up to be a voice within their own community carry more weight, and the voice out front no longer has to be the traditional, 'view from the top,' CEO.
This shift presents a huge opportunity for business people to lead as a person, not a company. If you're carving out this sort of voice for yourself and sending out a regular email newsletter, it's all about the reader and the shared moments you can create, rather than being about the company behind the email.

It's those choosing to speak to their audiences as people first who are winning, not the CEOs or faceless businesses.
Who Does This Personal Touch Work Best For?
If you have a business or an initiative, leading with your own individual voice becomes the means to get people to buy into you (and also, eventually, to buy).

A personal newsletter from a named individual at a company works great for founders, small business owners, consultants, artists, musicians, entrepreneurs and freelancers. The focus is on delivering something real that others can get behind.

One of my goals for the weekly You Are The Media email is to show up regularly and be front of mind for my community. This means that when we do get to meet up (online and in real life), everything feels familiar and known. It's the reason behind why YATM activity increased during the pandemic.
What Can Work Best For You?
You can find momentum by being clear at the beginning on the type of message you are going to share. This is how you build your audience. Here are two distinct types of email that have a personal, not a corporate, stamp on them:
INFORMATION – whatever's happening within your industry, you are the person that collates the highlights. This could be articles, videos or audio that you share in a bitesize format from around your industry. It doesn't have to be your own original content but what you're doing is signposting the best of what's out there. You are the person who saves others time. They know you have your finger on the pulse and are the go-to person in the industry.
IN-PERSON EMAILS – this puts more emphasis on the person sending the email and the way they look at the world/industry sector. Their perspective is relevant, timely and resonates with the readership. The intention behind these sort of newsletters is helping build the audience's confidence, knowledge, understanding and skills.
The Non-Negotiables You Need To Make It To Work
Once you know the format that'll work for you and your business, it's a case of getting into a rhythm that doesn't veer off into the olden formats of pure promotion (although an element of promotion will always have a role to play). Here are some pointers as you pull away from the regimented old-school business newsletter format:
---
Send from a personal email.
If you are going to send a personal newsletter, never use admin@ or donotreply@ . People open an email from people they are familiar with.
Be conversational.
A good way to gauge if people are reading your email is to ask questions in it. Don't turn people off by being too complex or wordy, write in a familiar tone that encourages interaction, as if you were face-to-face with them.
Smile in your email.
It's ok to use humour. Don't fall back into the sort of language that might be used by the rest of your industry or the way that everyone else has behaved for generations. You don't need to fit a mould, you can take a relaxed tone that looks to have some fun. You can still make money whilst still enjoying the whole process more.
Shine a spotlight on others.
Whether it's an 'information' or 'in-person' style of email, it can't be all about you and the business. When you reach out to others they can also help you with the promotion of your efforts. Spotlight those who have done well, they will appreciate you for it.
Open up more.
Share the bad, the challenges, the crossroads you came too, as well as the successes and optimism. Being prepared to show and share your thinking helps make you relatable. When you do this, your audience will be more prepared to open up too. You don't have to have the answer to everything because it's far better to be inquisitive and be working things out as you go along.
Focus on giving.
Remember also, alongside all of the above, that you should always put the emphasis squarely on what people can get from you, not what you can take from them.
Just because someone has given you the green light to communicate with them, it doesn't give you the right to send them lacklustre emails that have had minimal thought put into them.
Lets Round-Up
People don't need any more sales promotion messages put in front of them. Sending an email where the focus never strays far from your company is easy, you just sit and look in the mirror without glancing up for long enough to take in the industry and sector you sit in, consider your place within it or your wider community.
Taking a personal approach feels less transactional and more relaxed. Your newsletter will still have a business behind it but it's designed and created with people in mind and speaks in an informal tone of voice. Showing the real you and not just corporate veneer encourages connection.
After all, when you're sending an email newsletter the goal is to get people to open it, read, react and interact. Make your impact through creating something that people will enjoy and hopefully support and stick around for, for the long term.
Podcast: Play in new window | Download