How To Shimmy From No One Subscribing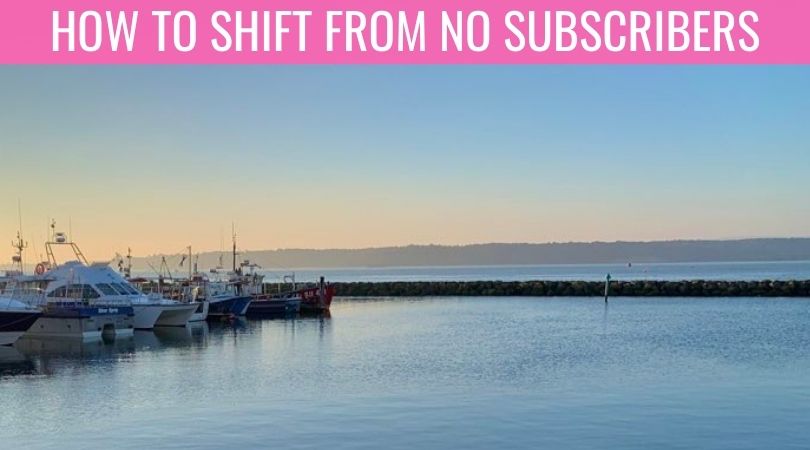 The idea that some things move slow is ok but when it applies to gaining subscribers for the work we create and share, we can't help but feel a sense of unease.

This article is not about the actual content you're producing but that step you take before, when you're encouraging people to sign up for your newsletter. Creating an email newsletter may end up being the straightforward part, getting subscribers to commit to you, the hard slog.

You don't need to become fixated by attracting huge numbers. You don't need 1,000 fans. All you need is a base from which to build on and for enough people to become engaged so that when you address them, your audience is there for you. (If you'd like a helping hand, read this article on finding your first ten email subscribers.)
Why Subscribers Are Important To You
People are still clicking on, opening and reading emails when they think that what they'll find will be useful, or will mean something to them.
However, we all have to earn our place in someone else's inbox. I send the weekly You Are The Media email on a Thursday at 6.30am GMT and where we are now as opposed to how it all started in 2013, I would like to think that people would miss it if it wasn't there.

The reason I put a lot of work into the weekly YATM email (around five to eight hours per week) is that it is so much more powerful than showing up, every now and then, as one of many, on a social feed. For me, aside from chatting face to face (or screen to screen), this weekly email is as personal as you can get.

Building an email list provides you with the opportunity to curate a place where you are 100% in control (no one else owns your list), where people have the opportunity to hear from you, come together at a particular time during their week or month and you have a platform from which to deliver. Value is the key, not self-promotion.
For anyone who subscribes, it is your opportunity to keep them entertained, share your world and what you're learning, and invite them to interact with you. It's a big thing when someone takes that step and gives you their email address. You have to deliver on the promise that got them to sign up, creating work that is worthy of their time and building a relationship of trust, over time.


It Was A Slow Start For Me / It Was Slow For Me
When I first started the YATM weekly email, the audience was made up of prospects and clients, organic growth was minimal and it took me around a year to acquire my first subscriber – someone I didn't already know, who was a real person, not a bot (it was someone in Australia).

This "fallow" period may have helped me with my own development in terms of writing and frequency of sharing but I can see, looking back now, why subscribers weren't signing up. Here are some of the reasons:
No one knew me.
I had no track record and nothing to build from, it was just me, a person with a business, based in Poole. I wasn't present and apart from dipping my toe into a few networking events, that was it. I wasn't doing anything beyond talking about myself and my own interests, and selling the services I had to offer.
It wasn't promoted.
All I did was write and send the email. There was no means of attracting subscribers and the sign-up box was there more as an afterthought, hidden away.
It all felt like business.
A website with very few blog posts but heavy on 'About Us,' self-absorbed content, was attractive to no one. It was never about what someone else could take from me and if producing it felt like a chore to me, it was probably even more of a chore to read.
What Stops You Attracting Subscribers?

Attracting barely any subscribers is often nothing to do with your content but more about the way you set up your stall.

It's not what you create, but the approach you take to get people to see you and commit to you. You are going to get hardly any interest when:
---
What you share serves little purpose beyond you seeing it as a vehicle for your sales. For instance, sharing your whole newsletter on LinkedIn or a link on Twitter as soon as you publish allows everyone to see what you share. Someone else's interest in you is invariably less than yours. If the majority of a newsletter is new business and selling services, it will attract barely any new subscribers.
People prefer to get their information from other sources. There are fantastic industry-related emails that go into topics at such a deep level that they're the ones leading the way. You can't compete with them. For a few years, a content marketing-themed approach was the tack I took but with the Content Marketing Institute leading the way and my efforts having very little by way of originality or personality, my work didn't get a look-in.
It all feels like a chore. It isn't a nice feeling when the work and time you give to something attracts nobody. What can start to happen is that the whole process begins to feels laboured and you lose any sense of enjoyment including that enthusiastic commitment to create which you had at the start.
Joining in doesn't feel exciting. A sign-up box at the bottom of a page that invites people to 'receive our newsletter' is not going to encourage anyone. Just because people can fill in an email form, doesn't mean they will. Even worse, if people can't find a place to opt-in, how are they going to receive your email?
---
What Can You Do To Get People To Sign Up?
Digging deep and putting the work in has meant that the YATM weekly email newsletter has come a long way from its very quiet start.
Here are some suggestions for getting subscriber numbers from zero, to starting to make an impact in people's inboxes, to having people look forward to receiving your email newsletter:
---
Be clear, be open and never be timid about asking people to subscribe.
One of the worst things I did was to think that just because I produced an email newsletter, people would subscribe. When people are not too familiar with you, you have to find a way to encourage them to subscribe. This could be a prompt for every new LinkedIn connection, to a pinned tweet on Twitter.
If you are proud of the work you produce, you can't be shy in letting people know. For instance, the day before the weekly YATM email I will add a social post in the YATM LinkedIn group and Twitter to say that the email is being sent and if people are not subscribers, to leave their email.
Have enough proof to convince people.
When you're first starting out it's even more important for you to persuade people to subscribe. So that they have reason to believe that what you're saying will resonate with them, be clear about the sort of newsletter they'll be receiving, give them reasons to sign up.
People need to see your sign-up form.
Win people over by having a dedicated space or spaces to direct people to, be that an email footer or landing page. Remember this whole process is focused on promotion and so sits separately from what it is that you'll be creating as content.
Encourage those people who are already in to share and promote your content for you.
It was only this year that I started including a link at the bottom of my email asking people to share the YATM weekly with people who may find it useful (the link goes to the sign-up page). This was something I had never really thought about before but looking at the stats, I can see that people do share material with their contacts. Finding ways of encouraging others to promote and tell others that joining would be of interest and worthwhile, helps your own audience-building efforts.
A new feature for 2021 is putting the YATM audience itself centre-stage with the YATM Takeover feature which opens the email every week. I ask a subscriber to send over a photo (that isn't a profile pic) and information on something that they think would be of use for others to read, watch or listen to.
Alongside this, I'll add a link to their LinkedIn page and company website. What this has done is encourage others to share in their spaces. Whilst it was never an intention for people to use it as a post for their social feeds, it still feels good when YATM is acknowledged, mentioned and more people become aware of it.
Subscribers goals become part of your overall strategy (and what you do).
When you have a newsletter that's building an audience, reach and influence, you can eventually use it to introduce new product or service lines. It's how YATM Online, YATM Learning and YATM Month Of Learning came about.
The very nature of producing work that matters to people, work they care to hear about and hang around for, means that it starts to take priority from a business perspective. In an article on the importance to have subscriber aims, 'Being up close to your audience (and not just in the geographic sense) is going to become the differentiator as many businesses adjust to new ways of navigating the world in the coming months.'
---
Let's Round-Up
Subscriber growth can be painfully slow when the newsletter you're creating and publishing isn't playing to its strengths and receiving the right amount of promotion.
A newsletter can, over time, become a means of getting people to buy from you but the whole reason of starting it should be to have something you can share that people join you on, enjoy and start feeling a part of.
You shouldn't be too tough on yourself when new sign-ups are initially slow as it takes time to become aware and recognise the role you serve for others. The longer you keep at it, the more you will find the voice, niche and role you serve for others. Having that better-defined voice will also then make it easier for more people to come on board and join you in what you're doing.
Respect the audience you build, you don't need as many people as you may think but you do need to be continually serving up value and reasons for them to keep coming back.
Podcast: Play in new window | Download