Your Side Project Can Become Your Main Job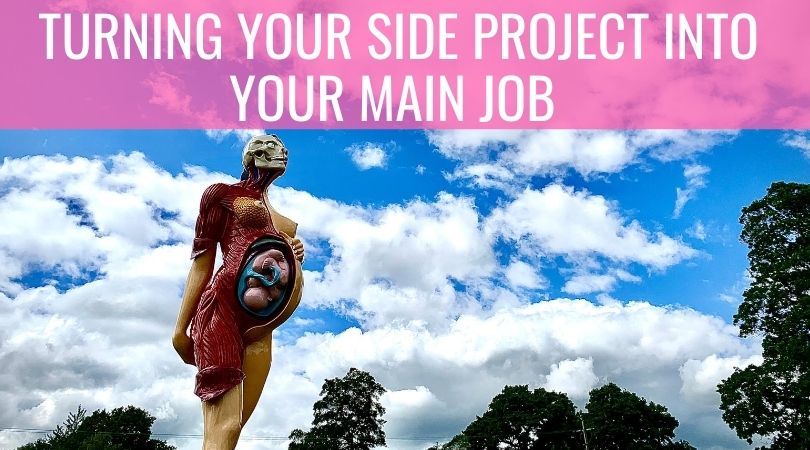 A side project can eventually become your main business focus. It doesn't have to remain a sideline or hobby.
This article highlights the path your side project can take when you're starting from zero, gathering people around your message and then figuring out how to stay relevant as the side project builds traction and becomes something more serious and sustainable (and your audience begins to feel a part of something).

In an article on building your side project posted earlier this year, I highlighted some helpful starting principles for you to embrace:
— A side project is something that sits away from your main source of income
— It's going to take a big amount of your time
— It's where you're free to experiment and try out new ideas as it's not where you generate your main source of income.

Over time, you'll reap greater rewards if you focus on the side project sweet spot – the point at which it intersects with your main business and the values both share.
This can become the driving force of your side project. An example would be an estate agency that wants to build a community, and a sense of community, through a side project that highlights all aspects of life in a particular locality via a community newsletter that will also appeal to people looking to move into the area. This would be in complete contrast to an estate agent's less complementary side project which offers, say, cookery lessons.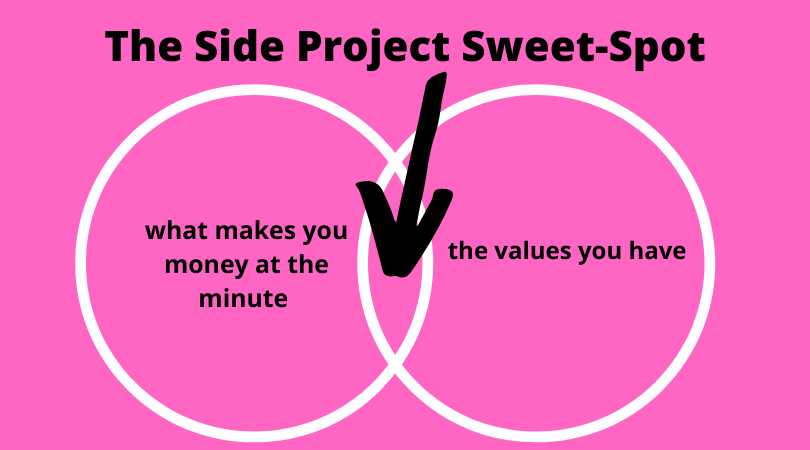 The Problem I Had
One thing I had to accept recently is that my side project, You Are The Media, rather than my main business, is the thing that people know me for.
Apart from clients, nobody knows who or what The ID Group, the company I started back in 2008, is. The side project (You Are The Media) has become far more prolific than the main business.

I have now decided to put the original business and its identity to one side.

These are the problems I faced:
💥 People knew me and knew YATM, they don't know The ID Group
💥 The ID Group identity only meant something to a few people
💥 There was nothing helping people to connect the dots
💥 The side project had become the thing that people connected with
💥 As YATM took off, The ID Group lost its identity
💥 YATM always had a far clearer personality than The ID Group
💥 I realised that I hid behind The ID Group while being very much to the fore with YATM
While working on revamping The ID Group website this summer its lack of personality became difficult to work with. This was in stark contrast to the warmth and recognition around YATM.
I found myself having to stop and ask others for their opinion.
The Result?

If You Are The Media is all about how you can learn, build and become a trusted voice, We Are The Media is its commercial arm.
We Are The Media means working alongside businesses on their narrative (or working with business owners in a one-to-one capacity so they can do it themselves with ongoing direction).
By keeping the two strands separate, there is now a clear identity for both, rather than everything being rolled into YATM, which is very much the learning and sharing side.
We Are The Media helps businesses with their content strategy, creating their brand messaging and then helping them promote those messages. When this approach works, a company can become a trusted voice that speaks from its own self-built space and develops authority in its industry, sector or community. YATM itself has proved this and the framework it used can be applied to and made to work for others.
In this way WATM and YATM are separate but connected through mutual values that help people and businesses to deliver their message and build audiences that are 100% owned. Both stand for independence, being purpose-led and organic growth.
What I want to emphasise here is that the time you invest in a side project can become something that takes on a life of its own. As I have seen for myself, the side project helped to deliver a new direction for the main business, based on familiarity, relevance and having plenty of personality.

Steps For You To Think About

If you have a side project you're working on, be it blog, podcast or video series, you never know where the work you're creating can lead you.
Here is how a path can be mapped:
Start with an idea.
All you need is a solution to a problem others have. Back in 2013 mine was around helping people not to become too reliant on ad budgets for building visibility but rather choosing to take ownership of their own media spaces (hence You Are The Media). My overall question was, can people/businesses be seen as an authority in their industry/location if they speak up and stand for something?
Lesson = You realise the resource is your audience.
Stick with the idea.
Accept that as you start, the new opportunity coming your way may not materialise for a few months. The important thing is to stick wholeheartedly with something that has meaning for you. It all comes back to the initial problem you help with and the values you have. You always have to keep coming back to this.
Lesson = The content you create gets you closer to your audience.
Keep on with it because you want to.
With a side project, you keep at something because you want to, not because you believe you have to. Enjoyment and curiosity become the biggest motivators. For instance, I enjoy trying to figure out why things have failed as much as highlighting those that have worked.
Lesson = Your content encourages better connections
Bring more people in to join you as the value you're providing grows.
Over time, the longer you're associated with, and keep offering solutions to that original problem you helped people with, the easier it becomes for people to come on board with you. With more people subscribing it also becomes easier to introduce new initiatives and create separate revenue streams that relate to this side project.
Lesson = Connections nurture trust
Recognise a fit for something permanent.
You can still have fun, but you recognise the thing that brought people together can develop new strands. The activity can still continue, it's just that the overall package has clarity. For instance, people learn and feel together with YATM and can take things to a more commercial space with WATM.
Lesson = Trust grows the resource and profit
Let's Round-Up
If there is one thing that I now know about having a side project it's that the skills you build will stand you in good stead in all other areas of your life.
My intention, when I was starting out with YATM wasn't for it to become my main focus, it's just that the side project became the thing people knew me for and understood.
Side projects may often be referred to as the additional work you block off time for that lead to little reward but what shouldn't ever be forgotten is the possibility they can represent.
It's about pushing yourself into new directions and wanting change to happen. The side project can eventually turn into the main job. One big experiment can lead to all sorts of unexpected answers. A more congruent business and greater work satisfaction may be sitting in front of you already if you dig deep and do the work.
Click below and let me read this article to you.
Podcast: Play in new window | Download