Topic Ideas That Will Feed You For The Next Year
Developing a library of ongoing content topics helps your activity flow easier.
People know what they're going to get from you – you are always offering something new but it comes from a place that feels familiar and trusted.

This article is about helping you discover topics and themes that can be planned for months ahead, ensuring you don't run out of ideas and are able to consistently put your unique stamp on the marketplace.
Having topics at your fingertips is vital for developing an ongoing narrative. The longer you stick at it, the easier it becomes.
Imagine yourself starting exercising to Joe Wicks with his first live YouTube session on Monday, March 30th, something that may have been unthinkable the previous week. When you get to week 12, you'll know you're getting stronger. Each week you're lasting a bit longer and feeling better for it. It starts to become more natural to you.
We Don't Need More Advice
People don't want to read more generic, recycled wisdom, where ideas have been cut and pasted from somewhere else. Going forward, loyalty and trust are earned by the people and businesses that are prepared to tell stories their own way, scars and all.
Producing content has to be seen as more than a mere marketing tool. It's a way to empower others, practice humility and have your audience recognise and acknowledge that you're there for them.

---
— You step up with your experience, curiosity and skills
— You do the work, produce and share
— You bring people together so you and your audience both win
---
You Perspective Does Matter
Your narrative does matter to others as what it can do is guide and encourage deeper and longer-lasting connections. This is how you can make a difference by having the drive to keep going (read this article that explains).

Look at sharing your narrative and the information it contains as a way of encouraging continual interaction with others – each topic area you share opening up further conversation and connection with others.

Eight Topics That Can Work For You
The following list has worked for me over the years. All my weekly efforts fit into one of the categories below.

Take this and apply it to yourself, your business and your marketplace. If it can help you shape a bank of work for the next year, then the biggest discipline you need to instill in yourself returning to it continually and creating from it. Doing the work, just like an appointment on YouTube with Joe Wicks every day at 9am, is the biggest commitment you make.
---
Share what has gone wrong.
No one needs half-hearted suggestions, you have to prove to others first that you care.
Sharing your failings, the times when you didn't quite get it right, is a powerful place to start. The content that resulted in the biggest interest (in terms of views and shares) since You Are The Media started in 2013 has been when the world came crumbling down.
This capacity for saying things that no one else is prepared to say, in the fear that it may make them look weak in a B2B space that always seeks to promote "look-at-me" success, can become a positive point of differentiation. If you share while you're in the midst of the hurricane you're also giving yourself a means of looking back when things calm down, when the experience can become a learning exercise for you too.
For instance, deleting the entire You Are The Media database provided opportunity (here is the car crash) and documenting my burnout in 2018 became a catalyst for my change (read more here).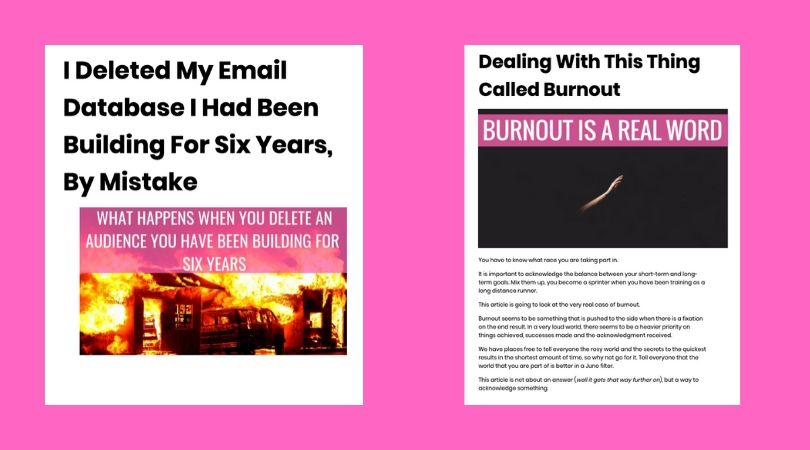 Show the proof and back it up.
You have to live what you're talking about rather than borrowing other people's stories.
If you can't share the evidence and live your life in plain sight of everyone else, then you run the risk of looking dishonest. Explaining what you've learned can help make other people's lives easier.
It's all about putting yourself in your audience's shoes and how they can save time and / or make better informed decisions. From a marketing perspective here is a list of simple things to do that take less than ten minutes (read here).
The values you live by.
These represent everything you stand for and believe in. This approach works best when you share values you never deviate from. For instance, everything about YATM represents ownership, creation, community, independence, kinship and connection. The reason this strikes a chord with others is that it's a belief system that resonates.
This is completely different from only sharing tactic-based articles (although they do have their place, such as this article) or just selling your products or explaining why you deserve people's attention and money.
Recognise the everyday values that others have and align yourself with the spirit of what you do, not just what you sell. As an example, I have always believed in building an owned space without reliance on other media (you can that here)
The wider world and your observations.
This relates to how you respond to events on a society/economy/marketplace-wide level. It allows you to document and offer up a scrapbook of how you see the world, conveying that meaning to others.
When you look back, you'll be able to revisit your thinking from that time, eg my documenting the build-up to GDPR in 2018 (read here), or when the world became fixated on PokemonGo (more here) or when my team, AFC Bournemouth, were promoted to the Premier League back in 2015 (I wrote about that here). What you're doing here is the equivalent of jumping on a hashtag that is popular at the time, but in a way that's highly relatable on a personal and business level.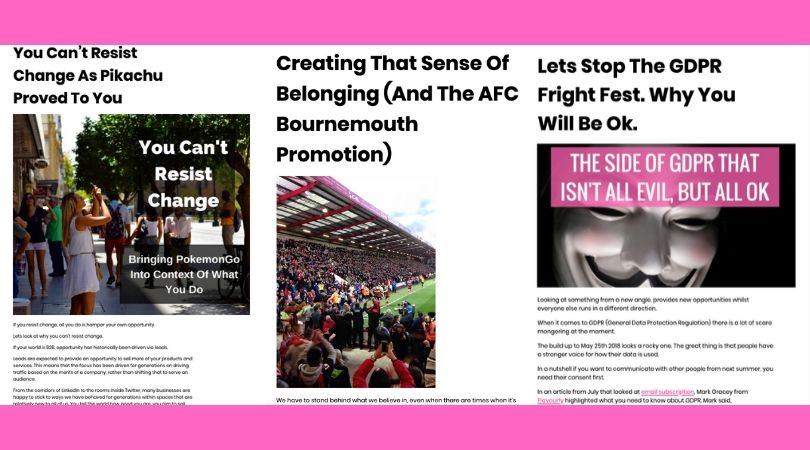 Create a series that answers a question.
This can become ongoing over many months and even years. It becomes a cornerstone piece of content. For instance, rather than generic business questions, is there an itch you want to scratch in your industry?
Can you ask and find out more from others who are demonstrating what you believe in or people whom you want to be seen on a par with? Back in 2014, I started the 'Talking Content Marketing project where I interviewed over 100 people on what a content marketing approach means and what businesses need to think about.
The upshot of this was that over time, the introductions that were initially made and the people who were interviewed, became key YATM allies. For instance, those who took part in that project have also come to speak on the YATM Podcast and presented at the YATM Conference. Also, with the YATM Lunch Club Online now an ongoing initiative, these relationships allow me to reach out to people I now know better around the globe to help out again.
Look beyond a Q&A as just a means of one-off interaction with someone, these are the people that can, in time become your friends and allies.
Frustrations with your industry.
This is where you have freedom not to gripe, but to go against what many people within your industry are saying.
If you berate others, it can go against you, but are there practices that frustrate you and where you can see there being a different solution? As an example, one thing that has always frustrated me has been this thing around scale – the articles or webinars centred around a mass that doesn't seem achievable, such as gaining 1000s of subscribers in the shortest time possible.
There is this attachment to big being successful; scale and size do not have to be regarded as business utopia, you can still be successful and small (read more here)
Key dates that are important milestones from which to share your findings.
If you can identify relevant occasions that occur every year, then your creation calendar starts to look after itself and you can plan well ahead.
This provides you the opportunity to share findings and new ideas. It is important to remember that the events you choose to focus on have to reflect your values so it becomes easier for others to see how it may relate to them.
Over the past few years, I've taken findings from the annual Edelman Trust Barometer (released at the start of each year) and then looked to figure out how this affects small businesses and to take the opportunity to find a closer allegiance with those who are prepared to trust (click here to read). Also as the YATM initiative passes each birthday every October, I share what I've learned from the previous 12 months (here is how it looks). The ability to dig deep, study and reflect allows your audience to get closer to you.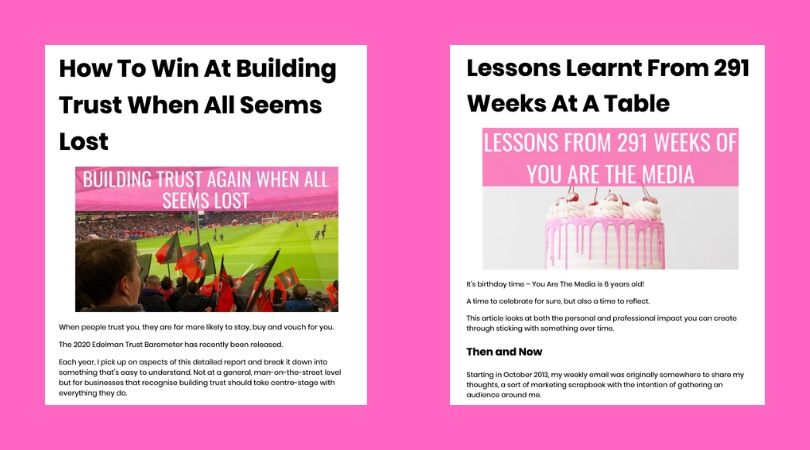 Make the difficult look simple.
One of the biggest mistakes I made during the first few years of creation was to try to look important. This is the type of article where you take too much notice of industry jargon or business hype, the sort of thing that doesn't mean anything to anyone, apart from one person's ego.
A way to flip this is to take away the complexity and look to explain something intricate and complicated in a much simpler, down to earth way where page upon page of PDF is broken down into something altogether more succinct.
For instance, putting on an event is hard in terms of getting people to commit and attend, but it is so much easier when you produce ongoing content in the build-up to the event, many months before (here's where it's easier). Champion simplicity and make that your guiding light to everything you produce, making it easier for people to come on board with you.
Let's Round-Up
Pre-determined topic areas help you deliver what you promised to your audience when they subscribed (you can read more here).
Recognise where your skill, perspective, knowledge and stories add value to others. This is where you've earned place in someone else's week.
When you have a calendar, topics you've identified and a commitment to create, you soon realise that you can't be dwelling on detail for too long in the anticipation that this could be you, creating your greatest work.
Tomorrow, and the time after that, will be another day when you'll be sticking to your plan and creating again. Focus on doing this work.
LET ME READ THIS TO YOU, CLICK HERE

Podcast: Play in new window | Download