What To Include In Your Regular Email Newsletter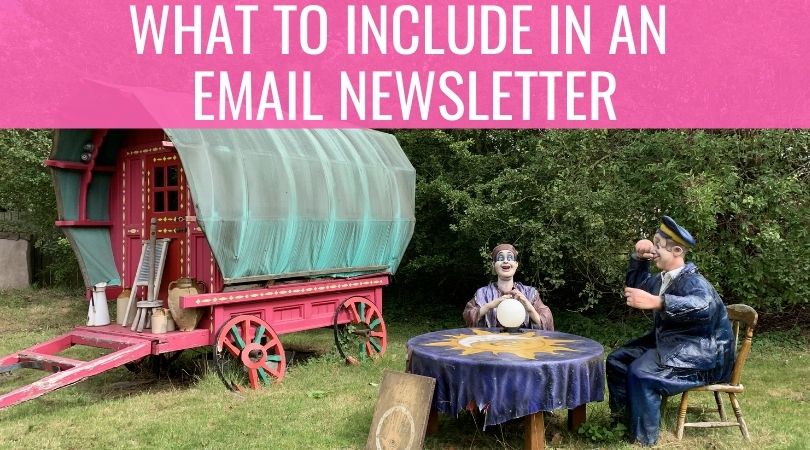 Following a set plan of action for your email newsletter saves you time and gives you a clear structure you can return to time and again.

Having the opportunity of regularly relaying your message directly to the people who want to hear from you (your subscribers) comes with a real sense of responsibility. It's also a means by which you can produce content that has your personality and what you stand for running through it and that conveys your authority in the marketplace you operate in.
To succeed, both you and your readers have to look forward to it. For you, it's vital that creation and distribution, as well as promotion of your newsletter, becomes an integral part of your working week or month. For your subscribers, it can become an established and looked-forward to pause in their routine.
A weekly email has been part of my routine for the past seven years and I'd like to share what I see as my 'non-negotiables' for making this happen. By that I mean the must-haves for an email newsletter in terms of construction, presentation and encouraging subscriber loyalty.
This article is for you if you're about to start your email newsletter crusade or want to resurrect a newsletter that lost its way. For the record, I use Mailchimp, I don't think it's brilliant in every area but it's served its purpose over the years.
A Good Place To Start
If you're producing work (written, audio, video), you have to promote it.
Pressing publish and standing back is a waste of time. Everything you create has to be promoted and amplified – it's how people find you.
Your email newsletter provides the optimal medium with which to reach out to those who have agreed to hear from you and where you're committed to audience growth (have a read of this example that explains why you need a subscriber strategy behind you)
Your email newsletter starts to stand out when you share items, news and information your subscribers can't get elsewhere. You have to find ways to save some of your work for those who subscribe to you. Imagine the people who subscribe to you as a VIP audience, while those who follow you on LinkedIn are everyone else in the nightclub!
To achieve this, ensure the content you create always comes from a personal perspective and also implement tactics such as sharing subscriber-only videos or giving access to your podcast a few days ahead of general release.
I would also always recommend you invest in design for your email newsletter. Standard templates may not be sufficient for creating the right impression. Once you have your design set in stone it becomes your calling card, something distinctive and recognisable for your audience that also helps you create within an established process.
A Process To Come Back To Again And Again

These are the email newsletter must-haves I recommend you have in place every time you send your newsletter out into the world. Creating a process with these elements help you build repeatable momentum that has the added bonus of making your audience feel more connected – a familiar format framing each new piece of content:
Give your email newsletter a name (this is a super-important point).
If someone asked you to subscribe to the 'Company Name' Newsletter, you probably wouldn't, you'd probably think the content was going to be self-congratulatory or you were going to be sold to by any means necessary. However, this is exactly how I started. A big turning point for me was to create an alias (read more on creating an alias here).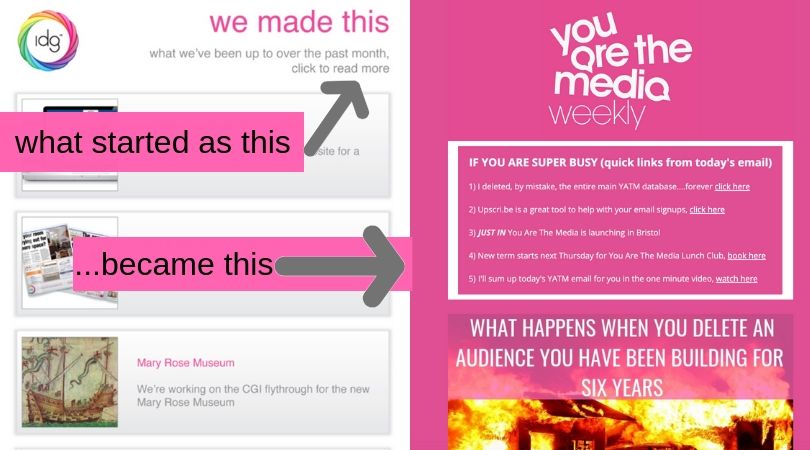 Since 2013, everything I share is from You Are The Media. It's not something I hide behind, it's a way of helping people feel attuned and attached to something that can help them and isn't a heavy sales pitch (but can still, in time, create buying opportunities for your subscribers).
Summarise your email (at the very top).
This idea came from Lee Groombridge who suggested giving a quick rundown of the YATM email content at the start of the newsletter.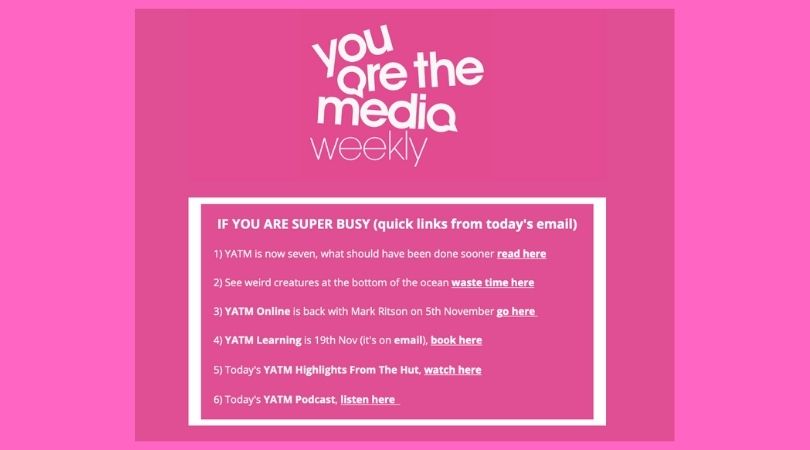 This means the newsletter is designed to make it as easy as possible for subscribers to get the content they want, in YATM's case having access to the main URLs in the email without scrolling and reading the whole email. Adopting this idea took me by surprise, in its first week, click-through rates saw a marked increase.
Find a way to have fun (that's completely unrelated to your business).
I include a section in my email called, 'time-wasting.' This started in 2020 and has become a good way to see who is active and what receives the most click-throughs. It's a segment that's completely unrelated to the topics covered in the rest of the email, comes from recognising that 2020 has been tough on us all and says, "let's just find a way to detach from everything and spend some time getting lost."
YATM's 'time wasting' can be a one-minute meditation, secret doors to places around the globe, live webcams from African safari parks or being hypnotised. In this way a newsletter doesn't have to be a straight-laced B2B digest people receive. Just because it's business, doesn't mean it can't be fun.
Make sure all font sizes are constant.
This might sound elementary, but not setting your fonts to a default size and saving them can result in inconsistencies that negate all your other efforts and make you look like you're not putting care and effort into the production.
For the YATM email, I use a 14 point, Open Sans. I use a slightly large font size just so it reads well on mobile devices. I don't want anyone struggling to read the text. For the headers in the email, I make sure these are 18 point.
Break up the flow.
No one wants to wade through intimidating, text-heavy paragraphs, especially on mobiles. Whilst I post my main article into the body of the text (from 1,200 to 1,600 words), I always look to break it up with imagery, graphs and gifs.
Mailchimp now offers the function of including gifs that don't affect newsletter flow, from its own library. I don't add visuals in the main copy, I always add an image in a new 'block,' underneath the copy to effectively act as a pause (with the added benefit that this doesn't affect how it appears on mobiles). If you try to get people to scroll right on their mobiles to read, rather than just up and down, you'll lose them.
Deliver more than just text.
Your email is a way to deliver content in whatever way people prefer to consume it.
Just because it's an email, it doesn't mean you have to accept life in text.
Look at your email newsletter as a living, breathing space that champions your evolving creative efforts. For instance, I share a short video highlighting the main points at the end of each email.
Whilst you can't upload video directly, I upload it to Vimeo and then include the link in the section at the bottom. I also read the main article, that is then converted to audio and the link is included. The reason I do this is that I want people to know that I am present and a part of their morning in whatever format they prefer, every single week.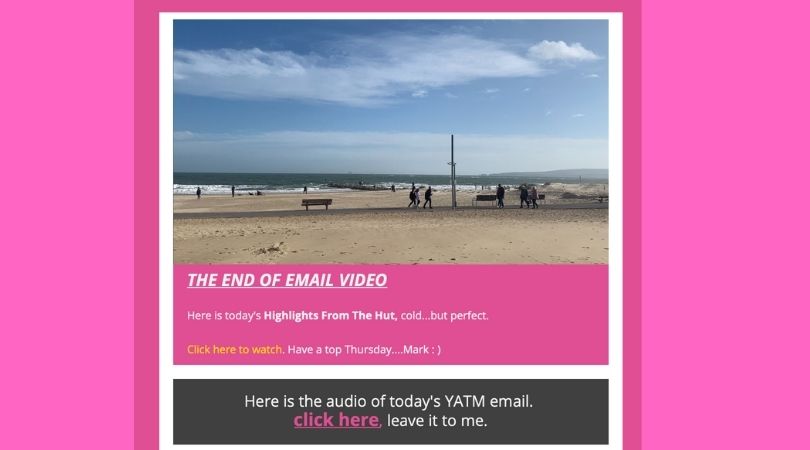 Think beyond yourself, bring in the work of others.
Whilst there is an emphasis on the message you want to share, if you're interested in building a loyal audience, why not make them feel special, giving them the opportunity to talk about themselves?
In 2020 I've seen so many people step up and offer help and advice. This could be advice from a financial perspective, from someone else providing the learning on a particular topic or an opportunity that's worth sharing with everyone.
Don't look at your email newsletter as being all about you but, as subscriber numbers build, as a community effort where you actively seek out and reward others' contributions.
Don't always use stock imagery.
The danger with great resources such as Unsplash is that your work can start to look the same as other people's, with certain photos being seen many times in many guises.
I always kick the weekly email's main article off with a visual I've taken. Over the years, I've realised the importance of just being aware of the world around you. The opening image might have been taken on holiday or even on a weekend visit to the supermarket. It's another way of building your own library with your unique stamp on it.
Even though everyone receives the same email, it's still personal.
An email newsletter is still a way to let people know you're there speaking to them, one at a time. Always make sure it's sent by you (make sure you verify your email so other inboxes know you are a good place read how to do it here) and take time to think about the different ways you can invite people to respond, reach out and comment.
I can always gauge which articles strike a chord by the amount of feedback I receive and I feel I would be letting them down if their comments were greeted by silence or a reply the following day. Your email newsletter can act as proof you show up for your subscribers and can be an excellent way of keeping you connected.
Send it at the same time, every time.
Thursdays are very much You Are The Media days, and 6.30am GMT without fail, is when the email is sent.
If you are making an appointment with your audience, remember the importance of showing up at the time that's set. It could be the last day of the month or a particular day you want to make yours. I make sure that everyone knows when it's sent, via the subscribe page. This becomes my unwritten contract from me to every single subscriber.
Similarly, when the time comes for taking a short break, it's important to tell everyone when you're going to be back.
Don't run out of ideas.
The worse thing you can do is commit to sending out a regular email and then start to run out of ideas and enthusiasm – read this article so you never run out of ideas).
Let's Round-Up
It's important to remember when it comes to creating an email newsletter it isn't all about you, it's about the people who subscribe and the audience you build. You create and curate for them.
Be mindful of the number of emails people receive day in, day out, and make sure that what you send is relevant and has earned the right to land in their inboxes.
When you have a subscriber who feels a part of a wider community, they will stay with you, year after year. Having a staunch group of supporters behind you is an empowering place for any business to be.
---
The topic of email marketing is the focus of our next YATM Learning (our community learning group on Zoom). It's free to attend, you just need to book. Click here to book your place for Thursday 19th November when a panel of experts will be available to answer any questions you may have. 
---
LET ME READ THIS TO YOU…
Podcast: Play in new window | Download