Surfing In Sync With Others – The Best Place To Be!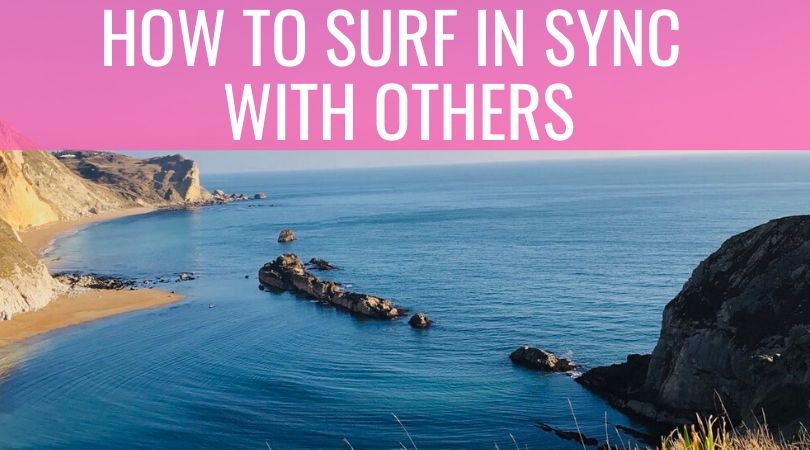 How do you move to a position where you are "in sync" with the audience you are trying to reach?
This article is about how you come to stand side by side with someone, understanding and seeing the world they see, rather than just focusing on converting them to buy or subscribe in double quick time.
Everything feels and goes better for you too when you're managing to bathe people in so much value, that they don't want to leave your space. Over time, what happens is that you start to become in tune – in sync – with each other.
What Does Being In Sync Mean?
It's about being on the same wavelength as someone else, whether buyer, subscriber or community member. It starts when good ideas resonate and spread, and then lead to people making deeper connections that last.
The overall goal behind the content you share should focus on helping people move forward with their efforts (as a result of what you share). This then brings benefits to you too. What you publish (blog, video, audio) might not cost them anything to consume but every slice of content contributes to making your relationships with those reading, watching and listening, stronger.
Being in harmony, coming to stand alongside and aligned with your audience, creates and drives further value and, as such, is infinitely more powerful than just broadcasting to the world about your business and how great it is.
It's Not Just About Your Marketing Tactics
Being in sync, finding that shared page with the people you're trying to reach, should drive your overall marketing strategy. It's not about co-ordinating communications, i.e. re-sharing a tweet as an Instagram post, but showing up, with understanding and intention, every time, all the time, on the platforms you choose to be active on.
These days, effective marketing is no longer based around recounting features and benefits, and saying why you're better than the competition.
It's about looking at marketing as an experience that's shared with your audience – a conversation, a back and forth, not a broadcast. In this way you move to a totally different level. It's about how you make other people feel and also about genuinely enjoying your interactions and the time you spend together.
Increasingly, those of us running businesses, creating and sharing content, need to move from an approach where our communications are inward facing (and it's all about us) to outward facing (where it's all about them – our audiences).
Benefits Of Being In Sync – The Proof
The February You Are The Media Lunch Club offered several great examples of a community where people are in sync with each other:
— Trisha Lewis hosted You Are The Media Lunch Club. Having been the host since its inception in 2016, I've now decided to let others, who are very much part of the community, host (I will now only host the first and last Lunch Club of each year). Trisha ensured everything flowed and actually ended up being far slicker than me. It felt right and totally YATM.
— There was a moment of crowdsurfing. People found it easy to step forward and hold Jake Moore. It wasn't a case of four or five people feeling a bit reluctant and pushed into it – more like 20 plus were ready to have fun and be in the moment with each other. Despite being wholly unexpected (at least for me) we all fell into step, in sync, with each other.
— People were still in the venue two hours after the end of the Lunch Club, whether this was to chat to our main guest, Janine Coombes or just to spend time with each other and catch up. It feels good when people stay on afterwards and enjoy each other's company, all in tune, all feeling very much part of the occasion.
How You Can Be In Sync With Others
Creating harmony means being proactive. Let me highlight some signs that are good indicators that what you're creating is in sync with what people need and want:
— People know when to expect to hear from you. I've always made a promise to every single subscriber that they'll receive the weekly You Are The Media email every Thursday at 6.30am GMT. Is there a way for you to become a part of someone's week or month, a time and reason they can expect to hear from you?
— Conversations keep going once something is supposedly done and dusted. There was once a time when success was measured by the number of comments left on a blog article. Social proof was the be all and end all.
Today, it's as much about what happens beyond what's visible and in the public domain. When comments and conversations find you directly via email, DM or WhatsApp it means relationships are stepping up a gear. Are there ways you can find to encourage people to reach out to you directly, sparking those valuable one-to-ones?
— People commit to you and show up (no drop out). When you put on a live event, it can be disheartening when you see a sizeable drop-out rate (this is one of the reasons why YATM events have a cost associated with them).
However, when the material you share is found to be worthy of people's time you create something that's deeply rewarding all round. How can you make sure that the topics and style of event you want to bring people to, comes with a vanishingly small drop-out rate? What are you emphasising – the topics covered or the camaraderie to be had? Or a balance of both?
— People know they're being recognised and acknowledged. You get into sync with someone else when you address them directly, this could be as simple as a hello and spending a few minutes with them at your event.
Extending this approach online, I've started using Bonjoro as a way to reach out to new subscribers with a video thank you. This means they know instantly it's not something that's automated – I start by saying hello to them personally. As an aside, I'll be chatting to Bonjoro founder, Matt Barnett on the next YATM Podcast. So the question is – how can you let someone know you're showing up for them, for real, in person?
— There's a common ground you've reached together that goes beyond the work thing. When there's a passion you share, it becomes easier to have that conversation and feel relaxed.
For instance, Sam Davis shared the good and the bad of having a side project on the YATM Podcast (click here to listen). The common ground for Sam and myself is that we're both AFC Bournemouth fans. Before I pressed record for our interview, we must've spent 45 minutes just talking about football. So-called small talk is the cornerstone of some of the most significant connections we make. How do you break the ice and find shared passions?
Let's Round-Up
Being in sync with others works when you live by what you lead on.
Whilst businesses spend a lot of time ensuring their message is thorough, professional and co-ordinated, it's the accumulation of real human interaction and enjoyment, not views, impressions or likes, that wins out.
It a great feeling when you know that the people who've gathered around you feel a part of something, something that ultimately, you're responsible for. It only works if it's a continual work-in-progress but it's something that delivers ongoing results in terms of audience-building and also profit.
What can you do to show, not just tell someone, that you're there for them?
LET ME READ THIS ARTICLE TO YOU, CLICK BELOW
Podcast: Play in new window | Download