The Collective Outcompetes An Individual Approach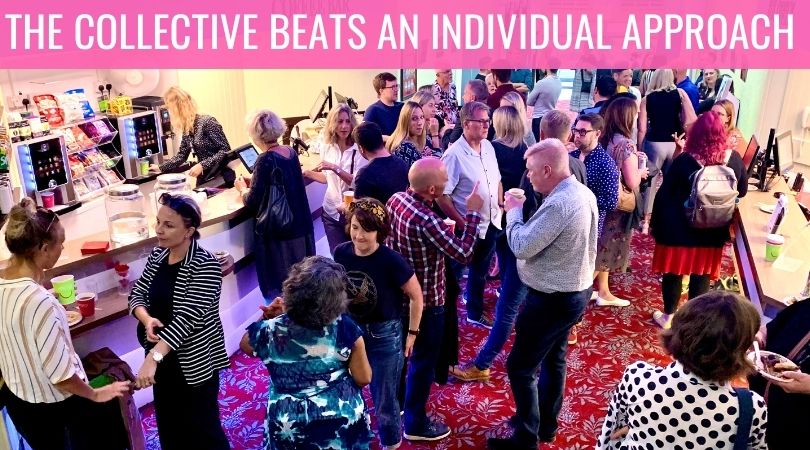 Bringing people together and encouraging their involvement in a community, means that everyone in that community ends up getting more from their efforts.
There is strength in the collective – bringing people together around an idea and building a community – and growing evidence that it's a recipe for future commercial success, all of which I'll be sharing here.
The idea for this article originates from what Joe Pulizzi said at the September You Are The Media Online Offline. I asked Joe what was different today, from when he started the Content Marketing Institute in 2007.
Joe asks, 'Can your audience be financially successful alongside what you are doing?'
What I am sharing with you here is a way of backing this up.

Rather than a one-way "monetise your audience" so the owner takes the revenue, what's coming into play is the idea that a community and everyone in it can succeed together.

When a community works, it no longer has to rely on the one person who started out leading it. When you surround yourself with others, over time, the identity of the community you set up changes too, with new shoots coming through. This is something I am seeing on the YATM journey (read this as a story catch up https://www.youarethemedia.co.uk/about/)
An Example
Now the YATM Online Offline events are in full swing, people don't just attend as part of an audience, they're encouraged to take part, to step up and be seen on the stage or on the giant Zoom screen. This is an example of not everything being driven by one person. Everyone contributes to creating a memorable event.

As a community grows and evolves people want to be seen and it becomes less about its founder – it's where the power of the collective comes into play.
When people feel involved, everyone thrives. For instance, YATM is centred around how people can be a voice in their industry, build a loyal and engaged audience away from social media and create work they are proud of and enjoy doing. This is different from YATM being a networking group, where networking is the 'product' and everything is driven by that.

The evidence lies in how things played out when You Are The Media (which was effectively, until 2020, bolted onto a website called The ID Group) tried to launch in Bristol in late 2019. Very few booked to attend and the launch was cancelled (read more on how to get people to come to your event). When You Are The Media became a separate entity, away form The ID Group, we had a sold-out event, filling a bar in central Bristol.
Think about what you can do to make people care and help them feel safe, in the sense that they're not just going to feel like they're in a sales funnel.
Showing The Proof

Moving together by creating a communal space is something we are currently testing. It's where other people step up and lead.

Team members from Bournemouth and Poole College are part of the YATM community and their digital and IT apprentices are going to take centre stage at the October 7th YATM event. During the morning the apprentices will present what they're looking for from their careers and where their fears and aspirations lie. It's there to give them a platform to present from and also a way of giving the businesses that are thinking of hiring apprentices, a good place to start.
This is what's also happening when it comes to people from the YATM community in general being able to take something from it and see themselves progress with their own efforts.
---
People are working with others in the community.
This includes people reaching out looking for expertise in a particular field to work on a paid project or forging ahead with their own projects (blog, video, podcast) and asking community members to guest or collaborate.
People build their profiles through association with the YATM community.
In February 2020, Matt King came to his first in-person YATM event. Becoming involved when the world went offline and leading areas such as YATM Learning has led Matt to present in other spaces. I'd like to think that being a part of YATM has helped build Matt's personal brand, driving additional opportunities.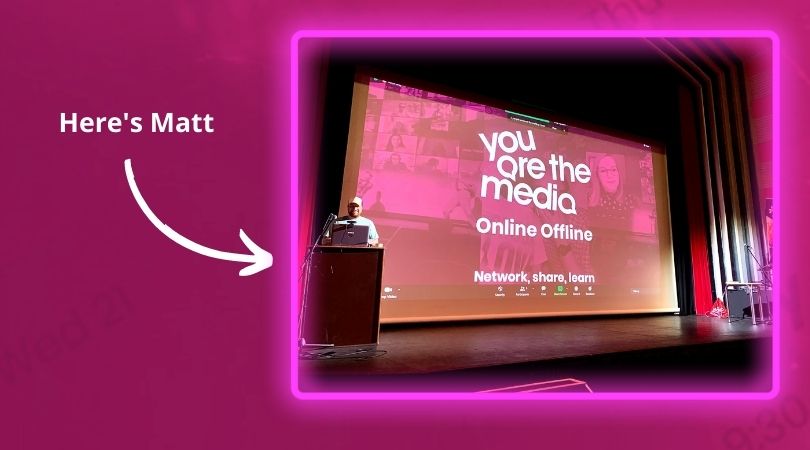 People have a platform from which to start conversations.
The YATM Takeover begins the weekly email. Members of the YATM community introduce themselves and share their knowledge as well as links to where they work and their LinkedIn profile. This has helped bring people closer together, creating a friendly fist bump for people to say 'I'm in too.'
It encourages wider community involvement.
On October 7th, YATM is working with Lewis Manning Hospice and we are going to have our first film night. We are showing the original Karate Kid on the cinema screen at Lighthouse, Poole. All the money raised will go directly to the hospice. When a community comes together, it can help others.
Giving each other a leg up.
It can be isolating, trying to figure things out for yourself or garner support when you are doing everything on your own. Within a community when you ask for help, there is ready-made support already out there. It could be for research, feedback, or validation. Having other people ready to help out means your efforts also become more visible.
What these points highlight is that participation can lead to commercial and financial gain. You get involved, you take something away. It is not about what one person can extract – being a part of a community means that everyone is rewarded for taking part. It could be financially, it could be through creating expertise, via collaboration or by raising awareness.
---
Let's Round-Up
When an initiative is propelled forward by people who are part of a community, there are more opportunities for everyone. Connections are made and momentum created. No longer driven just by the founder, everyone cares and feels like they have a stake in its success.
Building a platform means you can gather people around it, create a community and a whole load of opportunity. Collective spirit will always outperform one-way communication from a single person or company.
If people feel part of a community and they recognise they can have ownership of what they want to build, it benefits everyone. This is something that needs to be worked on and even for YATM is very much a work in progress, but it means that right now is such an exciting time to be creating and nurturing a space, and empowering others.
COME AND BE A PART OF YATM ONLINE OFFLINE ON THURSDAY 7TH OCTOBER, CLICK HERE
LET ME READ THIS ARTICLE TO YOU, BELOW
Podcast: Play in new window | Download