How To Build Your Audience, When You Don't Have An Audience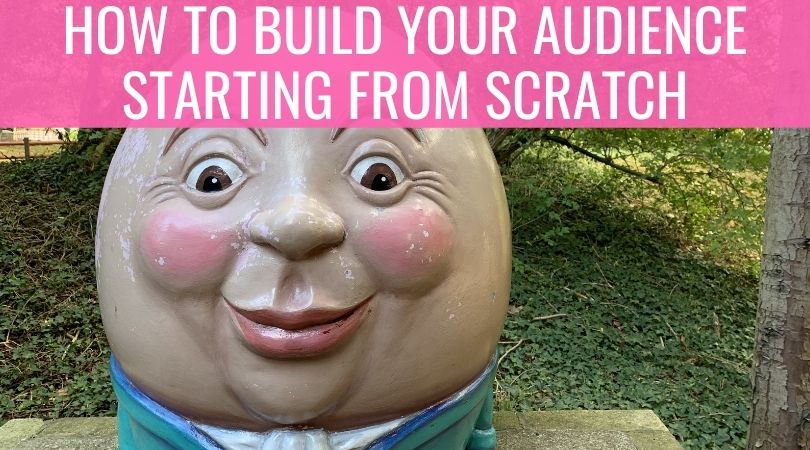 Building an audience means attracting people who want to spend time with you, people you can then reach out to again and again.
But, what if you don't have an audience to address? Perhaps you already know that relying on people seeing your work via social media will be too much of a challenge in 2021? Maybe you're tired of competing for attention in the same space as everyone else? Is 2021 the year you want to make it even easier for people to choose, and buy from you?
We all need our own dedicated audience, otherwise, the work we produce is at the mercy of algorithms deciding who should see it, or how much money we should spend so that some people get to see it.
What Is An Audience?
In an article that looked to define the difference between audience and community, I defined an audience as people who agree to receive information from you. You can monetise, you can connect, you can grow.
When I talk about audience, I'm not thinking about your social media followers, as most of these people are random strangers, but people who are prepared to receive more from you. This is why email subscribers are extremely valuable. Having email subscribers can help companies grow and this can have an impact far into the future, with a strong customer base for example, determining how a company is sold.
Quite simply, the more people subscribe, the bigger your audience becomes. The longer you keep at it, the more you build trust between yourself and your audience.

Zero Is Ok
Starting from zero is fine, everyone has to start somewhere.
This article focuses on just that – starting from zero – and I'll be explaining how you go about creating something that resonates with people and has a long term goal driving it.
Starting from nothing is fine when you have an outward-facing (i.e. aimed at your eventual audience) goal and are not focused on self-gratification. You build trust and eventually compel others to act. Seth Godin wrote a great article about this in 2009 saying that you only need to start with 10 people (read it here).
I started You Are The Media from zero in October 2013 (below is how the first email looked, not good, right?) and one of my goals (beyond finding a way to make a financial return for my business) was to be asked to speak around the idea of content creation and building your own space. From Norway to Brazil, I found that opportunity and it all started with a blank sheet of paper.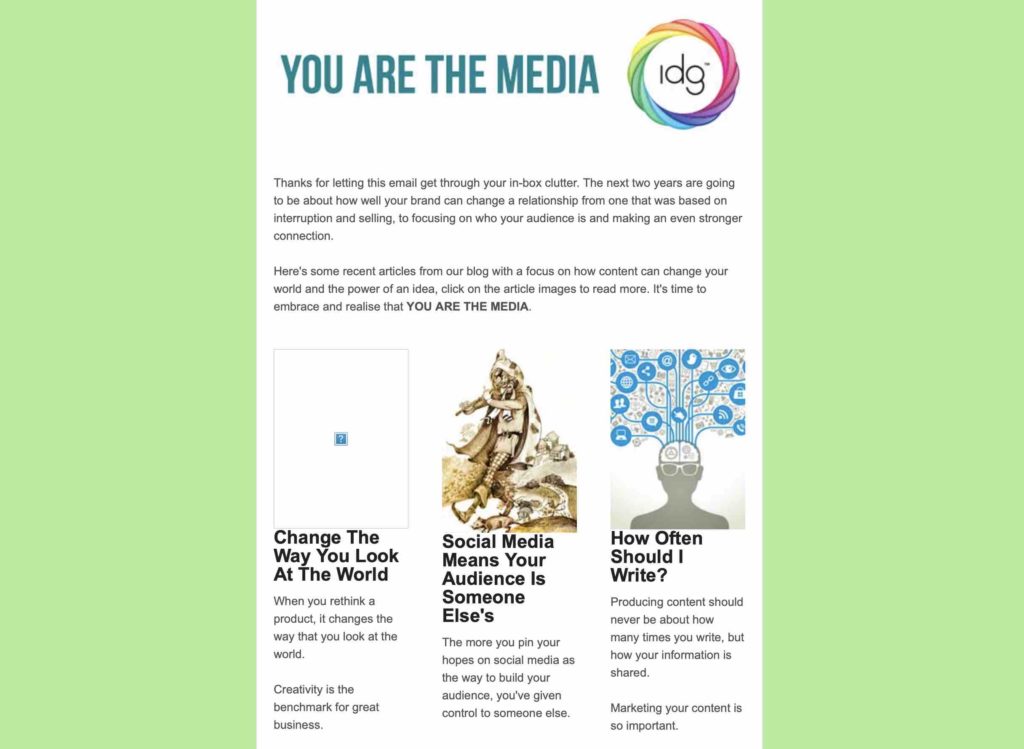 What soon becomes apparent and is undoubtedly hugely important is, that the more you commit to and persist with delivering valuable material to the audience you're hoping to build, the greater the opportunity of creating a network effect with all the benefits that that can bring. In this way, while others may have to fight to be heard, your persistence will put you in a privileged position.

How To Build Your Audience

What I am sharing here is what I have done to keep You Are The Media on track as an ongoing project that people join in with, particularly around creating a sense of belonging to those who initially stepped forward by leaving me their email addresses

Here is what to do when you begin from an audience of zero:
---
Start (this is the most obvious point).
If you want to build an audience you have to think way beyond a one-off download.
You will never build an audience who will stand by you if you put all your effort into one PDF. You have to sit down and create regularly around a topic your audience wants to know about and one that you want to discover and learn more about yourself. This requires a mindset that, from the start, recognises the need to make sacrifices and block time out to produce (I always prefer doing this at the start to the week).
Over time, this commitment offers your audience proof of your skin in the game.
Say Something That Is Not The Same.
If you wanted to start a marketing blog, you are competing with others who have a longer track record and far better page/domain authority, people who will always be ten steps ahead of you (even if what they say is bland).
The only way you are going to scratch the surface is to use your own particular experience to your advantage. For instance, You Are The Media will never share Adwords tips with you but will focus on how to create content that builds trust. In this way your work for your audience becomes a niche within a niche where not looking or sounding the same as others in your marketplace is to be encouraged.

Be Interested In Your Topic Area.
To keep going and to build an audience, you have to show a genuine interest in your field. This will ensure you can find meaning and purpose in your content production. Completely different from the mantra of finding and sharing your passion, Professor Scott Galloway sums this approach up perfectly (watch the two minute video below) , "Find something you're good at to develop the economic currency to live a nice lifestyle."
Continually Show People What's In It For Them.
You have to amplify what others can achieve. It's all too easy to pass judgment and tell people to do things your way but this self-promotional, sales pitch approach won't work over the long term.
What you have to do is put your audience in the middle of the picture and show what the results can be for them if they adapt your practices to their situation.
Make It Easy For People To Subscribe.
To encourage audience growth, have a central place for people to leave their email. I have a landing page that highlights what's in it for subscribers. Don't keep your 'subscribe' box hidden away.
Make it a constant throughout your site, as a header or a footer, and included at the bottom of every article. Think of your subscriber page as your business card and direct everyone to it.
Have A Subscriber Growth Goal.
This is not about lead generation and getting people to buy. A subscriber goal represents producing the work, so people can improve and get better at their own efforts in turn.
The more you put into delivering on this goal, the better the return will be for you. For example, the audience you grow will become advocates of your work, sharing and spreading your message, and recommending you to others. Read this article on the importance of having subscriber aims.
Show Up Constantly and Consistently.
Sticking with it is essential and the biggest investment you have to make is of your own time. You don't have to commit to deep-thinking a game-changing article every week. You could instead start off with putting together some round-up posts and becoming known as a resource within your industry, someone who has their eyes and ears continually open.
Rather than just providing links, add a few sentences about why particular items are relevant and offer a taster of what they may take away from reading. This is a good way of ensuring your perspective is centre-stage and helps you earn your place in someone else's week or month.

Find Other Places To Be Seen, But Don't Depend On Them.
Featuring on medium.com to publishing on LinkedIn or appearing on sites such as www.converge.today helps amplify your message and provides new subscribers with social proof, giving them another reason to stick with you. However, don't switch priority by creating for a platform that is not yours.
All your work, with your stamp on it has to sit within your owned domain. The biggest reward comes from being known for what you stand for, within your own space, not within someone else's platform where you have no control.

Be Approachable.
When people see you as someone who is likeable and on their level, it becomes easier for them to subscribe.
People don't want to be dictated to by someone who has no everyday appeal or resonance. I learned from 2020 that people enjoy, and get the most from, things that have an element of familiarity about them. Being outrageous and disconnected is no way of building long-term relationships with your audience.

Find A Comfortable Space.
If audio is not for you, don't podcast, if recording makes you squirm, don't use video, if writing is going to take far too long, don't blog. Choose the medium you're most comfortable with, not whatever seems to be flavour of the month. To build an audience, you have to start in one place, invest in it and then, over time, you can look at branching out into other media. 
---
Lets Round-Up
Best practice all too often dictates that accumulating mass (lots of followers) spells success. However, what's the point in addressing many when no one's paying attention? It is far better to have 15 people who enjoy your work than be fooled into thinking that 15,000 people on Twitter are on your side. When those 15 people feel connected to you and your work, they'll tell others and with the network effect in play, your audience will grow.
Of course starting out with no one around you can feel like it's all going to be in vain and a waste of time. That's when those glimmers of acknowledgement – from a message from a new subscriber, to someone sharing your work with their connections – are worth so much. They prove you're on the right track and that what you're saying is resonating with people. If you fixate on scale as the ultimate prize you lose the depth that this slower, steady growth within your own space brings.
By all means set yourself goals along the way. In my experience, keeping the journey open-ended – where you allow your offering to adapt and develop according to your business's, your own and your audience's changing needs – is a great way of keeping yourself motivated, and excited about your work, in the long-term.