How To Entertain, Even If That's Not Your Thing
When you have stories to share and an audience behind you, entertaining, as well as being informative and helpful to your audience, is definitely something to think about.
Bringing a sense of showmanship to your work is not about showing off or self-promotion, but about consciously adding a dynamic that very few fully explore. You can still have a focused business approach – but one that comes with a sense of fun, particularly since we've all had a lot to deal with since spring 2020.
Walt Disney made a good point by saying, "I would rather entertain and hope that people learned something, than educate people and hope they were entertained."
We've all passed that stage in our digital evolution where company wins, listicles and FAQs are all the content we need. To connect on a personal level, being entertaining is the thing to do.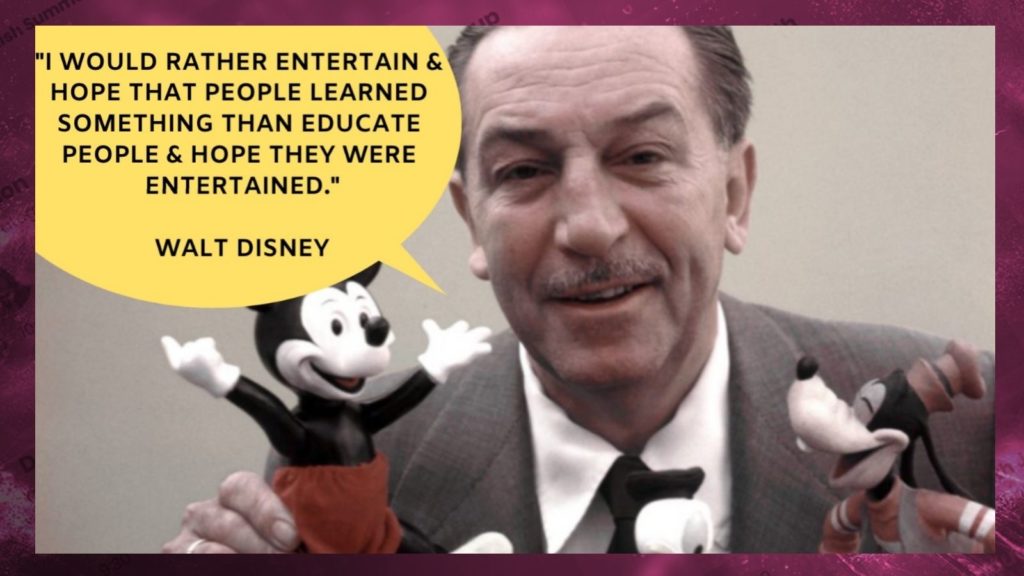 A Comment
Someone commented on a promo for the You Are The Media Month Of Learning course, saying that it "didn't look very professional." In a way they were right, a short video with me shouting people's names is probably the last thing that someone expects if they are looking for a straight-laced B2B learning platform.
To the people who were looking at it for the first time when it popped up as a social post, it could have looked odd, but to those who are familiar with the high energy levels that You Are The Media is all about, it fitted just right. That energy is something that those who are a part of the YATM community, have come to expect.
Have a look at what I mean…
It's important to be personal, but it's also important to have fun. It's how you hold the attention of your audience.
We Are All Producers
If you create content, then you are effectively a content producer. Whether you like it or not, you need to put on a good show. Otherwise, people will walk away. For more than a year, people have had to sit through webinars and online presentations that lack pa zazz and are devoid of smiles. Even if you're an introvert by nature, improvising, and even showboating, can end up giving you a significant advantage. It pays to focus on the entertainment factor even if you're in the B2B arena.
As an example, we're just about to deliver the You Are The Media Online format to a live online and in-person audience, at the same time. I'd like to think no one else has ever done this…yet.
When you create content, you have to deliver to the audience you have in mind. When you have the audience with you, it is then over to you to put something together that gives you the flexibility to take your format to a whole new level. For instance, YATM Online began as, in effect, a webinar, quickly became an online show (it has lots of different segments…and singing) and has now been transformed into a connected experience that brings in-person and online together.

When people have so much choice over the kind of content they consume, doing something different which strikes a chord and fully engages your audience, gives you a better chance of having them come back for more.
It's More Than Singing
Injecting entertainment into your content works best when people can also see evidence of the value you provide and the care you put into your work.
I'm animated and shout a lot when I'm presenting because it's who I am – massively enthused about something that I dedicate a lot of time to. The way I present helps people realise that learning and networking, getting to know others, isn't another thing on your 'to do' list but something that can be enjoyable and great fun. If you're the 'frontman' present in a way that's really you – being inviting and smiling goes a long way.
Here are some pointers to think about if you want to start taking that step from being useful to entertaining:

You genuinely want people to connect with you on a personal level
There's no better way of connecting with people than having them recognise that you're on their wavelength and bringing a bit of joy into their lives.
You realise you need to find something more than just saying, 'subscribe'
You're competing with everybody else, not just within your industry, but anyone who can take someone's attention away from you. We all have to become more compelling than merely saying, 'check out our latest blog.' You owe it to yourself and the work it takes you time to produce, to spark and hold their interest.
You know the value you can get from putting your own stamp on things
People can't copy your personal style and hope to get the same results. Allowing yourself to be fully yourself when presenting will help you become more self-assured, hone your presenting skills and increase the impact you can achieve.
You give people what they want rather than what you think they want
Recognise the formats that work with your audience and then ramp up your efforts around those. I've realised over the years that when people come together in the You Are The Media space this is where the real fun is. Online represents deeper learning, whereas offline is all about companionship. When people feel entertained and at ease in an environment, you can take things- in any direction you want.
Let's Round-Up
Of course entertainment shouldn't be the be-all and end-all of your focus, but introducing an element of fun and contributing to people's enjoyment of your content will make you stand out in the market.
I like this quote from Otis Redding,"If you want to be a singer, you've got to concentrate on it twenty-four hours a day. You can't be a well driller, too. You've got to concentrate on the business of entertaining and writing songs. Always think different from the next person. Don't ever do a song as you heard somebody else do it."
If you want to create a space that people enjoy being in, you have to take your 'frontperson' / hosting duties to heart – making everyone feel a part of something and knowing the warmth and genuine connection you're giving is not something they'll find elsewhere. What happens is that entertaining others becomes a strategic move and when people enjoy themselves too, you are onto a huge winner.
LET ME READ THIS TO YOU…
Podcast: Play in new window | Download