It's A Great Time To Be A Content Creator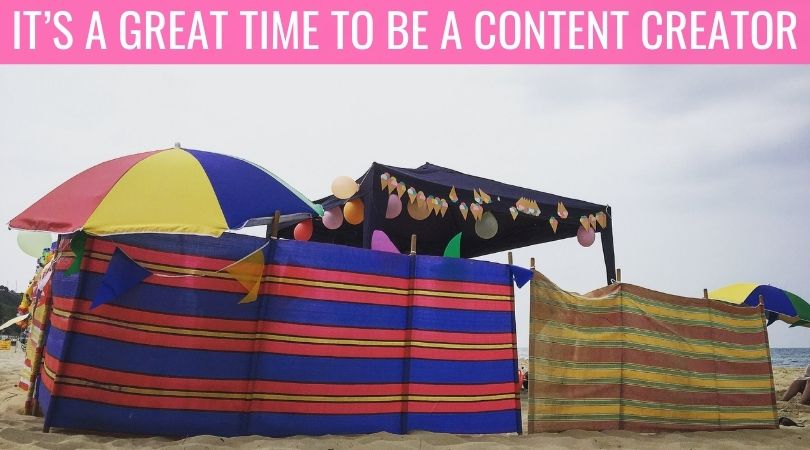 The pandemic has reimagined the way we interact with each other. There has never been a better time to create, share and do the work. And things are also happening to pave a way towards directly rewarding those who create on their own terms.
For those who have, or are thinking about creating, spaces where they are in charge of directing the narrative there are now all sorts of opportunities to reinvent and redefine how they approach it.
This article looks at the importance of having a plan, highlights some examples and gives some pointers to help you identify how to create the most compelling content for your space in the marketplace.

How The Content Landscape Has Changed
In the six years since I published The Content Revolution (2015) there have been many changes in the area of content, particularly in moving the needle away from a focus on business promotion rhetoric.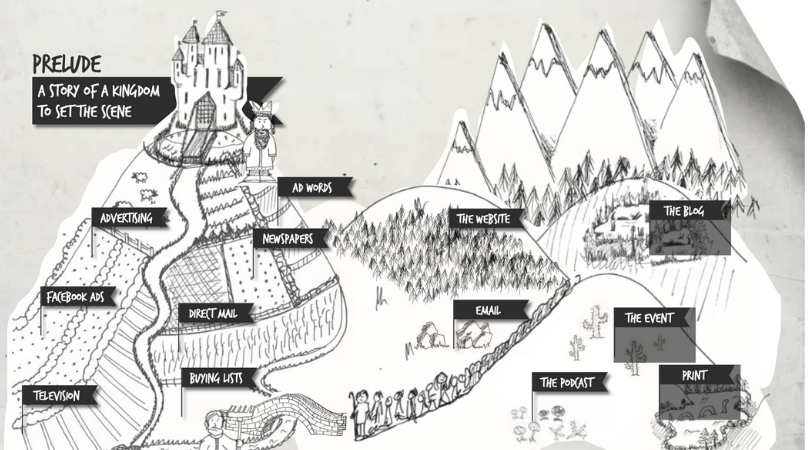 At the start of the book I told a story about a make-believe kingdom and how a shift was happening, away from those who had the riches and controlled the land, to the farmers who worked on their own pockets of land.
Over time the farmers learned how to cultivate their land in a better way, to attract others to buy their crops.
The story says, "As the new land became more fertile, the respect from others increased; they could see that the marketplace was growing. What was gradually becoming evident was a movement from an old system that was based on hierarchy and inheritance to one of a flatter structure. Practices could be implemented at a faster pace and democracy was built where the focus was more on developing individual relationships and alliances made."
I think at the time, I had just binged three seasons of Game Of Thrones!
What I wanted to highlight was the way everyone had behaved had been the same for decades and people accepted their place within the ecosystem. Those with deep pockets had control, whilst others had to feed off the scraps. However, by nurturing your own land, it became more attractive to others. The story finishes, "We need to become self-sufficient by having an understanding of technology, our marketplace and the consistent content that we need to deliver."
Proof Today
Things are changing around us. Have a look at this Google Trends (popularity of search queries) chart that highlights the comparison between advertising, SEO and Adwords from 2004 to today. You could say we have reached peak SEO and Adwords.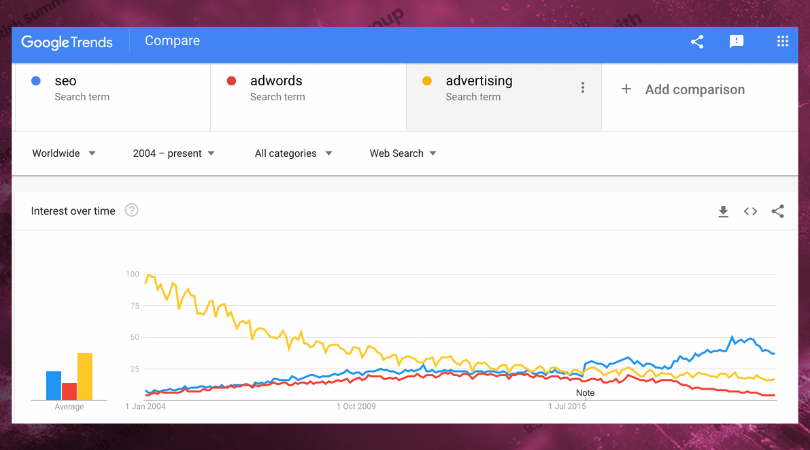 I'm highlighting this trend to reassure you that you don't need to get distracted by fighting with everyone else to be seen. This graph reveals a huge tilt that's happening within the media industry. There is now much more emphasis on what you create, share and build.
A recent introduction is the creator coin movement. Led by rally.io, the idea is that communities develop and economic ecosystems get created. A place where people can tip and support each other.
It is now really possible to build fully independent economies with those people who feel that attachment to you. According to Rally this represents, 'earning new monetisation streams to lessen [their] dependence on any individual social media platform.'
Put most simply – you can have your own currency.
In the words of Ann Handley from her Sunday newsletter, "If you have a community, you can have an economy." The future belongs to creators who can build their own economies, housing them within their walls of support."
Getting Things In Place

What about you? First of all everything needs a structure. Building an audience can be done, it just takes a framework you stick to and do not veer away from.
Going forwards, the reward and advantage is via smart content creation techniques, robust distribution techniques and a core strategy centred on what you stand for.
Building a valuable audience takes patience and time, but when you get it right, this is where the return sits and the self-sufficiency reigns.
As we come out of the pandemic, people will be looking for something that feels genuine and that they can get behind. Isolated for too long, we need to surround ourselves with people who are going to be open with us. No one wants to sign up for something, only to receive something they never really wanted in the first place.
As people and businesses ramp up their efforts to be heard and seen, you need to welcome those who are hungry for more with that metaphorical, 'even better sandwich selection.'

Triumphing In This New World
Stepping out from under the clouds that hung over us all in 2020, there is every reason to realise the possibilities that are available to us:
Reimagine What Can Be Done.
It would be wrong to sit on your laurels and hope for a continuation of how things were pre-pandemic.
Grasp that post-pandemic blank sheet of paper and reinvent your path. The 2020 YATM Conference was cancelled and rather than cramming the conference in to a diary date at the first sign of brighter days, we are about to deliver the You Are The Media Month Of Learning in April.
Our format recognises that people can't sit in front of a screen for a full day in the same way they gather in a venue for a day's in-person conference. The Month of Learning reimagines an offline conference into something that has a deeper focus on learning. It's something I would like to explore further – finding that balance between online learning and offline companionship.
Practice Gratitude.
We appreciate having others onside. As I mentioned earlier, creator coins are about to be opened up to thousands of creators, but that sort of thing doesn't just have to be driven by financial returns.
As an example, John Espirian (who is a YATM Month Of Learning teacher), recently sent me his 'It's Friday' t-shirt. Each Friday, on LinkedIn, John 'celebrates the nice people [he] knows on LinkedIn.' Have a look at John's roll call. Appreciation comes from both sides – what myself and others will do is promote John by wearing the t-shirt, giving his name further reach. Here's a short video from the end of the weekly email where I'm wearing the t-shirt.
Choose Your Platforms.
When I created and began writing for You Are The Media in 2013, I placed the emphasis on building my own online space rather than getting my work seen (this was naive of me). It's now widely recognised that these two areas should go hand in hand, with just as much time spent on distribution and promotion, as is on creation.
There are also a growing number of options to help you get seen. The arrival of platforms such as Clubhouse and the growth of podcasting, provide places for people who are more comfortable with audio formats rather than visual or written mediums.
Whilst it can be dangerous to think you have to be everywhere, you can start with one or two channels and, as your audience and confidence grow, it becomes easier to move into others. In this way, you can create your own scene, (read more about that here). LinkedIn has become my primary space for social outreach, based around a mix of video and text. To other people, spaces such as Substack help them distribute and also monetise.
Get Personal.
The joy of creating and cultivating your own space offers so much personal satisfaction. The thing that elevates your work is when you hit your stride and have confidence in your output.
As a recent article on 'confidence comes from doing', highlights, "Finding confidence in producing work and discovering a medium that can act as a pillar for your content, such as a blog, podcast, or video, is what helps you stick around for the long term and build a stable audience." We all have to trust ourselves more because when we do, it enables so much more freedom and opportunity.
Make That Commitment.
This is probably the most important element you need to embrace. You can be a business that spends many hours and days putting together a strategic plan on what you want to do, the values you have and deliberating what needs to be said. You only see a return for all the effort in the build-up when you are committed and consistent with carrying through your plan.
Committment is the main ingredient and as Mitch Joel said at the March, YATM Online, 'Decide on what you think you can't stop doing. Choose a medium on which you know you would not stop.'
Let's Round-Up
There is a great choice of established channels and platforms out there that can be used to amplify your efforts and make it easier for people to become aware of, follow and reach out to you.
When you look at where we are today, there has never been a better time to embrace a content strategy and start creating that blog, video or audio content as a way to help define you, build an audience and find a return on your efforts.
Although there will always be people and businesses that want to take shortcuts and go for the quick win particularly now, with no real focus on their audience, they will get found out. You can build something sustainable over time but you do need to focus your efforts on the longer-term relationships you can build.
In the eight years, I have been committed to creating and producing for YATM, I have never been this excited about the possibilities of what the future has in store. There are going to be some huge winners out there. Perhaps one of those people is you?
Podcast: Play in new window | Download