The Place In The Middle Is Where Your Real Stories Are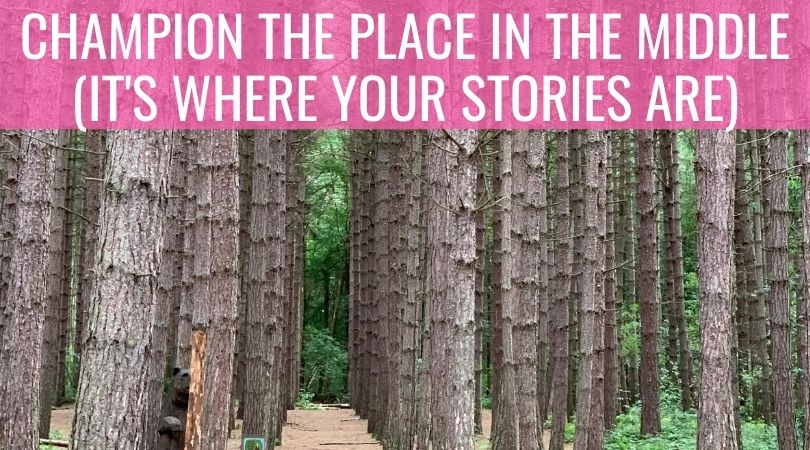 Sharing your struggles and the twists and turns of your business journey is what actually defines you.
Most people are happy to share their success and glory but few share what goes on in that space in the middle.
The place in the middle represents the struggle, the graft, the unknown and the indecision.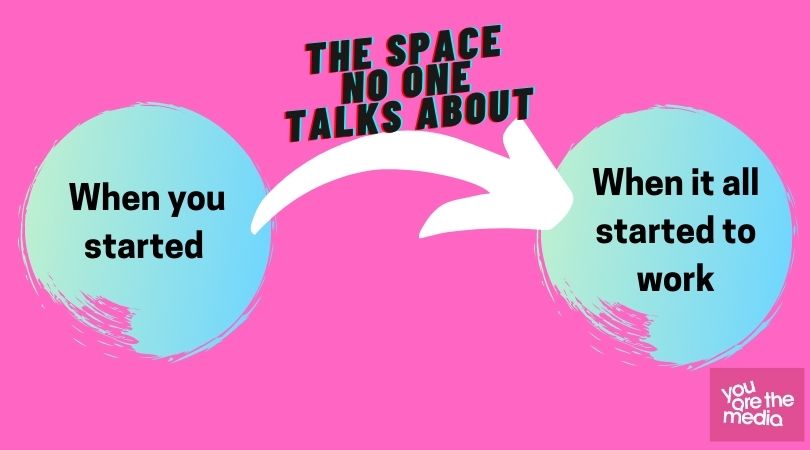 It may not necessarily include failure but it does, by definition, cover the small steps taken on the journey. Then again, to many people sharing the journey as it happens should be kept private and not be seen until the fireworks and celebrations marking arrival can begin.
It is easier to share the arrow that points to the top right of a page, the clients who have been queuing to come on board during the coronavirus, the launch of something exciting or the contract that added an extra zero to the quarterly figures. It's understandable, we want to share our achievements and bolster our commercial self worth on the social media platforms we share on for free.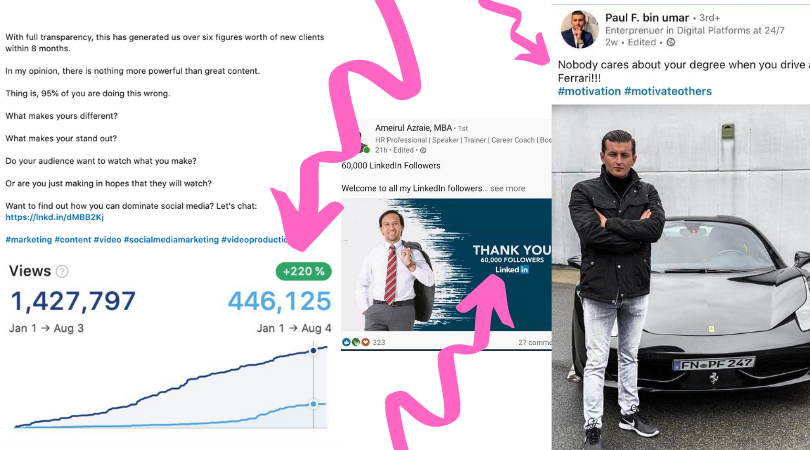 ---
However, it is this space, the one in the middle, way before you succeed that serves up the true story, the one where there's indecision, friction and pressure. The getting there is what distinguishes, rather than shames you.
The Reason We Don't Share The Struggle
All of us in 2020 have experienced tough times, made difficult decisions and had to adapt quicker than ever imagined. And it's this that presents such a rich source of material to explore and share.
It may be easier to broadcast that you've reached the milestone of having 25,000 followers on LinkedIn but others will get far more benefit (and you will get far more engagement and interaction) with a post that dissects how an event you were planning to put on attracted no takers.
To many, the idea of figuring things out in plain view of others or admitting that things hadn't worked out as planned, comes laced with the fear of humiliation. Studies have pointed to this being an intense emotion associated with being regarded as lower status in the eyes of others.
This Is Where The Real Opportunity Sits
Documenting the uncertainty and the journey provides a unique opportunity for creating content that has your own personal stamp on it. It also offers you work you can look back on to see how you've changed, and how far you've come.

There is no one piece of definitive work in this area of exploring, dissecting and sharing your learning publicly as you go along.
This sort of content is made up of a ton of different elements that includes how you've faced down challenges, dealt with turmoil, made compromises and alighted upon decisions.
If the sum of all these parts relates to you, your business and the role in your marketplace, you have every right to share by writing, publishing, building subscribers and championing the corner you stand for. You own what you've done and are in control of the narrative.
That is what makes this middle part – the journey you're on – so full of opportunity. It's where your narrative makes you different and embraces the doing, as well as speaking up.

---
🧠 When it all works = the result, the satisfaction, self-appreciation, accomplishment, acclaim
🧠 The middle = storytelling, pain, integrity, authenticity, honesty, openness, uncertainty, hope
---
Documenting the middle reveals a treasure chest of content that translates into engagement, prompts connection and provides an opportunity to bring people closer to you.
I've been writing and sharing content more or less every week since 2013 and I can assure you that the topics that delve into problems I've experienced resonate the most in terms of both the reach and interaction they attract. I'd even go as far as to say that if you feel nervous about sharing something or if it's on an industry topic that troubles you, then that indicates that you should just go for it and share your perspective with others.
What Can You Share When You Are In The Middle?
Being open and documenting your journey can make you feel vulnerable. This is understandable and the very reason why it makes for the best sort of content but you have to also be attuned to not straying into the territory of over-sharing or making yourself look foolish.
Here are some ideas and advice that'll help you embrace the middle and avoid the pitfalls:
---
💥 Get comfortable with sharing experiences when you weren't at your very best. This in itself will build your confidence which will help you become more comfortable with your own vulnerability. As an example, here is an article where I shared the painful reality of people walking out of a session I was delivering for Dorset Growth Hub.

💥 Share something you held on to for too long that wasn't working. These are the dead-ends where you spend a lot of time on something and then realise it was getting you nowhere when you start to find traction with something else.
💥 Find topics that no one else is talking about. This is about going into areas that you know no one else ventures into, meaning you find yourself in a completely uncontested place. Whilst the majority of businesses will advise you how to build a huge database, I have got so much mileage out of sharing how I deleted an entire database (it's even been requested for a conference I am speaking at in 2021), you can read that story here.
💥 Use your own experiences to help others avoid pitfalls. The middle is full of bleak and difficult periods, it's only when you look back that you see how hard they were. Similar to many people, I have experienced burn out by doing too much with You Are The Media and thinking I was invincible, I wasn't, read burn-out here.
💥 Be honest about what doesn't work. This may dent your pride but it does highlight that you don't hide about things not working out. For instance, when launching You Are The Media in Bristol, we had to cancel the first event, as no one wanted to come, read that sorry story here.
💥 Share lessons you were able to take from difficult times. This is a perfect way to show your learning and, at the same time, offer something of a roadmap and encouragement to others.
This doesn't relate to achieving your overall goal, but the small victories that help play their part in building your castle. For instance, 2020 has been such a milestone year for all of us, I shared recently what I've taken from it – namely, that activity that would normally have taken years to develop was fast-forwarded and launched in a matter of weeks, read the lessons here
---
Everything I've highlighted above is about sharing the proof. If you have a goal in sight (and are not just producing content for content's sake), you keep moving and you document the journey. It's the constantly showing up in your space that helps you connect with others.
It works like this F + F = S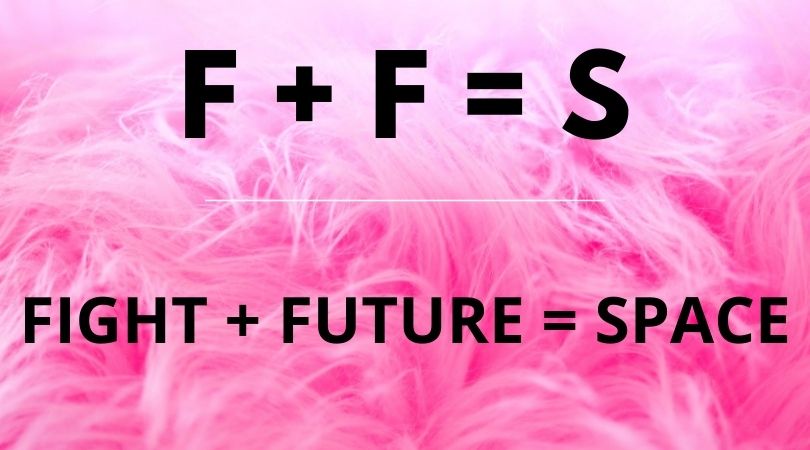 UP FOR THE FIGHT – ready to roll your sleeves up, let's go. There is no clock, there will be people who will judge, there will be periods of insecurity. Be clear with your message via writing, audio, video. You create and you document.
COMMITMENT TO THE FUTURE (the goal) – when you are committed to something and recognise you are a long way off, the platforms available become your living scrapbook. In this way, when you get thrown off track, those less than positive experiences become lessons learned.
EARNED YOUR SPACE – this is where you have put in the time sharing, earning the right to the space you're delivering from. You rolled with the punches, built your community and celebrated the small victories along the way. Never static, your space is a place of continual development and progress.
Let's Round-Up
Sharing the space in the middle, not just the end point – fanfare and acclaim – is where the truth and real stories lie.
It takes guts to document, stand for something and find your flow. Those who care the most, sound like themselves, not carbon copies or composites of other people. It is up to your audience to then decide if they want to gather round you for the long term.
I owe a lot over the years to working in this live lab, "document as you go along" environment that I created for myself.
Concentrating on the journey, taking in its ups and downs, lessons and setbacks, grounds you, and has the added benefit of helping you live in the moment – and that has got to be a good thing.
---
LET ME READ THIS TO YOU
Podcast: Play in new window | Download