Lessons From Three Years Of Learning Rolled Into Six Months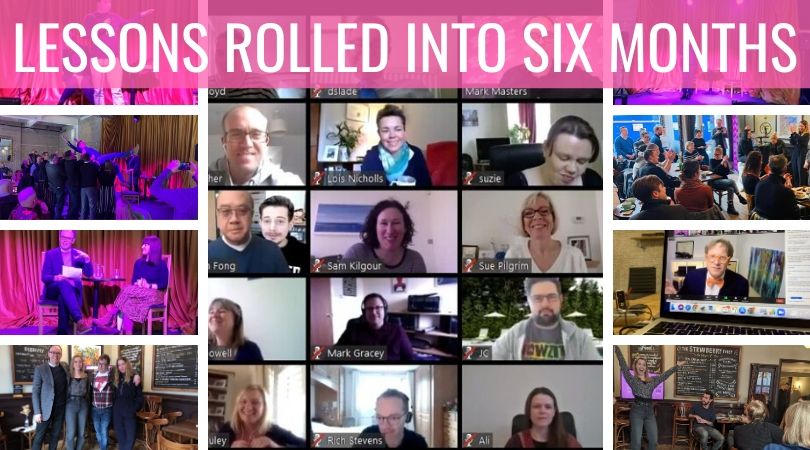 You can future proof your business by building a community around it.
2020 has been a very busy year for so many people in terms of figuring out how to be relevant, holding on and just weathering the pandemic storm.

As You Are The Media prepares to take a short summer break, here's what I've learned from the past six months.

The one thing I am now sure about is that if you build a community of people around you, you become so much more resilient – you're more agile and give yourself the capacity to be able to head in any number of directions with the people who support you, on board. All of this comes down to having the loyalty and trust of others.

You achieve this by doing the work over the long term, with the expectation that you might not see a return when you begin. I don't believe you can build a committed community if you give yourself a window of just a few months or if it's something you only have a sporadic interest in where the main objective is a financial return (that said, the latter does come into play the longer you're involved).
What 2020 Has Presented So Far?

2020 has probably seen the biggest shift in activity since You Are The Media started seven years ago. This article highlights how having an active community can make a significant contribution to your commercial and personal well being.

Here are four major happenings that have affected You Are The Media in 2020:

✅ Workshops were introduced at the start of the year. We began in January with Janet Murray and her 2020 planning workshop which sold out. The next event with Jon Burkhart was scheduled for the end of March but had to be postponed as the pandemic took hold.

✅ You Are The Media Bristol launched in February and whilst we'd had to cancel our initial October 2019 launch, due to lack of interest (I figured out why no one wanted to come, you can read here read here), we eventually launched to a full house of over 50 people at The Strawberry Thief, in the centre of Bristol.

✘ Pausing all offline activity just as an entire year of live events was getting into its stride. There have been no live events since the end of March. Although nothing has been cancelled, only postponed, it's a significant departure from the norm.

✅ You Are The Media Lunch Club Online was introduced on March 26th and has continued up to 9th July (and will pick back up again in August). This came about through thinking quickly, rather than stepping back and waiting to see what happened and whether others would make a move.

From 9th January to 9th July 2020 there has been:
27 x You Are The Media Bitesize Podcasts
6 x monthly You Are The Media Podcasts with Chris Huskins
3 x You Are The Media Lunch Clubs (2 x Bournemouth, 1 x Bristol)
9 x You Are The Media Lunch Clubs Online
Why Would This Be Relevant To You?

Not putting the brakes on the momentum that had already built up has helped to build a stronger community.
The YATM Lunch Club Online has helped further our reach and it is a joy to see people from around the UK being a part of this and getting to know others far better than if the online fomat hadn't existed.

You never know what is around the corner.

This is the whole point, you can currently be working on something where you might not see a lot happening (not much interaction, not much social engagement, slow growth of your database), but under the surface, things are going on.
In the Art Of Asking, Amanda Palmer writes, 'Since ever, in China, bamboo farmers have planted baby bamboo shoots deep into the ground. And then, for three years, nothing happens. But the farmers will work, diligently watering the shoot, spreading hay and manure, waiting patiently, even though nothing is sprouting up. They simply have faith. And then, one day, the bamboo will shoot up and grow thirty feet in a month. It just blasts into the sky."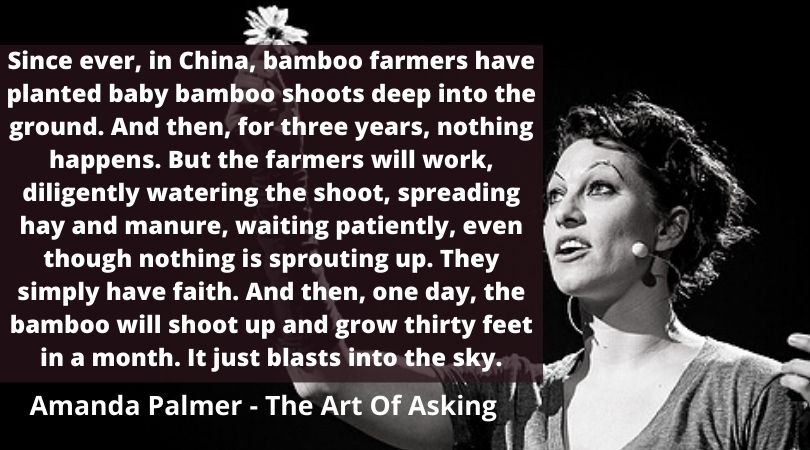 2020 has been the year where the bamboo has grown out of the ground.

It's the same for all of us. Doing the groundwork and ongoing cultivation means you'll be presented with a return.
This could be the cumulative action of consistently showing up, sharing your thoughts, building your website, sharing your podcast or videos and making better, deeper connections with others. The content you make and create, all year round puts you in a better position for when you need other people to be there for you.
During the pandemic, people were there for You Are The Media and people can certainly be there for you too.
Why Did People Step Up?

When things went bad, the community stepped up. That meant a lot.

If you create something that people enjoy they will be there to help out when the time comes. What happened with YATM was we effectively pitched our tents in a new field.
People have asked, 'why can you charge £10 for YATM Lunch Club Online?' It all comes down to the hard work put in over the years (read this article on when to charge). It would have been difficult, if not impossible, to build a paying audience for virtual events from scratch once the pandemic and lockdown struck. Not having already nurtured a space would mean low take-up and a getting-know-like-and-trust phase in less than ideal circumstances. It would mean not having what you needed when you needed it most.
What I Hold Close In July 2020

This is what I cherish from having been on the steepest learning curve I've ever been on in my life over the past six months:
---
👥 By doing the work, I know what I'm best at (sharing how you can build your space and presenting)
👥 Working on something that gives enjoyment (YATM) and helps towards the mortgage
👥 Seeing people from YATM work together and help each other out e.g. such as when Sarah Townsend launched her book, Survival Skills For Freelancers
👥 Being able to move into new areas and know that people will turn up in each new space (I now believe that even if we started YATM yoga on the beach people would turn up!)
👥 Making better decisions that improve the YATM experience for the community. For instance, the moment YATM got its own website in November 2019, it became easier for people to see at a glance what they could become a part of (before that it had been a bolt on to my main company website)
---
What You Can Take From This?

A lot of You Are The Media is me trying to figure things out for you, so you can save time, avoid the mistakes I made and take the lessons I've learnt to apply your side.

This is what I now know really works when it comes to building a community:

💥 You need to build your own platform to extend from
💥 Build a place ahead of when you need it most
💥 Get out there and create without fear of being judged (write, record and share)
💥 Test out a few places to begin with and identify the one you feel most comfortable with and then stick with it
💥 Recognise how you best serve others and align your values with the audience you build
💥 Continually build on the interaction with other people which is a by-product of creation
Let's Round-Up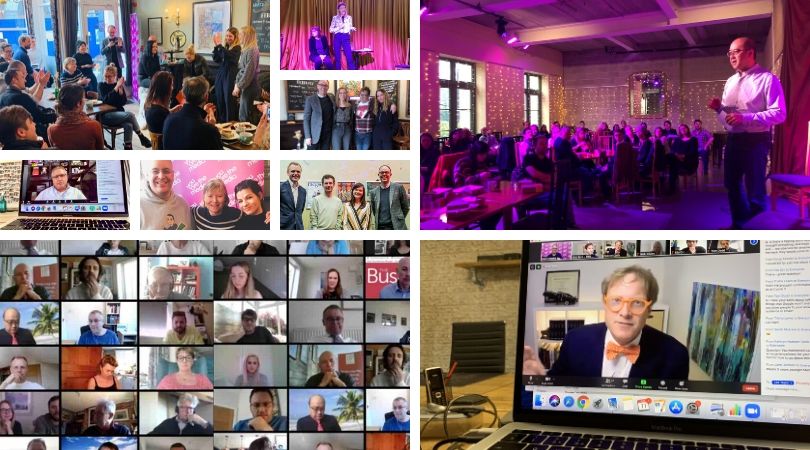 When you give people enough reasons to believe that your space is somewhere worthwhile for them, they will continually support you.

I now realise that You Are The Media is not just about the learning, but also in equal part about being a part of something. There was safety within our community when the pandemic hit because there was no interruption to that element – there were people there in the community ready to welcome others on board and offer support.
It's not about putting time and energy into something and then stepping back to see the results, it's about that something being what you come back to over and over again. That's what will keep you going through the years to come.

Not stalling so far in 2020 has effectively meant rolling three years' worth of effort into six months, in terms of learning, thinking and recognising that if a community is truly sustainable, it can be there for you, no matter what and where the lighting strike hits.

Thank you for being a part of this.
LET ME READ THIS ARTICLE TO YOU, CLICK BELOW
Podcast: Play in new window | Download