Start Now, Even When You Think You're Not Ready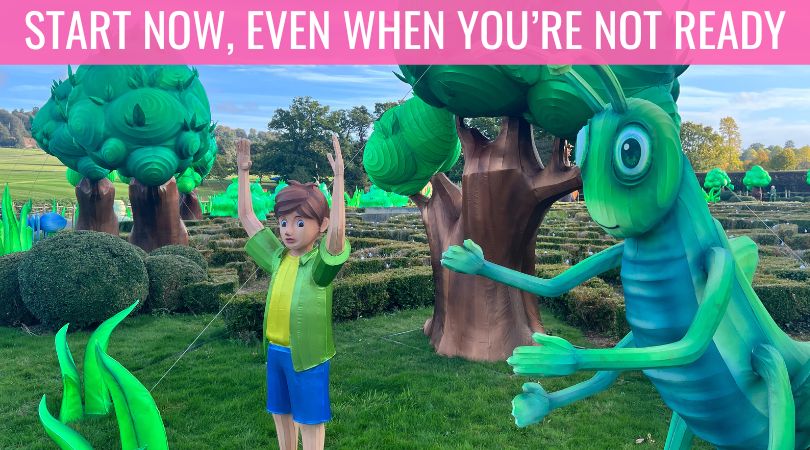 No one ever starts where they are good straight away. When curiosity becomes your guide, you progress.
The beginning of the year promises hope where many people make a promise and start something new. For the most part, the enthusiasm wanes over time for most people.
This article is here to give that framing so you don't stop and you can look back at how far you've come.
If you are about to start something and keep going, from writing, to video, to even starting your newsletter, this is how to keep going (and not run out of steam, ideas or drive).
A Goal At The Start Helps
When you begin, you don't have to step into it believing you have to be the finished article, you just have to start.
YATM is now in its 10th year (it started in October 2013) and the reason why the newsletter keeps going is nothing to do with showing you answers, but being curious about how you can build your space, grow your audience and not be over-reliant on social media.
The ability to pick up clues, figure out, explain and show up, time and time again is how you become better over time and you never look back.
This is how it works for me and how the creativity muscle gets stronger:
— Act on an idea (I write it down in an ideas folder on Evernote)
— Find a question around it
— Form the idea into something that can shape and comes back to the original goal (curiosity)
— Noticing what is happening around you
— Acting on what you see (or in my case experiment in front of everyone)
— The more you do, the better grasp you have on your industry/space
— Keep asking questions, keep testing, keep measuring and repeat
Embrace The Bad
When you begin, you have to embrace the bad. If you deliver enough ideas that don't work, it becomes a test bed for what works in the future (read what isn't working).
What happens is you get better over time. Let me highlight this.
At the end of the YATM newsletter, I share a video that sums up the main topic (I've put it here to show you how this article looks as a short video).
The first video for the newsletter was back in June 2019. It wasn't very good.
You can see for yourself below. What I share just doesn't flow and the glances to my prompts (the screen) become more frequent as the video progresses. 
I set myself a goal to produce a short video at the end of every newsletter and we keep going today. It's this promise to yourself to go on a journey that keeps you present and to continually practice and get better. You just have to start and I hope this video shows that you will never be ready. You just have to start.
Starting feels better when you know you don't have to present the right solution, but a perspective that is interesting and feels good enough to share.
John Espirian shares this advice in Content DNA, "As with anything, diligent practice gives you the best chance of getting results. I'm pretty handy in the kitchen but I'm not a good baker. Still, if I committed to baking a cake every day for a year, you can be damn sure that I'd make something delicious in 12 months' time."
Why Don't We Start?
You can step up and contribute, or you can ignore and let the day/week pass.
It sounds easy to start, anyone can do it. Yet, most of us don't. We hold on for everything to be in place, the right people onboard, the time to be just right, the hope for the right attention. What then happens is that you miss your chance.
We try to start with everything on board. It could be the anticipation of being an accomplished writer to a slick presenter for audio and video. We hold out for the inspiration to hit us or for the innate talent to happen, but it never does. This is why many people never start or they do and it fizzles out.
It's better to learn as you go rather than believe that the talent has to be found within you.
What Can Help You Start (& Keep Going)
When you don't know which way things will turn out, you start unproven, but that's the way it's meant to be. You're going to formulate ideas and create work that will miss the mark, but you have to be open to possibilities.
Here is some guidance on keeping on the right path. Four areas that give you that reason to keep going and become better at your craft.
---
Start with being inquisitive, not right
Your base point is what you want to delve deeper into, who you want to change and the difference you believe you can make. For instance, the YATM newsletter has a central theme running through it on creating, building and growing your own independent audience. This has made it easier to come back to, to check that I don't steer away from that path. For instance, if the focus was on Twitter growth, I'd start to veer away from the centre.
Be specific on your topic, to amplify your audience
I started with a very wide topic that was 'marketing.' For instance, this article on 12 marketing mistakes was from a time when my output was generic. That's ok, it was a place to start and keep going from a very wide topic area. I just wanted to get it out of my head. Over time what happens is that you focus and you become specialised in your field (as you keep that inquisitive muscle going strong). This helps to attract the right people to you.
Recognise what you share encourages connection and conversation
Connecting with those around you becomes a motivator to keep going. You can tap into people and get their feedback. It doesn't just have to be wanting to get your point across, others want to be heard to. When you do this and invite others to come closer, the discussion becomes ongoing and becomes a well for ideas and inspiration.
Create for your audience (not the world)
When you know the people who gather around it becomes easier. You recognise faces, not numbers. This makes it easier as you know the audience you have a responsibility for. What starts off as your own motivation to begin, becomes a focus on thinking about the audience who commit to you and you with them, every step of the way.
---
Let's Round-Up
Starting with the aim to keep going does take effort, it is not easy.
As the journey progresses you meet people, new conversations grow, new strands emerge and new opportunities are presented. It also helps you see what you don't know and what you need to find out and discover, on your terms.
I started back in 2013 and I just kept going. It's helped shape me and who I am today. It's something I want to continue. The biggest decision was to step up at the beginning and not stop.
The best thing about starting now is that it is available and ready for you to jump in. It's the commitment you make, that can change everything you do.