How Creating "Everyday Moments" For Your Audience Helps You Grow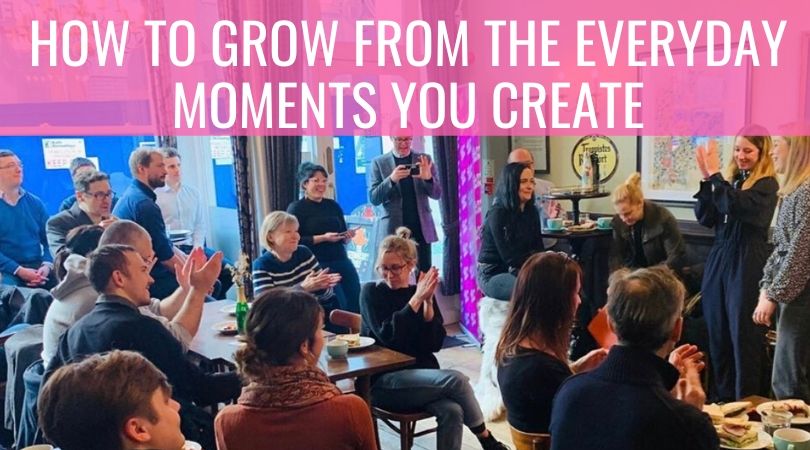 Creating a genuine moment of connection for someone who interacts with you, benefits you both.
If someone signs up to receive information or pays to attend an event, think about how you can see this not as a goal you've achieved (another subscriber or seat sold) but an opportunity to develop something beyond the merely transactional.
People won't lean into what you're offering unless you give them a reason to. After all, nobody really cares until you give them something to care about.
The sum of those everyday moments you create where you help people feel seen, their contribution acknowledged, soon becomes a valuable resource for you.
Let's Define
An everyday moment that relates to what you create can either be low cost, no impact or low cost, high impact. It can be an opportunity missed or an opportunity to build from.
Low cost, no impact:
I booked a ticket to attend an event later this year. All I received was a confirmation from Eventbrite. No acknowledgement from the team delivering the event, no warmth, no thanks. Just a cold email receipt from Eventbrite. Money taken, exchange done. The opportunity for the organiser to get me to lean in, not taken up.
Low cost, high impact:
I booked a stay in Holland during May and within minutes the host got back to say thanks and hello. Ok, so a lot of what was shared was cut and paste, but there were links to things we could do and some restaurants nearby that the kids would enjoy. Greeting me by my first name created a feeling of this being personal. It was an everyday interaction that, in this case, created an everyday moment to build from.
Warmth and personal acknowledgement goes a long way.
In this digital world, manners matter. There is a need, more than ever, to show your "face," i.e. who you are and the values you hold, rather than to remain faceless, hidden behind an impersonal screen. You might not be a linguist, but I bet you know the words 'thank you' and 'hello' in more than two languages.
Using that knowledge is a simple example of what an everyday moment represents – a connection between you and someone else. Time taken, thought given.
Understand Why You're Doing It
Start to see creating such moment for others as something that's part of your longer term and bigger goals. For instance, if you're launching a new event, focus on the first five or ten people who attend and build from there. Success isn't always about having a packed room from the get-go, but how you choose to interact with those who come to you in the beginning.
The value that you give them, backed up by personally addressed acknowledgement and gratitude, can go a long way. It's also something that works for you in drawing other people in.
What Happened Recently
The You Are The Media Lunch Club has now launched in Bristol (and it feels good to say that). From a shaky start, you can read more here about why we had to cancel in October, our first Bristol event (in February 2020) sold out.
Although it was a new, second home for YATM, what happens in Bournemouth with the YATM Lunch Clubs was replicated in Bristol. We launched with everyone feeling they were part of something they felt an affinity with – people rallying around the brand (You Are The Media) as well as each other. It was an everyday moment that just couldn't be replicated online.
The way people felt about the event translated into them then creating and sharing their own everyday moments from it:
— People reached out to each other on social afterwards

Looking at the feedback from the lunch made me realise that those small moments build trust and loyalty.
People interacting with each other and many arranging to meet up again in the coming weeks also builds the sort of momentum that will make it easier for others who hear about YATM to make a decision to attend the next Bristol Lunch Club in April (if you're nearby, why don't you come along, read more and book here).
What Can You Do To Create Moments?

Let me share the steps I take to make sure people stepping forward to be part of the YATM live events, always feel appreciated. You're investing in someone else, but the return is there for you too: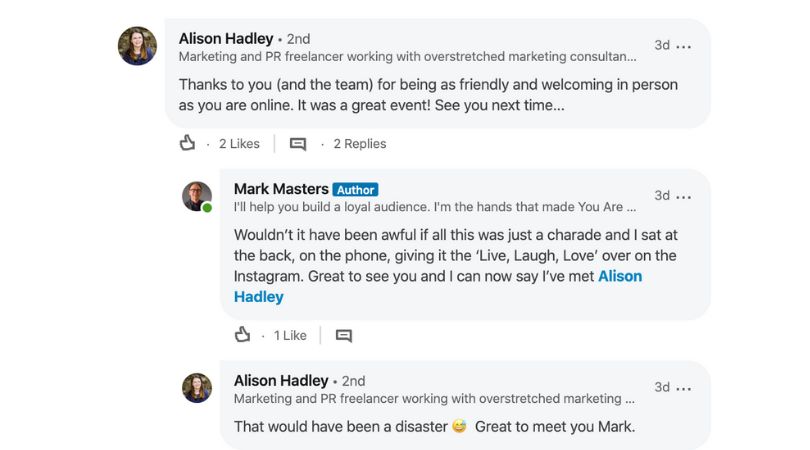 What you create offline has to align with the online
It would ruin everything if how I come across online was at odds with me offline, in real life. For instance, if every segment of Lunch Club was intended to be a means of selling something – from conference tickets to workshop places – people would start to feel they were being duped.
If I had chosen to keep my distance from the people attending in Bristol, offered a few brief hellos and then looked to getting them to sign up for something else, then it would be an uphill struggle to get them to choose to return to the next event.
Make 'welcome' a priority
Each person who bought a place for YATM Lunch Club in Bristol received an email with a "thanks for booking" and "would it be ok to add you to the YATM weekly email" (if they weren't on the database already).
48 hours before the event, every person received an email from me (addressed to them personally), with a reminder of what time to arrive and how we were all looking forward to it. I find for people I don't know, a "look forward to meeting you" goes a long way.
Take comments on board to make what you do even better
Suggestions from others can uncover trains of thought you'd never considered. For instance, John Jocham suggested during a focus group in summer 2019, that a YATM Lunch Club could follow a morning workshop – a great idea that was implemented this January.
At the recent YATM Bristol event, Sarah Townsend suggested using the 'find nearby' feature on LinkedIn, where everyone in the room could see who else was at the event – another great idea and something Sarah will be sharing at the next event in Bristol.
Be social and monitor
After the event, make sure you dedicate time to be present and active on social.
Rather than just giving a like, if someone shares what they enjoyed or took from an event, comment or even share other links with them to read and find out more. What happens with this approach is that you find yourself extending your reach.
People interacting with posts after the Bristol event saying they'd like to come to future events were invited to be kept in the loop by leaving their details to receive the weekly You Are The Media email.
Keep everyone updated
When there are new events on the horizon, let those who are part of your community be the first to know. For instance, news of the next YATM Lunch Club in Bristol, was announced first in the weekly email. You want to make those people who are part of your tribe feel special by keeping them informed.
Three Steps To Live By
The everyday moments you create for others mean they will more than likely be with you for the long term. Follow these three steps:
— Always be creating something meaningful, memorable and full of insight: Step up, create and lead.
— Make that all-important connection by being proximate and personal.
— Enable momentum. If you have committed time and effort to create something, be it seminar or meet-up, don't do it in isolation – understand your own longer term goals (what you will gain) and articulate why people should get involved (what they will gain).
Let's Round-Up
Creating moments that reflect your values and what you stand for, helps others have a reason to be a part of your community. Make your approach, your differentiator.
No one wants to find themselves in a vacuum where their support and investment of time and money goes unacknowledged. A world of mere transaction is a hollow one indeed.
If you're setting out to make an impact and create longevity, it's the cumulative effect of all those everyday moments that has the biggest impact in creating your success.
Every touchpoint, from sign up to celebration of a milestone achieved, should acknowledge the part those who come on board with you, play.
LET ME READ TO YOU THIS ARTICLE, CLICK BELOW
Podcast: Play in new window | Download