It's All About The Impact, Not Being Everyone's Friend
The things that make you feel good but do nothing in terms of moving your business forward can easily become your biggest distraction. 
With any initiative or content strategy you have to always be looking to create a meaningful impact.
Impact is when people take action – subscribing, engaging and eventually buying from you. Gathering followers, likes and clicks can be important in the early days when you are building awareness but should not become a distraction that diverts you from the impact you're looking to make – the deliverables you want to achieve for your business.
In this article, I'll look at how you can make an impact, rather than just boost your self-esteem. I'll also share how, when you start to make a difference to others, it reflects back positively at you.
Defining Impact
There are two sides to the impact coin. On the one side you define what can be measured, such as building email subscribers or having clients spend money with you. On the other you build your brand by shaping a presence, increasing awareness and creating trust. The latter can focus on say, acquiring media coverage and building a social media following.  
Not losing sight of how you help others and what you need to deliver for your business ensures that the dial doesn't stray too far into that feel-good territory which can be become a distraction.
Beyond building an audience and people committing to you by giving you their email address, there are metrics that do not contribute much but feel good – likes, clicks, website visits, a growing social media following and impressions. These do not always lead to a meaningful return on your investment of time and money.
Of course, it's easy to be seduced by the spikes in activity or follower numbers.
It feels great to see a sharp increase in Instagram followers, or people commenting on your LinkedIn posts, but if it doesn't contribute to anything more substantial, such as a commitment to buy, attend or sign up, then it's just a feel-good smokescreen.
You have to unshackle yourself from needing the reassurance of those vanity metrics.
I'll put my hand up and admit it's something I became sidetracked by in 2019.
The temporary warmth of the like, retweet or comment can become a huge distraction. But, what's more important, an abundance of likes on LinkedIn for an event you're putting on or the actual people who attend? Impact is from the commitment, not the gesture.
Impact should be more about the way you contribute. For instance, the way that I now measure impact includes:
1 — People who subscribe to the weekly YATM email and then make a decision to attend the live events
2 — People who regularly attend the live events (it would then mean a sharp change in direction for them to stop coming)
3 — People who are part of the YATM Community and then work together for their own content creation efforts in a commercial capacity
4 — People who stay for the long term, both YATM audience and commercial clients
What About You?
Creating impact means others trust you and are confident that working with you is the right choice for them.
The best place to start is by building a space that you own. Without this, you will never control your destiny. In a recent article on leaning into your blog, I highlighted the emphasis on creating a source from which your message is transmitted across a variety of places, platforms and mediums. All the You Are The Media content that resides in other places online, starts here.
Here are some pointers to think about with which you can encourage a change in others, rather than a short term hit for yourself. You make an impact by:
— Being vocal. No one is going to listen, if what you're sharing doesn't come from somewhere that's highly individual and true to you. You don't have to be contentious but you do have to show heart and back it up with experience (read this article digging deeper into your own experiences), in a resonant, everyday tone that speaks to your audience. And it doesn't mean dictating from on high. You can still lead without being some sort of headteacher.
— Recognising it's always about what someone else can take, not what you can take from them. To create something where people feel comfortable to spend money with you, you have to start from a place where they know you have their interests at heart and their opinion is valued. For instance, at the end of the year, there was a poll to vote for the best You Are The Media Lunch Club of 2019. I'd already penciled in what I had thought was the most popular Lunch Club topic to be revisited in April 2020. What happened though was that my particular choice actually received the fewest votes and the topic for that lunch is now going to be, by popular demand, the reality of burnout.
— Finding ways to express complex topics in a simpler way. It's also one of my own personal goals from 2019 that I'll be taking into 2020. "Talking things up" rarely impresses others and can get in the way of the message you need to deliver. 
— Recognising ways to encourage the conversation. If you want to make an impact, you have to be accountable and present. To be effective, you can't leave everything to automation. When someone has a question, you have to show up to answer it. Taking things to a one-to-one level, that's off-grid, with no one else to witness it, is a great way of building trust as well as encouraging commitment. 
— Demonstrating the proof. People want to see that the messages you share will work for them. Have a read of this article where I take you through framing your message via a fact-experience-opinion approach. When you take this perspective onboard you ensure that you're creating a unique voice that's individually yours, rather than just repeating what's already been said by others.
When you create something that makes an impact and you contribute, it starts to reflect positively back at you:
— People recognise what it is you strive for and the values you have. Whether it's fairness, time, ownership or resourcefulness, over time it becomes easier for others to make an attachment.  As Mark Schaefer highlighted in a recent article (6th January), 'it's highly unlikely you're going to experience a "big boom" that puts you on a path of fame and fortune. You just establish your voice, create that content, and keep grinding it out, year after year."
— You start to make an emotional connection with others. Your audience becomes more than recipients, they become friends. By friends, I mean people you actively want to and choose to, hang out with and talk to on social media and in real life. Building You Are The Media has created a community that has become more closely-knit over time but it's also somewhere that I, myself feel supported, something I've never experienced before.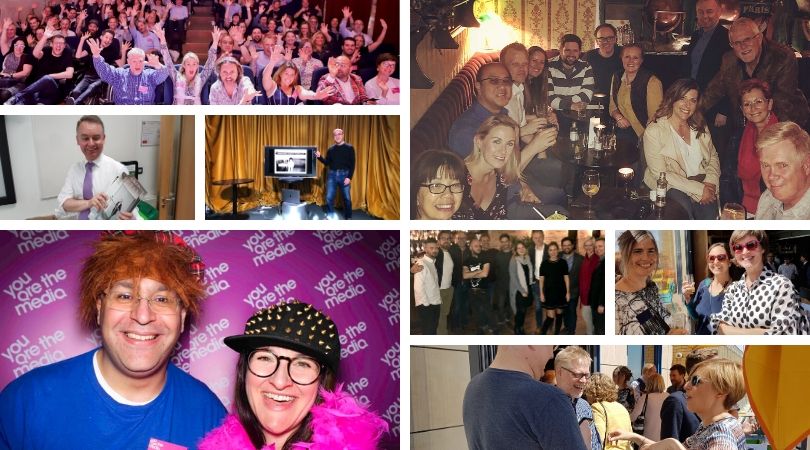 — You become seen as an authority. Digging deep and working hard at what aligns with your values and business, and what connects with others, is what determines your influence. There are no quick wins here.
I've recognised that you can't deviate massively from what you start, but it's ok to continually move the needle. You Are The Media set out to encourage people to build and own their own audiences from their own spaces.
If I now deviated towards telling you that social media represents the key to your business success, it would become confusing. To be seen as credible, you have to continually refer back to your underlying ethos.
Let's Round-Up
Impact is made when you switch from, 'I hope people like me' to 'come join us, the party's at mine.' 
From knowing where to put your time and effort you get to see a return, personally and financially.
Coverage received, clicks made, likes given are far outweighed by the change your help can make in others and the commitment they make to you. 
CAN I READ TO YOU THIS ARTICLE? CLOSE YOUR EYES AND SIT BACK, CLICK HERE