Why Blogging Still Presents A Huge Opportunity For You In 2020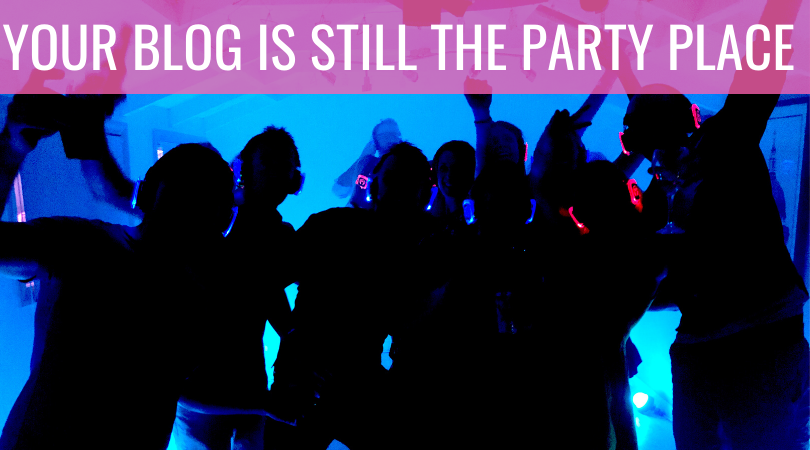 Your blog works when you're offering your audience something they're glad they engaged with as well as aligning with your wider goals.
The way the blog format works has changed over the past few years. Gone are the days of publishing and then standing back for people to simply admire your work.
This article looks at what you should be doing to make sure your audience gets value from your blog as well as exploring some of the unexpected wins you may end up scoring with a strong blog presence.
Whilst many people and businesses may be trying to get comfortable with a variety of different mediums, from video to audio, there will always be a place for long form content. The blog will always have its place.
Let's Set The Scene
A blog is your media property. It lets you say things no one else is saying, it lets you express from the heart, it lets you tell a story, it lets you deliver something of value.
The way I use the blog for You Are The Media is as the source from which my message is transmitted across a variety of places, platforms and mediums. It is my home. All the YATM content that resides in other places online, starts here.
A blog can't be about self-congratulation and why your company has done well. For instance, if a podcast was just about client wins and what your company has done this week, your audience, beyond your business, would remain at zero.
So before you publish, ask yourself if the message you're conveying could be one that would work across different mediums (social, video, audio) and offer something engaging, useful and fun?
Your blog should represent a microcosm of who you are and what you stand for.
It is the place where everything starts and then starts to find a life of its own in other media channels. For instance, what you're reading here is a microstory on LinkedIn, it becomes a podcast (listen here), it becomes a LinkedIn Live video (next week) and it's also the lead article in the weekly You Are The Media email.
I am now going to take you back to a school geography lesson and where water comes from. Where you start your main thoughts represents your ocean. The content evaporates from the surface into the atmosphere and becomes clouds (email), falls as rain (social), travels through rivers (video), runs underground (audio) and then returns to the ocean (your blog). Everything returns to its place of origin.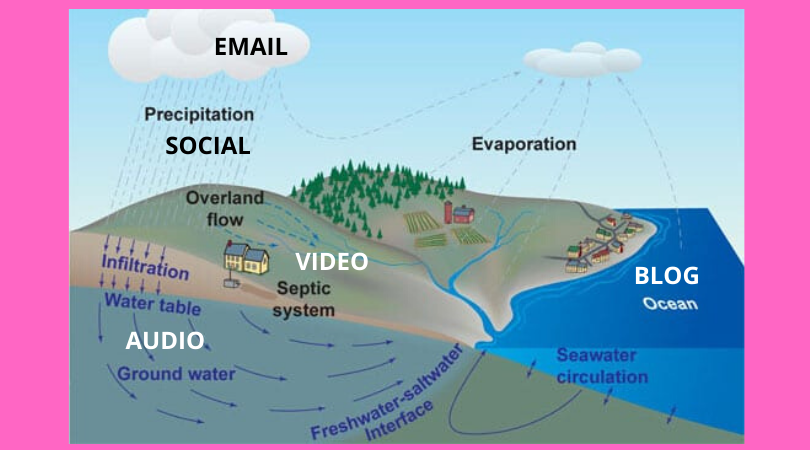 What I'm trying to highlight here is that your work has a central place from which it is then activated in a host of other places for people to engage with. Everything is activated from your blog.
It's All About Your Audience
If someone engages, comes back for more and subscribes, it means you're saying something that's not only connecting but also striking a deeper chord.
It's this type of action that you should be looking to achieve.
This is what you want others to see:
---
A particular perspective of, or position within, the marketplace you're in.
By taking a view, approaching things from your own unique angle, you're differentiating yourself. You're not an also-ran trying to cover all marketplace angles and this makes it easier for others to make a commitment to you. They know what you stand for. For instance, my blog used to be generic marketing messages, today it is about ownership, loyalty and audience.
That you're available (to work with).
The YATM blog homepage displays blog dates so people can see my blogging as something that I'm continuously engaged with. If someone is making a buying/subscribing decision and they see that your last post was shared a year ago, it creates the idea that the shop is rarely open for business. You want people to know you care and you're there.
That you're putting the effort in.
Related to the point above, you want someone to recognise that you're leading the way and providing value outside of making a sale. It's all about creating touchpoints that people won't get elsewhere. You provide this by digging deep into the work you create and share.
That you're generous.
To write and share takes time. It's far easier to share something that is self absorbed, inward looking and relates 100% to your business (which you will see from many company websites) rather than being strategic on the wider value you can bring to the marketplace and people's lives. You want to demonstrate that what you're sharing is considered and unique, and represents an investment of your time and thought.
That what you're sharing is a better solution.
Industry or sector content tends to concentrate on tried and tested subjects and formats. If all recruitment companies are posting about how to write a CV, you have the opportunity to pivot in a new direction, sharing, for instance, what recruiters do with your references or exploring options for answering the question, 'what are your strengths and weaknesses?' It's all about saying something that others aren't sharing. This is how we differentiate our businesses.
---
What About You?
As well as your role to inform, educate and light the way for others, there is also a strategic side to how a blog can become part of your armoury that you perhaps might not have considered before.
Let me share some wider goals you can achieve with it:
You can make money from it.
It is something that can genuinely be done. For instance, I use the You Are The Media blog as a signposting tool for other activity. Some topics relate to events and paid activity. When you look to make money, this isn't just about allowing anyone to promote on your site (which cheapens what you do), but making income from what you share.
It encourages and builds your creativity.
In the same way that home ownership means you're able to make a space totally your own, having a place from which you create and share content hones your critical thinking, allows room for new ideas and builds your creativity. This space you create from is your responsibility. Your blog is an amazing place for you to work through an issue and share how you figure things out. It is an under-utilised marketing tool for many people and businesses.
It's an important reference and validation point for your customers.
People will refer to your website at some point in the buying process.If people are looking at you, if you can prove why you represent a safe choice then you're going to be in a far better position than most of your competition. If someone reads and enjoys an article that you produced, chances are they will eventually feel comfortable buying from you.
It can meet both short and longer term goals.
You have to find a way for people to commit to you. It isn't just about spending all your effort and time on putting together a downloadable report and then going silent.
No one is going to stick around for that. The longer term goal is to get people to leave their email and for you to return to them, offering content, time and again and delivering the sort of value they first signed up to and enjoyed. What you mustn't do, is start selling as soon as they leave you their details. What you're looking for is building a relationship for the long term, something that'll make them arrive at a buying decision more easily.
Word of mouth recommendations flow from a strong blog presence.
Quite simply, people are more likely to tell other people in their networks. No-one ever recommended a 'Frequently Asked Questions (FAQ)' page to someone else. According to BuzzSumo's Content Trends report, in a world of content saturation, the 'winners are sites that have built a strong reputation for original, authoritative content.' Whilst social becomes a means to distribute, if the original source is from your blog, then you stand a better chance of others visiting your site on merit, not because you invested in AdWords to promote.
Let's Round Up
The journey for you and others starts from your blog. It is a place for a call action, to showcase your capabilities and to help people with their purchase decisions.
By having a source for your work, you can bring things to the right people at the right time. You want to encourage people to take action now (subscribe), that pays off later (buy).
The best thing is that your work can diverge from this starting point (your blog) to then be seen in a host of different media (social, video and audio). That's why people need to look very differently at blogging today – as a starting point, not an end in itself.
When the space that you created and continually nurture works for you, it helps build your reputation as well as making it easier for people to buy from you.
LET ME READ THIS ARTICLE TO YOU, CLICK BELOW & SIT BACK
Podcast: Play in new window | Download