How Establishing A Routine Can Help You Achieve Your Goals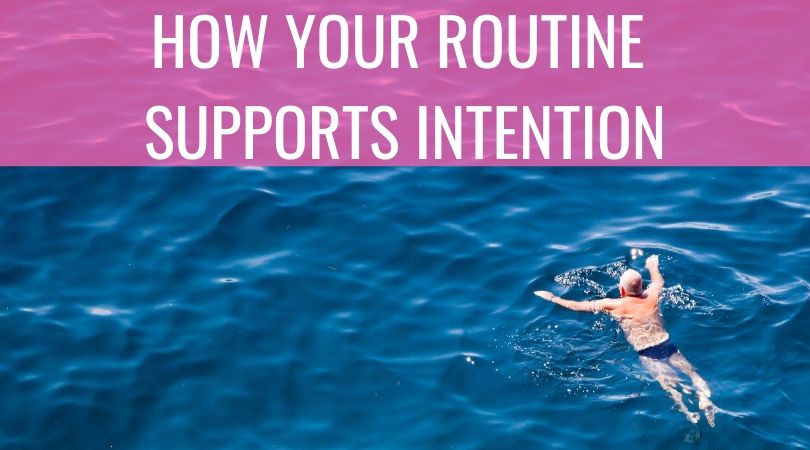 Establishing a routine can have a game-changing impact on your content creation efforts.
Forming habits and from them a routine, provides you with the structure to concentrate on getting things done. A routine removes distraction and helps you focus on ensuring that you fulfil the goals behind the content you need to produce.
And it's those goals, such as attracting subscribers, driving sales or seeking a better connection with others that are so much more important than merely filling a space with words, audio or video.
The habits and routines you get into, help you hone your craft and so get closer to the audience you want to attract.
This article looks at the importance of finding routine and regularly showing up for the right people.
It's Not About Doing More Just For The Sake Of It
This is not about the impetus to create more, but to become comfortable with creating regularly. You share the work that carves your reputation and that people discover you have the skills to support.
Janet Murray is someone whose work demonstrates how getting into a routine and creating regularly can build a stellar reputation. Her podcast recently achieved 1 million downloads. Started four years ago, Janet says, "this isn't just about creating a podcast it's also about content planning, content creation and solving your audience's problems, it's about mindset. It's about staying consistent and overcoming the challenges and evolving." Have a listen to the show here.
This was one of the reasons why I asked Janet to speak at this year's You Are The Media Conference. Janet has been present on her podcast, week in, week out. This made it easier for me, as someone who was selecting the speaker set list as I could immediately see a bank of work regularly updated and current from someone who was vocal (and whom I have huge respect for) in the marketplace. Janet found her rhythm by having a plan in place.
Find Resolution Via A Deeper Intention
As we come to the end of the year, the impetus for many people in 2020 will be to create more: More LinkedIn posts, starting the book they've always wanted to write (read this post from Mark Schaefer on writing a book), the podcast they haven't yet got round to, producing video content or even setting up an event.
Simply making resolutions to create won't work if they're not underpinned by something meaningful – a deeper objective or aim that your work needs to fulfil. Not only this, but doing something new that spells making a big adjustment to your day and week, can be intimidating. This is why many people scrap those resolutions before Easter's even a speck on the horizon.
Let me break this down to highlight how routine, coupled with intention, can deliver on your goals.
What You Can Expect From Establishing A Routine
Finding your routine works like this:
— Create and hone your craft
— Find your rhythm (and over deliver)
— Distribute often and put your name to it
— Start to lean into your key strengths
Create And Hone Your Craft.
Anyone that looks back over their work will acknowledge that their earlier work could've been better. But those early efforts were what was needed for you to build your confidence and shape your voice. The reason I write every week is that I want to become a stronger writer. It also helps to shape my thoughts, it brings in what is happening around me and I can put it into context.
I love this from author Austin Kleon (thanks to Eva Seymour for sharing) who says it better than I could when it comes to passing on learning, "This is the way I've always tried to approach writing, teaching, or speaking on stage: not as an expert, but as a fellow student. I'm trying to learn in the open. I'm letting others look over my shoulder while I figure things out."
Find Your Rhythm (And Over Deliver).
Creating with intention is not just filling a space on a screen. When you couple it with adopting the habits and routines to help you create, you start to lean into them. For instance, what you're reading now always starts with ideas that build over a weekend (I use Evernote to start piecing an article together as I take my daughters swimming) and that gets broken down into its main themes on LinkedIn on a Sunday, and from that, I fine tune the article's main focus so I can write on a Monday (in total around three hours per blog article).
Over-delivering in this sense means you don't expect an immediate return (other than honing your craft) on the time you're investing in creating the work. As a guide, Orbit Media recently published their blogging and data trends report and the average time to write a blog post is 3 hours 57 minutes (from 1,000 respondents).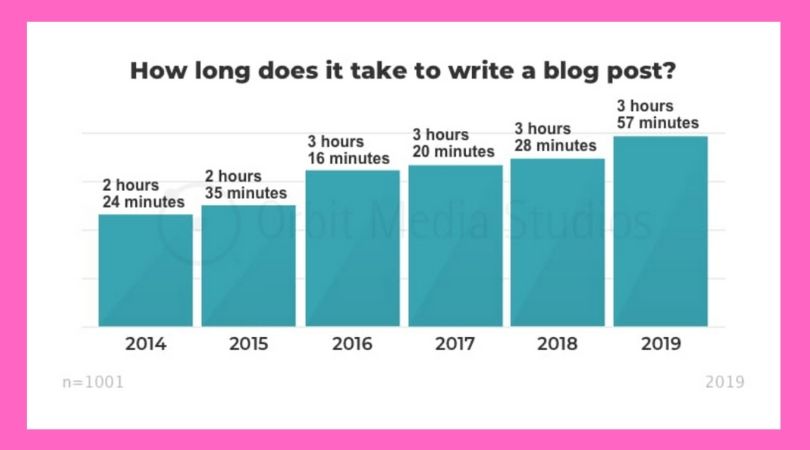 Grow Or Get Worse.
When you begin, you have to be ok with doing an unreasonable amount of work. For instance, during 2017 and 2018, both the YATM Podcast and Email were weekly.
I started writing in 2012 and that early work is not work I'm particularly proud of today. However, it has lead to work that I am proud of. To get comfortable you have to be ok with taking the time to adjust to new habits. For instance, I thought that writing on an evening was my best time but I found that I started to meander when there was nothing but the prospect of bed in front of me. What I do now is write early on Monday mornings, setting an alarm or end time so I'm finished by the time it comes to the engagements I've got booked.
Distribute Often And Put Your Name To It.
The more you create, the better you get. You have to share your work regularly to attract people to come alongside you.
This doesn't mean sharing every day or even every week but at whatever point you can make and keep a promise to yourself and others that you'll be showing up (via email, blog, podcast, video). You also have to make sure that you're the one credited for the work and not sit behind a company logo.
The work from me sits under the You Are The Media banner because that is the separate content brand I established. It's easier for people to get behind a separate brand such as YATM, and having it has helped me build a community. Also, should I ever want to step aside, others would be able to take over. If everything was centred on my personal branding and the whole identity built around Mark Masters, if I was run over tomorrow, it would all stop.
Start To Lean Into Key Strengths.
Over time, the bigger the bank of work you produce, the easier it becomes to find the balance between the areas that you have a genuine interest in and that people enjoy reading/watching/listening to.
You start to play to your strengths and those then start to become your differentiator. For instance, up to 2018, a lot of my work would have been bracketed under content marketing. I now realise that the YATM community doesn't want to get caught up in general industry practices, but to recognise what they need to do to make content work for them. Whilst everything I do is around content marketing and an owned media approach, my focus is on how businesses and individuals can genuinely build a loyal audience that's about more than likes and retweets, to build their reputations and revenue.
People Will Then Commit To You.
When people start to know what you represent it becomes easier for them to trust you.
Getting people to decide you fit in their world is the most difficult part in all this (but also the most rewarding). It is far easier to get someone to retweet or like what you've posted than getting them to fully commit to coming onboard. If you can do this it will build its own momentum, and that bank of work you've taken time to produce will work in your favour.
Build Your Reputation.
Finding and maintaining a routine will support the reputation you build. People are going to be more inclined to commit to someone who regularly shows up, rather than someone who got excited about producing a podcast at the beginning of 2019 and fizzled out as the months passed. One of the reasons that a high ticket event such as the You Are The Media Conference works, is that there is a host of supporting evidence of skin in the game – content that people have been receiving for free over the past six years. Being regular has supported the reputation that has been built.
Follow A Plan.
This means that everything is created for a reason.
If you want to take part in a CrossFit competition (for the record, I'm not looking to compete in the world of CrossFit), you start by having a goal, such as doing well in that competition. Every day, the adjustments you make get you closer to the goal. This could be changing your diet, identifying the muscle groups you need to improve and embarking on dedicated workouts at the gym. It's the plan that gets you closer to your goal. So, when it comes to creating content, your plan could be blocking out time to produce work (and specific days to publish), tuning in to where you get could ideas from (and writing them down), finding the best days/times for sharing your work with a growing audience and figuring out ways to repurpose to save you time (for instance, these blog articles now form the You Are The Media Bitesize Podcast).
Following a plan of action gets you closer to your goals: these could be building industry credibility, working with higher-value clients or attracting a more committed audience.
Let's Round-Up
The habits and the routine you form work best when they align with your wider business goals.
On a personal level, I wanted to prove that there was such a thing as community where you gather people around you and the group then starts to take on a life of its own. Of course this also met my business goals and so works on a B2B level too, and the routines that I've put in place have helped me to build this.
Producing content regularly means that people get used to seeing you and the material you share in a particular space and it's easier for them to make a judgment and find a way of connecting with you.
After all, if you want to be the best swimmer, you don't just watch YouTube swimming videos, you put in the time yourself, you practise, identify the stroke you're strongest at and get out there – competing.
The same applies to finding a routine that will help you share your message and buckling in, and sticking with it, for the ride. 
LET ME READ THIS EMAIL TO YOU, CLICK BELOW.
Podcast: Play in new window | Download