How To Make Starting A New Project Feel Easier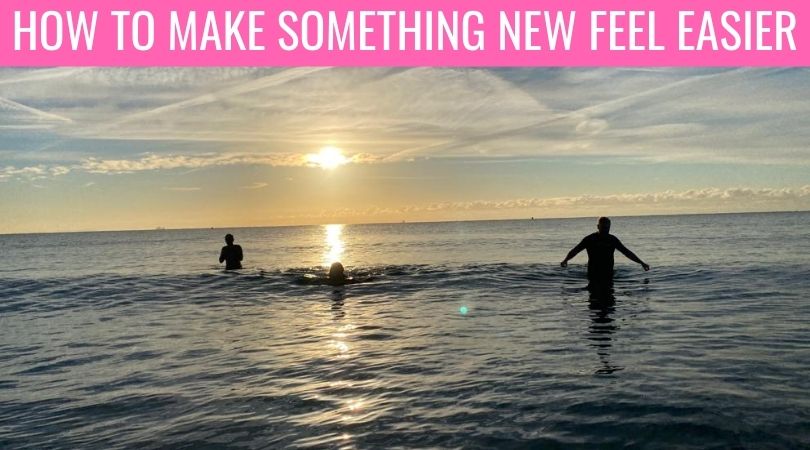 Starting something new, means you reduce the risk, the longer you are committed.

When you step forward and begin something you haven't done before it opens a world of the unknown. The chances are when you write or record and then send or publish, the grand audience you wanted to cheer you on won't be there. It takes time, but we've got to push ourselves to try something new.
This is for you if you are ready to begin. It could be the blog you are now ready to commit to, the newsletter you want to begin, or knowing that you are ready to start a podcast that won't run out of steam after seven shows.

How do you want to step into 2022, are you going to play it safe or have a crack at it?
Your Options
I've looked at every new project and media space as a way to learn and get better. Starting You Are The Media was a way to have complete freedom to experiment (read more on creating your own experiments here). From events, conferences, education, writing, audio, video, everything started as something new that I wanted to improve, but had no experience with.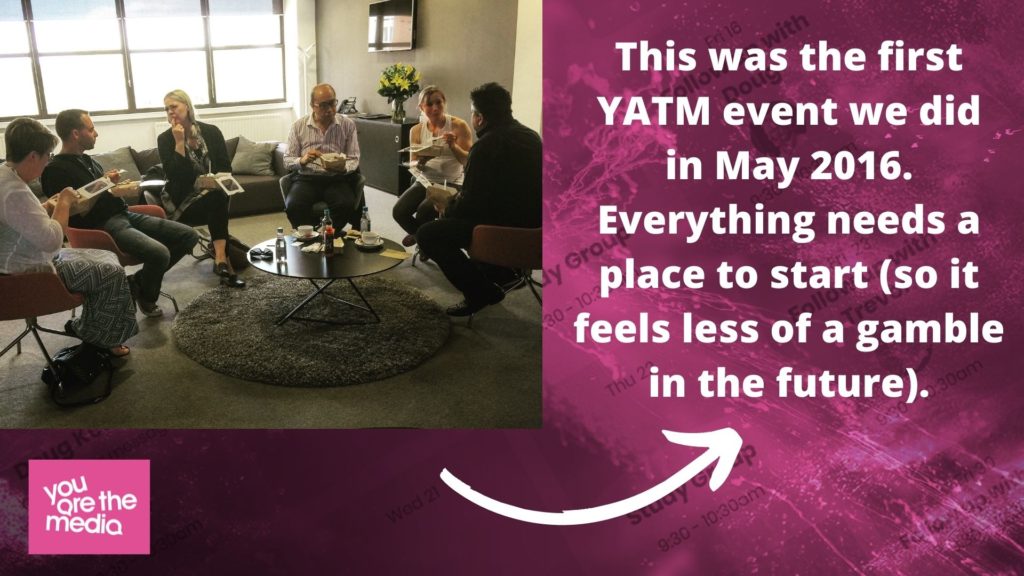 This is where many people go wrong where they take out the learning part and expect results to happen quickly. The one constant since YATM started in 2013 has been the weekly newsletter and I am still trying new things. For instance, adding video, adding a completely unrelated section called time-wasting and in 2021 someone else stars the email (called the YATM Takeover).

Peter Drucker said, "Strategy is a commodity, execution is an art." Whilst we all need a clear reason for what we are doing, it's the continual delivery that can put you in a recognised and reputable place.

When you start out, something is always going to go wrong, but even if you keep going, there are always going to be hazards to face head-on. You only need to look at the end of 2021 when the last YATM Online Offline event turned into disarray when the lights went out in the theatre (the account of that day is here). It makes me realise now that failure doesn't mean that what you deliver doesn't work, it's that you have to knuckle down to continually figure things out.

Beginning a new project and becoming comfortable involves an unwritten manual that you have to get to know. It will be fraught with dilemmas, questions and delving into your own insecurities. This is why it is far easier for people to play it safe and continue with what they have always done. It is simpler to put money into social ads than it is to try and build something where people feel comfortable to give you their email address and build a community, on your terms.

There is no guarantee that what you'll step forward to do will work, but what you'll realise is that the longer you stick at something the easier it becomes. It means you start to eliminate future gambles. For instance, the last YATM event of 2021 took a turn for the worse with a power cut. However, the events have brought people together and cemented community, this meant that time invested over the years has taken out risk.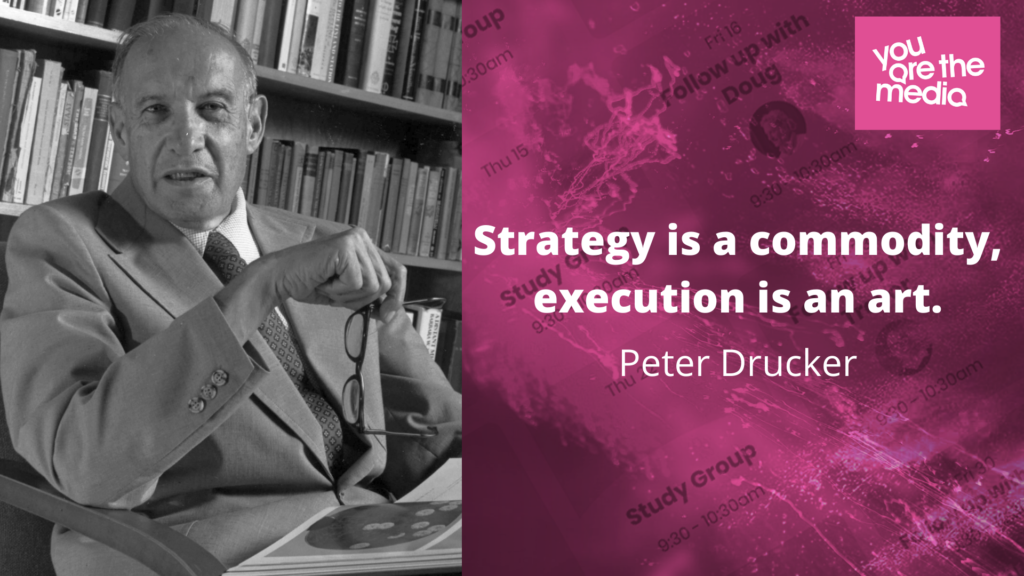 Advice To Make It Easier When You Start
If you are making the step to start something new in 2022, here are some values to live by. This is for you, your content and the audience you want to grow.
You do this to get better at your craft
Don't start by thinking that you have to be in someone else's top 10 list, or reach 500 subscribers by April. You start because you want to become more disciplined at a new skill or be known in your field of expertise. It's about putting time and effort into something you haven't done before. You have to enjoy doing it too. The reason I share a weekly email is that writing and figuring things out in public helps me relax and be focused.
Don't fall down a hole you can't get out of it
Creating and building an audience is part of a plan that no one can take away. However, as you start, it becomes a gradual process. Longer-term success is based on what you produce links to your commercial efforts. The worse place to be is to invest heavily where there is minimal return further down the line. Start with the small steps to gradually build. You don't need that loan to invest in expensive equipment, when you have no audience in front of you.
Encourage feedback and accept help
Stepping forward with a new initiative takes a leap of faith. Ask those closest to you for their input and if there are strong links with others in related industries, reach out to them. For instance, it could be someone whom you are already familiar with to be an early guest on a podcast, it could be asking for participation from friends in an article you are writing where they could add value to a topic.
Cringing is part of the plan
The longer you are involved, the more confident you become, not just in the medium you invest in, but in other areas too. When I started podcasting in 2015 (it was called Marketing Homebrew), my delivery was full of indecision and I wasn't concise with what I wanted to say (it took me a minute to say something that could take 10 seconds). Whenever you listen or watch yourself for the first time, the first thing you will think is 'do I sound/look like that?' The more comfortable you become in your own skin, the more reassured you become in other walks of life.
Even when it's quiet, don't throw the towel in
Starting a new project will mean you are beginning from zero, but that's ok. A big element to embrace is optimism and that the longer you are involved, the better it all becomes. Encouraging subscribers, listeners and viewers takes time, but don't forget that there are other areas to be working on as people slowly come on board. Don't let the lack of subscribers distract you, if you know that what you are doing is worthwhile and adds value to others. For instance, make sure your Twitter and LinkedIn bio reflects what you are doing and what you stand for. Make sure you have a page for people to subscribe to (and always use that page as the place to bring people to). Read this article How To Build Your Audience, When You Don't Have An Audience
It is better to be clear on your message than wishing for 10,000 subscribers
It is more important to deliver a message that is distinct, to a committed audience and what they will get out of it, than a wish for more people. It can become distracting if you are focused on more people rather than the point of view you want to get across and to come back to it time and time again.
Let's Round-Up
What would you rather be? The person who thought about starting something or the person who stood up and gave it a go in 2022 and didn't want to stop?
It will be scary when you start, but the alternative is much more fearful where you become irrelevant.

Finding a rhythm where you create and don't stop can become the equivalent of starting your own bank account where you are regularly depositing so it grows in value over time. This could mean new business, an audience that grows with you, opportunities to speak, diversifying into others areas and just being happy with your efforts. Making a commitment to start gives you something to look back on at the end of the year and something tangible to see how far you have gone.
Podcast: Play in new window | Download